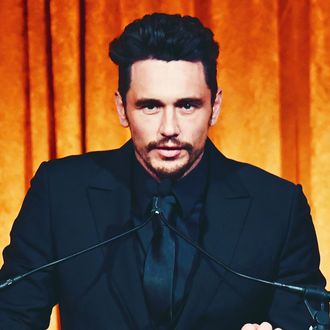 James Franco.
Photo: Dimitrios Kambouris/Getty Images for National Board
Since he won a Best Actor trophy (while wearing a Time's Up pin) at the Golden Globes on Sunday, James Franco has been accused of inappropriate and sexually exploitative behavior by five different women. He has denied the accusations, but declined to offer any details or present his side of the story, even when pressed this week by late-night hosts like Stephen Colbert and Seth Meyers. What is Franco thinking? According to TMZ, he is in a "bad place."
The gossip site, which has a history of needlessly defending celebrity men and presidents accused of sexual and physical abuse, published this morning an exclusive story about how Franco is feeling sad. "Sources connected to Franco" told the site that Franco didn't show up to the Critics Choice Awards last night because he was "upset and frustrated over allegations he says are untrue." How upset? Let TMZ quantify it for you: "One source said on a scale of 1 to 10, 10 being inconsolable, Franco's a 6."
If Franco is so close to inconsolable, his accusers must be really upset. But TMZ is only concerned with how they might be lying. In another exclusive story about the Franco case, published last night, the site suggested that one of Franco's accusers is out to ruin his life. TMZ surfaced a tweet by actress Violet Paley — who says Franco pressured her into performing oral sex on him in 2016 — that reads, "I like planning ways to ruin someone's life the moment I meet them." Paley posted the tweet in September, and told TMZ directly that she didn't mean it seriously. "I use Twitter to make jokes most of the time. It was clearly a joke," she said. Still, TMZ posted the non-story with the headline, "James Franco Accuser Defends Tweet ABOUT RUINING PEOPLE'S LIVES."
It is not surprising that TMZ is going to bat for Franco; the site has similarly defended Johnny Depp, Harvey Weinstein, and President Trump. These stories are a good reminder, however, that when it comes to cases of sexual misconduct, TMZ is only good for a window into the fragile psyches of the accused.