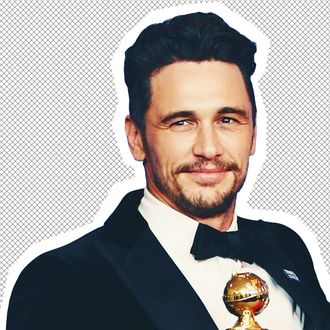 James Franco.
Photo: Getty Images
Welcome to You Know What I Heard, the Cut's weekly celebrity gossip column about the peregrinations of the rich and famous. Have gossip? Email me at allie.jones@nymag.com, send me a message on Twitter, or contact me on Signal (ask for the number).
Is James Franco's time up? The whispers about his past behavior got louder, at least, after he won a best acting trophy at the Golden Globes Sunday night. Breakfast Club star Ally Sheedy was the first to make some kind of accusation against him on Sunday; she suggested, in a series of now-deleted tweets, that Franco contributed to her decision to leave the entertainment industry. (Franco directed Sheedy in an Off-Broadway play in 2014.) After that, two young, unknown actresses tweeted about their negative experiences with the actor/director/writer/academic/39-year-old.
None of these stories have been confirmed, though the actress Violet Paley has now tweeted that she is "working with people" to bring more details about her situation to light.
So what do we know? Nothing, except for the fact that Franco has been caught acting inappropriately with a teenager once before. You probably remember the bizarre tale of Lucy Clode, a Scottish tourist who met Franco after a performance of Of Mice and Men on Broadway in 2014. Clode was 17; Franco was 35; they began chatting on Instagram, texting, and (according to the leaked messages) he tried to get her to meet him in a hotel room. After the story broke, Franco wrote on Instagram, "I HOPE PARENTS KEEP THEIR TEENS AWAY FROM ME. Thank you." Then he went on Live! With Kelly and Michael and told Kelly Ripa he used "bad judgment." (She was like, It's okay! What a difference four years makes.)
Lucky for Franco, no one else in Hollywood has spoken out about him since his Globes win. After the ceremony, he and his brother Dave Franco got on a plane to New York, and tomorrow, they will join New York Times culture writer Sopan Deb for a live conversation about The Disaster Artist as part of the paper's TimesTalks series. What are the chances the topic of sexual harassment comes up?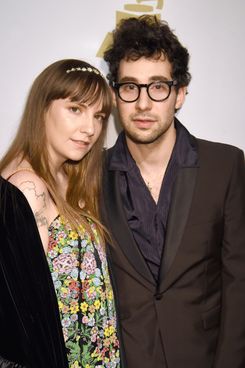 Lena Dunham is having a bad week. Ordinarily she is more of a target on Twitter than in the tabloids, but in the last couple days, the gossip caught up to her. E! News reported Monday that she and her boyfriend of five years, Jack Antonoff, broke up. And Marvel actress and activist Tessa Thompson questioned Dunham's commitment to the Time's Up cause during the Globes. Both of these unfortunate incidents seem to stem from Dunham's last major fuck-up in November. Do you remember it?
Dunham and Girls showrunner Jenni Konner publicly issued a statement of support for Girls writer Murray Miller after he was accused of rape. In the jaw-dropping statement, the two women claimed they had "insider information" about the case that led them to believe that Murray's accuser, Aurora Perrineau, "misreported" the alleged crime. Dunham was forced to apologize a day later and then mostly went underground … until the Globes, where she showed up at a Time's Up meeting and posed for a group photo. After Thompson posted the shot on Instagram, a fan asked why Dunham was involved in the initiative at all. Here's what Thompson wrote back:
Lena was not anywhere present in our group during the countless hours of work for the last two months. We hosted an open house for actresses for red carpet messaging and Lena presence was a surprise to us all. This is a time of reckoning. And for many, a re-education. So many women also have real work to do. I'm afraid it's too nuanced a conversation to have on this platform. But I hear you, and know that your thoughts and words are not lost on me. It's been discussed.
Of course, Thompson has now issued a statement saying she didn't mean to diminish Dunham's work or create conflict, and Dunham has issued a statement saying she wasn't able to fully participate in Time's Up due to "highly personal reasons." And it just so happened that as all of this was playing out on social media, E! News reported that oh yeah, by the way, Jack Antonoff is definitely not dating Lena Dunham anymore. A source said the two broke up in December and that the split was — that word you always use among friends — "amicable."
In happier relationship news, Gwyneth Paltrow is officially *OFFICIALLY* engaged to Glee producer Brad Falchuk. She is so thrilled she made a whole magazine about it.
"Personally, at midlife, I have tried to accept how complex romantic love can be," Paltrow wrote in Goop's "Sex & Love" issue. "I have decided to give it a go again, not only because I believe I have found the man I was meant to be with, but because I have accepted the soul-stretching, pattern-breaking opportunities that (terrifyingly) are made possible by intimacy." I'm sure people will have a lot to say about the language here, but mostly I'm shocked by her use of "midlife." Either way, I'm glad things have settled for her.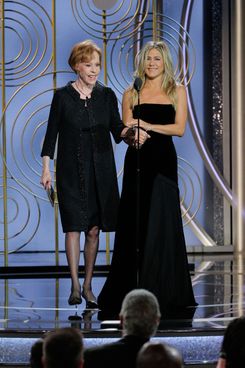 Another California golden girl's relationship status is less clear, however. Did you notice that Jennifer Aniston didn't walk the red carpet at the Globes? She presented with Carol Burnett, yes, and she looked great, but she didn't stop to talk to anybody on the way into the ceremony. Maybe she was just trying to avoid Angelina Jolie, who walked the carpet with her son Pax. But, as Celebitchy notes, she was alone for the night: She didn't bring her husband Justin Theroux. You may remember last week that People and Us Weekly fell all over each other to publish stories about how Aniston and Theroux are "going strong" despite spending a lot of time apart. So this is more time apart, then?
One small blessing from this week:
Here is Paris Hilton taking her $2 million engagement ring and accidentally leaving her fiancé on the curb.
Finally, I'll leave you with this photo of Ben Affleck tooling around Los Angeles this weekend. He just picked out this bad boy with his girlfriend Lindsay Shookus. (They were wearing matching leather jackets for the pick-up, of course.) May you all find ways to deal with whatever it is you're dealing with this week.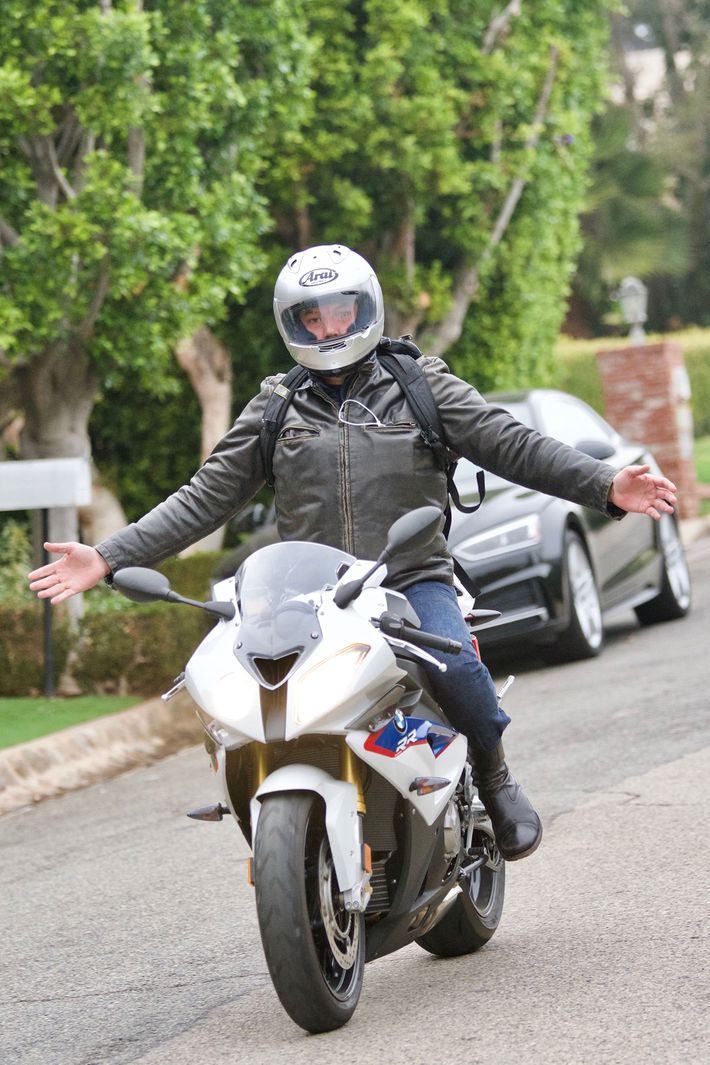 Thank you all for gossiping! Don't forget to email me at allie.jones@nymag.com, send me a message on Twitter, or contact me on Signal, if you'd like to chat.