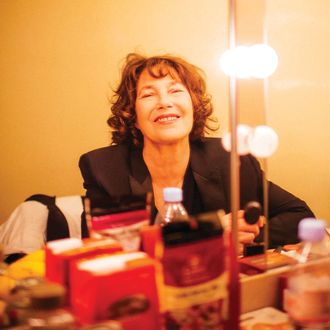 Jane Birkin.
Photo: Helene Pambrun/Paris Match/Contour by Getty Images
Jane Birkin didn't much like the terribly sophisticated Serge Gainsbourg, 18 years older than she and already a famous singer, when she met him after being cast in the French film Slogan in 1968 — she found him arrogant and snobbish. Or perhaps more to the point, she was convinced that he didn't think much of her, a 21-year-old English actress who'd blown up after appearing, full frontal, in Antonioni's Blow-Up, which was quite scandalous at the time. But she fell for him when they went out dancing, she's always said. He kept stepping on her toes.
"To find out that, in fact, he was extraordinarily timid and, yes, it was all just pretense," recalls Birkin on a bright winter afternoon in the empty nightclub atop the Standard High Line, opened to us especially for this interview. She sat with her back to the vastness of the view south because the big windows gave her vertigo. She'd never suffered it before, she says, but something about the architecture of the place made her feel exposed, a bit out of control. "When they showed me my bedroom, I screamed," she says.
Gainsbourg and Birkin never married but blithely set off on a photogenic, performative, and occasionally perverse romance. In 1968, she stepped in to replace his previous lover, Brigitte Bardot, on the sure-sounds-like-they're-really-doing-it song "Je T'aime … Moi Non Plus," which was condemned by the Catholic Church and censored in various places for being too risqué. It became a big hit.
Then there was "Lemon Incest," a duet Gainsbourg wrote and sang with the couple's daughter, Charlotte Gainsbourg, when she was 13. You can Google up the video of a shirtless Serge lolling in bed with Charlotte, who's wearing a shirt and knickers. "Already it was a bit of a scandal, but not much," Birkin says. "I think nowadays it would have been probably impossible to do." The same goes surely for the 1988 film Le Petit Amour, in which Birkin plays a middle-aged divorcée who falls for a 14-year-old classmate of her daughter's (the daughter is played, again, by Charlotte). "I think we were quite lucky to have done the things we did when we did them."
All of it was a kind of therapy for her, Birkin suggests. Reading her diary recently, which she plans to publish next fall, she says she found fresh evidence of her insecurity about her body in entries from her boarding-school days. "I think how wonderfully Serge got me over all my hang-ups about looking the way a girl should really," she says. "To have a man who said — after Brigitte Bardot, what's more — 'I love girls with no bosoms. It's what I drew when I was at art school.' " And she helped him make the most of what he had as well. "I was the one who thought he looked better with the seven-o'clock shadow, because he used to have a very childish face," she says. "He used to have those terrible inhibitions about it because he had to wait so long before shaving." She preferred him without socks and underwear and bought him women's jewelry "because he didn't look like a hairy man." Rather, he had "a gorgeous girl's arm and not a hair on his chest, so he could have a piece of jewelry round his neck. He looked very refined."
The couple lasted 12 delirious, disco-famous years, before his drinking and OCD housekeeping habits drove her away. "I mean, he could be quite cruel," she says. "He had a sense of humor, but if you got on the wrong side of it, you have to be careful. What did he write on one of his record covers? And I was with him, I mean, I was still with him. It said: 'Fall for a woman for what she has not, and leave her for what she is.' " She did the leaving, however, moving on to the director Jacques Doillon (with whom she had a daughter, the singer Lou Doillon). But she and Gainsbourg remained friends and provocateur-collaborators until his death, of a heart attack, at 62 in 1991.
Birkin turned 71 on December 14, and while she's pop royalty in France, she might be better known in America these days as the person that Hermès bag was named after (yes, she carries one). The fact that it was designed for her after she spilled the contents of her straw basket–cum–handbag on the lap of the Hermès CEO on a flight encapsulates her dotty glamour. She admits to being a selective klepto — her basket was often full of things like silverware and ashtrays. "It used to make quite a noise," she says. Isn't that a bit eccentric? "Oh, I don't know. English, maybe," she replies. (It also seems to be a trait Charlotte, fond of the robes at the Pierre hotel, inherited.)
Unlike many people who were famous for being young and beautiful, Birkin doesn't look back upon it with nostalgia. "The gratuitous nakedness of my good self in many forms — even I found it sometimes just a bit boring. Of course, who would come in with a breakfast tray? My good self with only a pajama top or only pajama bottom on or something. But that was very much à la mode. Sadly." She pauses. "I say sadly because I was hoping for better things. And then later, at 40, I got them."
That was when she had her first hit record and began singing (for real; previously she'd lip-synced to a tape of her studio recording) before audiences. She finally landed more serious, and less naked, acting roles.
In her beaten-up wire-rim glasses, which sit slightly askew on her nose, her sensible cardigan and jeans, her blue canvas tennis sneakers, though not sockless — she's wearing compression stockings for the transatlantic flight — Birkin looks like she's in town to visit her grandchildren, which, in fact, she is. Charlotte Gainsbourg — who eerily resembles a younger version of her mother and is equally unafraid to be naked in her films, though she doesn't dress as oddly as seemed to be required of famous people in the 1970s — moved here with her family in 2014. This was shortly after Birkin's daughter from her first marriage, the photographer and human-rights activist Kate Barry, died after falling — or jumping — off a balcony in Paris.
Barry had suffered from depression and addiction for years and founded a treatment center outside Paris. "You couldn't get anyone who was funnier and more compassionate than Kate. A wonderful mixture of madness and of sympathy," Birkin says. "She existed like some wonderful butterfly. I was already happy that she existed for 46 years. She used to pick up wounded things. She just didn't look after herself."
As it happens, the occasion of our conversation is a project Birkin embarked upon in the wake of Kate's death, when "I didn't know what to do with my time and wasn't doing very well at home on my own." She worked with the Japanese composer Nobuyuki Nakajima to have some of Gainsbourg's songs arranged as an orchestra score and sung by her. The show, Birkin/Gainsbourg: Le Symphonique, allowed her to fulfill a fantasy of doing a Broadway musical (The Phantom of the Opera, specifically; she'd play the Phantom).
For the past year, Birkin has traveled the world performing with local philharmonics, and she brings the show to Carnegie Hall on February 1. The set list includes "Lost Song," "La Chanson de Prévert," "Baby Alone in Babylone," and the (rather clinical) song Gainsbourg wrote in appreciation of her, "Jane B." But don't expect her to moan out a rendition of "Je T'aime … Moi Non Plus." That one, along with "Lemon Incest," is taken care of in an instrumental medley.
As we get up to leave, she tells me that she prefers the Bowery Hotel, in part because of the "very nice table napkins." Did she swipe some of them? "Yep, I think I have a few."
*This article appears in the January 22, 2018, issue of New York Magazine.