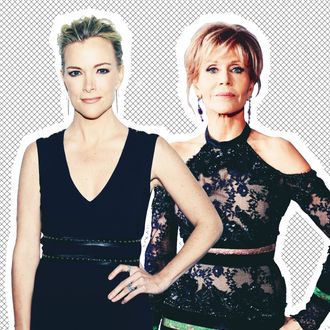 Megyn Kelly and Jane Fonda.
Photo: Getty Images
Jane Fonda and Megyn Kelly are officially feuding.
Their spat started back in September, when Fonda appeared on the first week of Megyn Kelly's Today show, Megyn Kelly Today, to promote her Netflix movie with Robert Redford, Our Souls at Night, which is about two old people who sleep together without having sex until they eventually do have sex. When Kelly asked Fonda about her history of cosmetic surgery instead of the movie she was promoting, Fonda paused, visibly taken aback, and asked: "We really want to talk about that right now?" It was an awkward moment that spawned some great reaction GIFs, and that could have been the end of the story.
Over the next couple of months, however, Fonda made a couple of swipes at Kelly, including one on her own network. During an interview on the Today show earlier this month with her Grace & Frankie co-star Lily Tomlin, the pair was asked about their decades-long friendship. "I knew you before your first face-lift!" Tomlin joked. "Who are you, Megyn Kelly?" Fonda replied.
And then last week, in an interview with Variety, Fonda said she would be willing to go back on Kelly's show, but that her question about plastic surgery was "inappropriate" and "showed that she's not that good an interviewer."
On Monday morning, Kelly responded. After informing the audience that her general philosophy is that "whatever people think of me is none of my business," Kelly closed her show with a lengthy monologue about Fonda, her role as a model for aging women, and … the Vietnam War? She said:
It's time to address the "poor me" routine. First, some context: Fonda was on to promote a film about aging. For years, she has talked about her joy in giving a cultural face to older women. Well, the truth is, most older women look nothing like Fonda, who is now 80. And if Fonda really wants to have an honest discussion about older women's cultural face, then her plastic surgery is tough to ignore.
Kelly said Fonda had spoken extensively about the subject before, and played clips of Fonda talking about her cosmetic surgery on Larry King Live, and the Today show (in 2010 and 2011, respectively). "Apparently when she came here, however, again to promote her film about aging, I was supposed to discern that this subject was suddenly off-limits," Kelly said, adding that she had no regrets about asking the question.
Then, Kelly's criticism veered toward Fonda's anti–Vietnam War protests in the 1970s, when she was dubbed "Hanoi Jane," and was photographed with a North Vietnamese anti-aircraft gun.
"Look at her treatment of our military during the Vietnam War," Kelly said. "The moral indignation is a little much. Honestly, she has no business lecturing anyone on what qualifies as offensive."
"By the way, she still says she is not proud of America," she added smugly.
(Fonda has since expressed regret about the photographs, saying in 2015: "It hurts me and it will to my grave that I made a huge, huge mistake that made a lot of people think I was against the soldiers.")
So, to recap: Megyn Kelly asked about Jane Fonda's plastic surgery, Jane Fonda didn't like it, and now Megyn Kelly is saying Jane Fonda hates America. Make sense?
Watch a clip of Kelly's comments below.