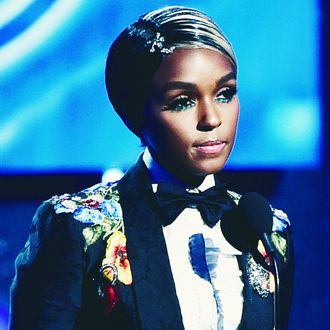 Janelle Monáe.
Photo: Theo Wargo/WireImage
Janelle Monáe gave one of the most impassioned speeches at the 2018 Grammys prior to introducing Kesha's performance of "Praying."
While many attendees were wearing white roses in support of the Time's Up movement, she explicitly called it out by name, first expressing her solidarity with other women in the industry. "To those who would dare try and silence us, we offer you two words: time's up," she said. "We say time's up for pay inequality, discrimination or harassment of any kind, and the abuse of power."
"We come in peace, but we mean business," Monáe added.
She also pointed out that abuse was pervasive in the music industry as well, and called for that to change. "Time's up for harassment of any kind. And time's up for the abuse of power. Because you see, it's not just going on in Hollywood. It's not just going on in Washington," she continued. "It's right here in our industry as well. And just as we have the power to shape culture, we also have the power to undo the culture that does not serve us well."
Watch a clip of her speech, below: