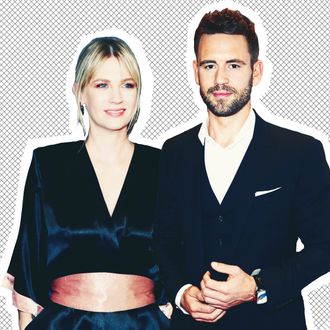 January Jones and Nick Viall.
Photo: Getty Images
Welcome to You Know What I Heard, the Cut's weekly celebrity gossip column about the peregrinations of the rich and famous. Have gossip? Email me at allie.jones@nymag.com, send me a message on Twitter, or contact me on Signal (ask for the number).
January Jones, the 40-year-old former Mad Men actress with an active Instagram account, is great for gossip. Remember her 2010 "walk of shame" paparazzi photos? Remember when she had a baby the next year and never revealed the identity of the father? (Click here for theories.) Unlike ice-cold Betty Draper, Jones lives life on her own terms, never apologizing or explaining anything. And now she's apparently dating a reality star.
"Page Six" exclusively reported last night that Jones is seeing Nick Viall, a 37-year-old former software salesman who has appeared on The Bachelor and its related spin-offs four separate times. (He's also done Dancing With the Stars.) According to "Page Six," Viall reached out to Jones in November to see if she wanted to appear with him on yet another competition reality show, Lip Sync Battle. Jones declined, made fun of the offer on The Late Show With James Corden, and then reportedly started dating Viall anyway.
A source told "Page Six" that after Jones's Late Show appearance, Viall "asked her out to a drink and she accepted. They've been seeing each other since." Viall was reportedly present at Jones's 40th birthday party at Inkwell in Los Angeles this past weekend. (Her ex-boyfriend Will Forte, whom she dated for five months in 2015, was there, too.)
If the "Page Six" source is correct, this makes Jones the second mainstream television actress to hook up with a Bachelor star in recent months. Modern Family's Sarah Hyland is currently dating former Bachelorette contestant Wells Adams. (Adams and Viall both appeared on Bachelor in Paradise Season 3.)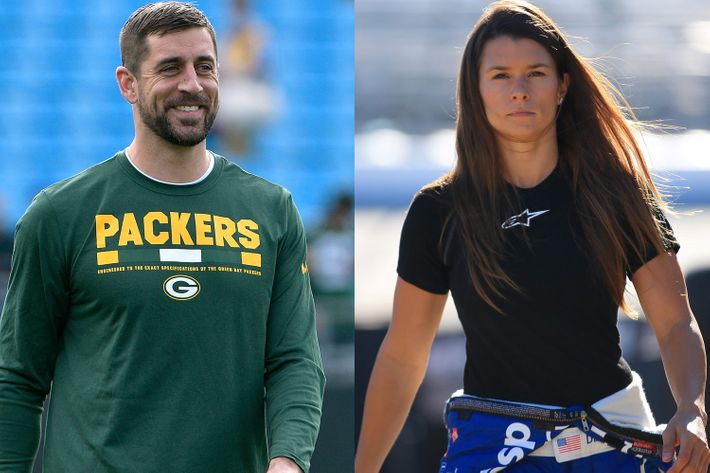 Another unexpected couple? That would be Green Bay Packers quarterback Aaron Rodgers and racing legend Danica Patrick. Patrick confirmed her relationship with Rodgers to the Associated Press yesterday, responding to tabloid rumors about the pair that started just before Christmas. You may recall that Rodgers's own Bachelor connection: His family drama played out on The Bachelorette in 2016, when his brother Jordan Rodgers appeared as a contestant and revealed to America that Aaron was estranged from the family. Shortly thereafter, Aaron broke up with his longtime girlfriend, Olivia Munn.
Munn was last linked to (scroll up) January Jones's ex, Will Forte.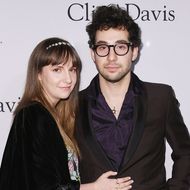 Is Jack Antonoff moving on from Lena Dunham with Lorde? That's the speculation from Perez Hilton, who noticed that Dunham deleted an old Instagram photo of Antonoff and Lorde from her account. (Antonoff and Lorde are publicly friendly; they worked together on Lorde's 2017 album Melodrama.) One deleted Instagram is not much to go on — we don't even know when Dunham deleted it — but there is another tabloid clue to consider.
Last week, SPIN's Jordan Sargent discovered that Us Weekly deleted an interesting clause from a report on Dunham and Antonoff's breakup. The tabloid first cited a source who claimed that Antonoff had moved on with a "musician," but it later removed that detail, reporting that Antonoff was simply dating "someone else."
As Sargent pointed out, there are a couple of reasons why Us Weekly might have axed the "musician" reference. "Us may have deleted the line because it was wrong," he wrote, but "it's more likely that the item instead revealed a little too much, and pressure was applied to cull it." So is the mysteriously deleted musician Lorde? It almost seems too obvious, don't you think? Whatever happens, Taylor Swift's squad meetings are about to get a lot more complicated.
Last week, Gwyneth Paltrow officially announced her engagement to producer Brad Falchuk on the cover of her new magazine, Goop. Is it a coincidence, then, that six days later, Paltrow's ex-husband Chris Martin officially debuted his new girlfriend Dakota Johnson with a pap stroll in Malibu? The Daily Mail just published photos of the 40-year-old Coldplay frontman and the 28-year-old Fifty Shades actress snuggling on the beach here.
According to People, Martin and Johnson spent the weekend together, and "they seem to be getting more serious." A source described their romantic weekend this way: "On Friday, they had dinner with friends. They also hung out at Chris' house and went for a beach walk. They didn't see each other over the holidays and seem excited to be catching up now." Martin and Johnson have been rumored to be dating since October.
In November, Paltrow posted a photo of Martin and Falchuk having brunch together on Instagram with the hashtag #modernfamily. Will Johnson be invited to the next one?
One small blessing from this week:
Here is a photo of Ben Affleck and Jennifer Garner watching their five-year-old son Samuel's basketball game this past weekend. Affleck arrived at the gym on his new motorcycle.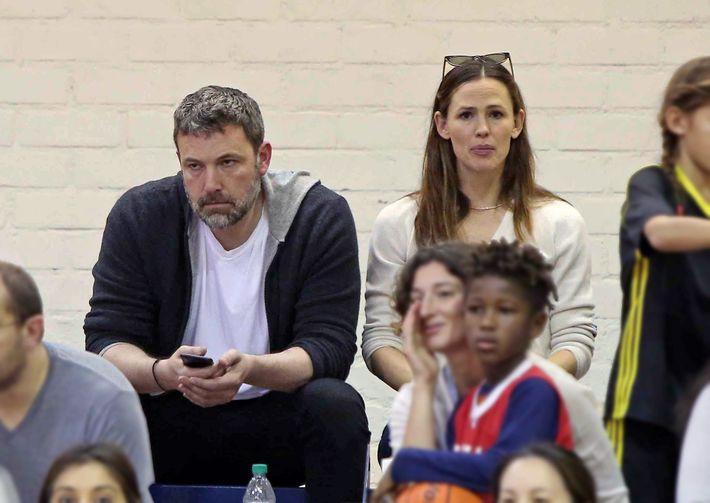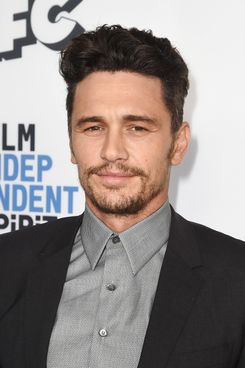 Finally, I'll leave you with a reminder that Oscar nominations go out next Tuesday. Will James Franco get one? Despite the fact that five women have now accused him of inappropriate and sexually exploitative behavior, it's likely. Franco has already won a Golden Globe and a Critics' Choice award for his performance in The Disaster Artist. And, as People noted last week, Oscar voters had from January 5 to January 12 to decide on nominations. The allegations against Franco were officially published in the Los Angeles Times on January 11, which means only last-minute voters had time to consider them. According to People, Franco's nomination is still a "lock." How will he respond to it?
Thank you all for gossiping this week. Don't forget to email me at allie.jones@nymag.com, send me a message on Twitter, or contact me on Signal, if you'd like to chat.