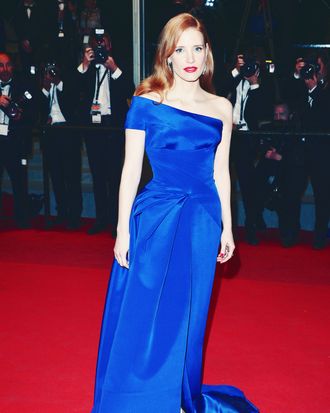 Jessica Chastain in Atelier Versace at a premiere of
The Disappearance of Eleanor Rigby
.
Photo: George Pimentel/WireImage
Actress Jessica Chastain claims in a new interview that Harvey Weinstein once pressured her to wear a gown by his soon-to-be ex-wife Georgina Chapman's Marchesa label. And after Chastain refused, the disgraced producer later taunted her at a film premiere.
Chastain told WSJ Magazine that Weinstein had wanted her to wear Marchesa to one of the premieres of her film The Disappearance of Eleanor Rigby, which was distributed by Weinstein Co. But the actress refused to cooperate; instead, she wore a blue Atelier Versace gown, according to People. Weinstein later publicly chided Chastain for her decision when introducing the actress at the event.
"He actually told the audience, 'If I had to get in a boxing ring with Muhammad Ali or Jessica Chastain, I would choose Muhammad Ali,'" Chastain told WSJ Magazine.
Chastain isn't the only actress Weinstein allegedly tried to pressure to wear his former wife's designs. Felicity Huffman confirmed that Weinstein forced her to wear a Marchesa gown to the 2006 Golden Globes (by saying he'd stop financially supporting the promotion of her film Transamerica if she didn't comply). In a 2013 Vogue article, Weinstein even admitted to getting Renée Zellweger to wear the brand. That same year, "Page Six" reported Weinstein was upset when Kerry Washington refused to wear Marchesa to the Oscars.