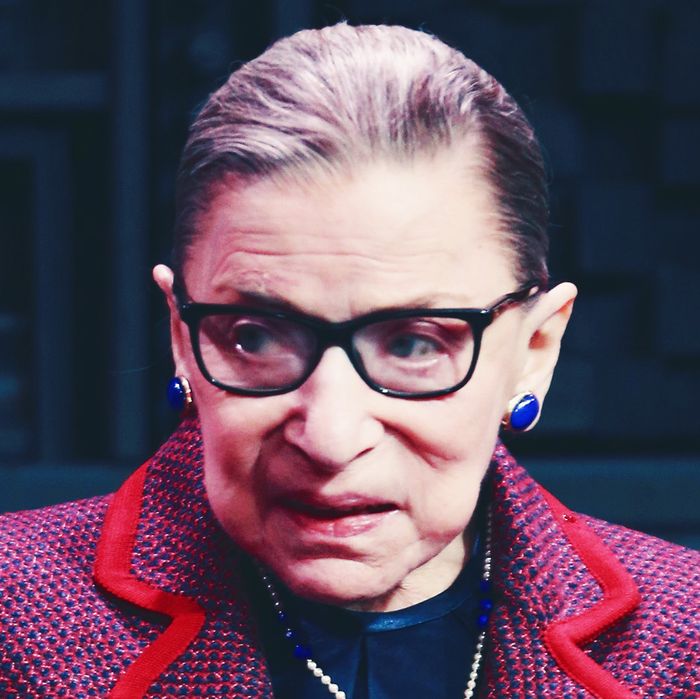 Supreme Court Justice Ruth Bader Ginsburg.
Photo: Robin Marchant/Getty Images
Justice Ruth Bader Ginsburg, the Supreme Court Justice with a cult following who has spent her career fighting for women's rights, shared her own #MeToo experience at the Sundance Film Festival in Park City, Utah, this weekend.
"Every woman of my vintage knows what sexual harassment is, although we didn't have a name for it. The attitude to sexual harassment was simply, get past it. Boys will be boys," Ginsburg told the audience at a panel hosted by NPR's Nina Totenberg. (In fact, the term "sexual harassment" wasn't popularized until Lin Farley used it at a New York City Human Rights Commission hearing in 1975.)
Yet, these subtle, nameless experiences were common, Ginsburg explained. And she would devote the rest of her career to making American women equal under the law.
The Justice was in the snowy mountain town this weekend for the premiere of RBG, a documentary on Ginsburg's life and litigation, which premiered at the film festival this weekend. The film, directed by Betsy West and Julie Cohen, interviews Ginsburg's family, colleagues, and friends like Gloria Steinem to capture the mystique of RBG. Viewers watch as she does push-ups at one of her now-famous workouts, see photos of her riding on an elephant in India with the late Justice Antonin Scalia, and learn she regularly stays up until four in the morning working.
Speaking before a small, standing-room-only crowd, which included Robert Redford and CNN CEO Jeff Zucker, she shared her own experience: "I'll give you just one example," she said. "I am taking a chemistry course at Cornell and my instructor said, because I was uncertain about my ability, he said 'I'll give you a practice exam.' So he gave me a practice exam. The next day, the test is the practice exam, and I knew exactly what he wanted in return."
After the test, she went to see the professor: "I went to his office and I said, 'How dare you? How dare you?'" she said.
But she also credited the men in her life. During law school at Columbia, her professor Gerald Gunther strong-armed a federal judge, Edward Palmieri, into giving her a legal clerkship when no one would hire her.
"The professor made an offer to the judge. He said if you give her a chance, I have arranged for a young man in my class who is going to a Wall Street firm, if she doesn't work out he'll jump in and take over," Ginsburg said. "That was the carrot. And the stick was, if you don't give her a chance, I'll never recommend another Columbia student."
Ginsburg went on to found the ACLU's Women's Rights Project and craft legal arguments that served as the basis for the women's rights movement of the 1970s and 1980s.
When asked what she thinks of the #MeToo movement she said: "I think it is about time. For so long women were silent. In thinking there was nothing you could do about it. But now the law is on the side of women or men who encounter harassment and that's a good thing."
Later that evening, as the credits rolled at the sold-out premiere of RGB, Ginsburg again got a standing ovation from the crowd. When an audience member asked her advice for young women, she encouraged them to stay positive. She's especially excited to see women become more politically active.
"The more women who are out there doing things, the more younger women will have the courage to go on," she said.
"I'm heartened by the tons of women who will be in races for Congress, and governorships, and State Legislatures. It was a favorite expression of Martin Luther King, 'The arc of the moral universe is long, but it bends towards justice' and I add to that if there are people who will strive with all their might to make that happen."