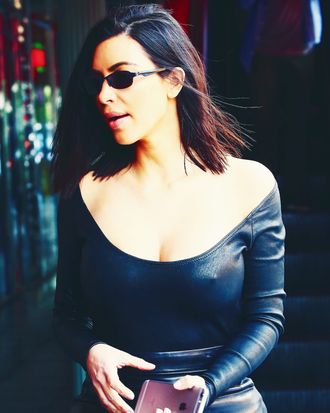 Kim Kardashian.
Photo: Pap Nation/Splash News
It's known that Kanye West sees his wife Kim Kardashian's wardrobe choices as his personal responsibility.
On a 2012 episode of Keeping Up With the Kardashians, then-boyfriend Kanye West and stylist Renelou Pandora give Kim's closet a makeover, piling her shoes up to the ceiling. "I started crying," she later revealed in an interview.
In the final episode of KUWTK season 13, in which Kim opens up about her Paris robbery, we learned that Kanye flew to France for 24 hours just so he could style his wife and her sister, Kourtney, in Givenchy. "You can't see everything through the FaceTime," he explains.
Finally, on Sunday night's episode, we found out that in addition to closet makeovers and personal styling appointments, Kanye sends trend memos to his wife as well.
"[Kanye] sent me a whole email like, 'You cannot wear big glasses anymore. It's all about tiny little glasses,'" Kim tells Kourtney and Jonathan Cheban in the episode, referring to those teeny-tiny Matrix-like sunglasses the Kardashians have been wearing lately.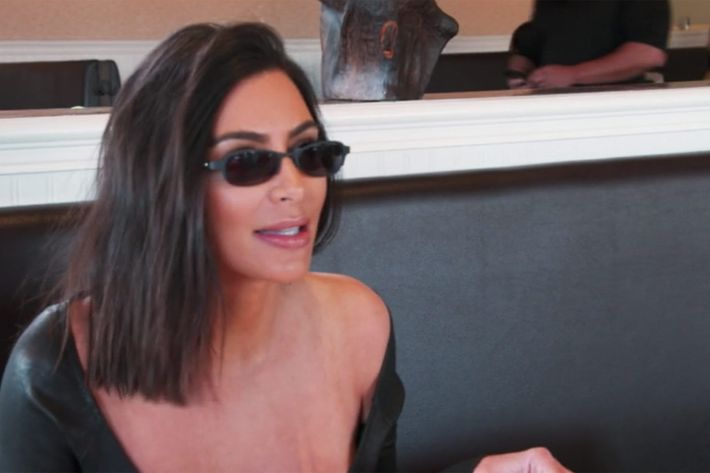 In fact, as she recounted this story over lunch, Kim wore a pair hand-selected by her husband. "He sent me like, millions of '90s photos with tiny little glasses like this," she added.
Kanye's Matrix memo must have made it to Kendall and Kylie as well, who included a similar style of sunglasses in Drop 2 of their joint collection. Kourtney was also clearly taking notes that day, too.
While having a husband controlling your clothing choices sounds like something that would make us want to pop a blue pill, having someone email you personal mood boards might be nice.