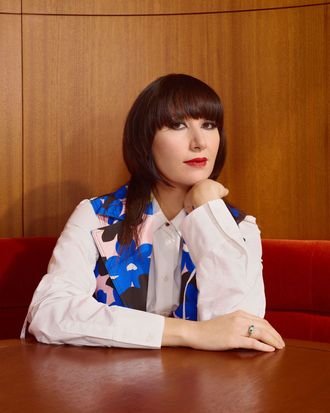 Karen O.
Photo: Corey Olsen
When Karen O made her debut as the lead vocalist for the Yeah Yeah Yeahs in the early 2000s, she took the stage wearing a tank top, pasties, and olive oil, which she used to pour all over herself in order to appear sweaty.
"It was a bad idea," Karen O said one afternoon this winter from a suite at the Standard hotel. She wore wore a crisp white Kenzo top buttoned up to the collar, and didn't appear to be perspiring. "I don't know if you know this, but it really stings when you get olive oil in your eyes," O recounted.
Today, O is less concerned with olive oil and more focused on Play Dough, which she says her 2-year-old son, Django, cakes onto most of her outfits. Personal style is admittedly not something she's thought much about in the days since becoming a mother. However, as she gears up to release another solo album this year, she's ready to bring back a more mature version of the Karen O stage persona.
O worked with designer Christian Joy for ten years on costumes that made an olive oil–soaked tank top seem casual. (She describes one that was meant to look like her intestines were spilling out, and another shaped like a shrimp.) Now, she's got the the help of high-fashion brands like Kenzo.
"I didn't used to embrace fashion labels," says O, who wrote a new song called, "Yo! My Saint" for Kenzo's spring collection campaign, which debuted Thursday. "Maybe it was the punk in me. I was like, 'Nah, I'm better off if I do my own thing.' Now I'm totally the opposite. I love it. In my womanhood, I'm like, bring on the fashion and the glamour."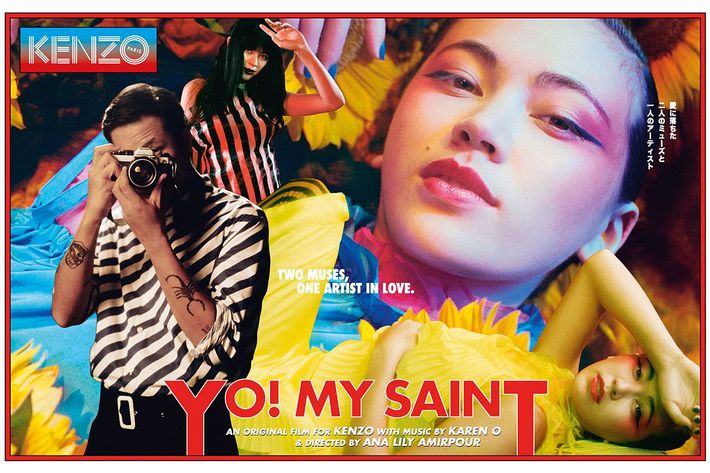 Like previous Kenzo collaborators Natasha Lyonne and Carrie Brownstein, O has been a friend of designers Carol Lim and Humberto Leon for many years. When Leon told her that the inspirations behind the brand's spring collection were Japanese musician Ryuichi Sakamoto and model Sayoko Yamaguchi, O instantly started writing.
"Yo! My Saint," which is O's first song since 2015, tells the story of unrequited love between artist and muse. For the accompanying video, directed by Ana Lily Armipour (A Girl Walks Home Alone at Night), a brooding photographer (Alex Zhang Hungtai) and an enchanting model (Jessica Henwick) dance around one another on set, and then in a karaoke dreamscape.
While O herself grew up around karaoke, and has been propositioned to join Lim and Leon on at least one occasion, she's not much of a fan. "Maybe it's because I do it for a living," she said with a laugh.
Watch the full video for "Yo! My Saint," below.