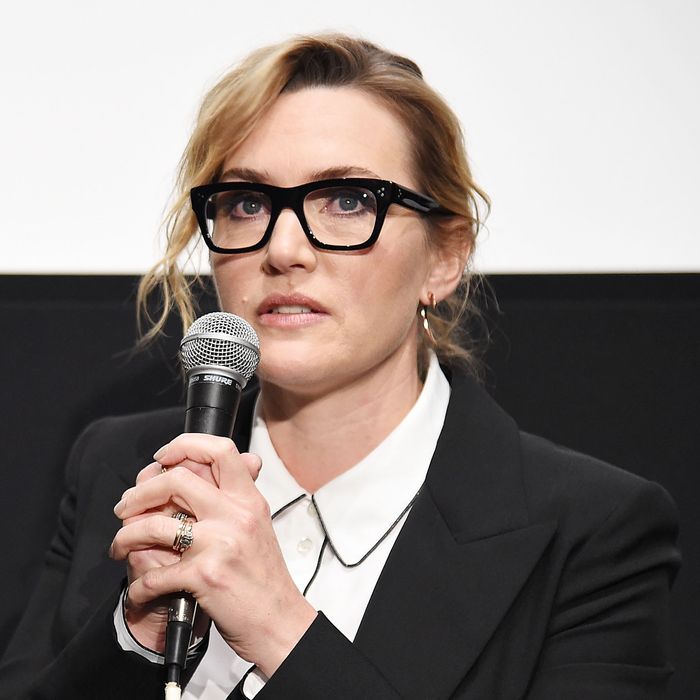 Kate Winslet.
Photo: Michael Loccisano/Getty Images
Kate Winslet seems to have addressed sexual-abuse allegations against her Wonder Wheel director Woody Allen. While accepting a prize at the London Critics' Circle film awards, Winslet alluded to Allen, who has been accused of molesting his daughter Dylan Farrow: "I wouldn't be able to stand here this evening, and keep to myself some bitter regrets that I have at poor decisions to work with individuals with whom I wish I had not."
After taking a moment to compose herself, Winslet added: "It has become clear to me that by not saying anything, I might be adding to the anguish of many courageous women and men. Sexual abuse is a crime. While it rests with the rule of law to pass judgment, it lies with all of us to listen to the smallest of voices and to never stop listening." Winslet then told the audience that many have been reluctant to say something earlier for fear of saying the wrong thing: "Those who do have a voice are becoming afraid to say anything, because of intense scrutiny and criticism," she said. "Nobody should be exempt from having a right to speak in support of vulnerable people. There are those who can speak so powerfully for those who are not able to do so themselves, and let us please not make this about which people express public regret."
Earlier in this awards season, Winslet told the New York Times that she couldn't address the allegations, as she didn't know "whether any of it is true or false."
See video of Winslet's remarks below.
Although Winslet starred in The Reader, a movie distributed by Harvey Weinstein, she condemned him in October.