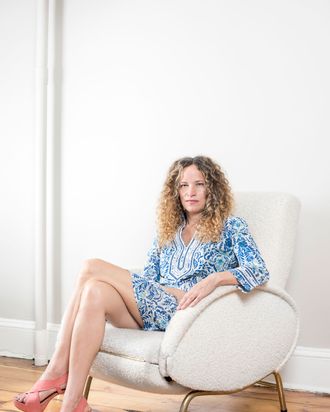 Katie Roiphe.
Photo: Jason Andrew
Amid rumors that Harper's magazine would be publishing the name of the person who created the Shitty Media Men list in their March issue, writer Katie Roiphe told the New York Times that she was planning to do no such thing.
"I am looking forward to talking about what is actually in the piece when it actually comes out," she said. "I am not 'outing' anyone. I have to say it's a little disturbing that anyone besides Trump views Twitter as a reliable news source." Roiphe added that she didn't know the person's name herself and "would never put in the creator of the list if they didn't want to be named."
The Times also reported, however, that according to an email exchange, a Harper's fact checker did reach out to the list's alleged creator.
An email exchange obtained by The New York Times shows that, during the editing process, a Harper's fact checker contacted a person said to be a creator of the list and said the article identified her as someone widely believed to be one of the people behind it.
A Harper's spokesperson said that didn't necessarily mean they were intending to publish the name.
The list at the center of this controversy was a Google doc created in late October 2017 in which women could anonymously add allegations of misconduct committed by men who work in media. The rumor that Roiphe — a highly divisive writer — would be outing its creator was met with widespread condemnation across social media.
Update, January 11: Roiphe appears to have started a Twitter account to further respond to the situation after the list's creator, Moira Donegan, outed herself in an essay for the Cut. In the piece, Donegan writes that a Harper's fact checker emailed her saying "Katie identifies you as a woman widely believed to be one of the creators of the Shitty Men in Media List." The Roiphe Twitter account is not verified, but both Harper's and the Harper's spokesperson retweeted the following.