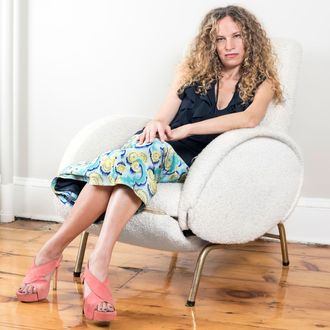 Katie Roiphe.
Photo: Jason Andrew
On Tuesday afternoon, a rumor began roiling around the bowels of Journalism Twitter: Someone was going to run a piece "outing" the woman who started the Shitty Media Men list, an infamous crowd-sourced Google doc that compiled the alleged misdeeds of dozens of men in the media industry.
"You do not have to think the list was a good idea to think this would be a tremendously fucked-up thing to do to a whistleblower," tweeted Nicole Cliffe, a writer and co-founder of the humor and feminist website the Toast.
Soon after the rumor started circulating, various media figures, including Cliffe, began asserting that the story was going to be run in Harper's, and that it was being written by Katie Roiphe, the longtime anti-feminist feminist behind books like 1993's The Morning After: Fear, Sex, and Feminism, in which she claims that reports of date rape on college campuses were vastly exaggerated.
Many on Twitter condemned the prospective story, citing Roiphe's history of controversial work. But Cliffe went a step further, offering to pay any writers who pulled pieces they had in the works at Harper's.
"If Harper's DOES kill it, you can keep the cash and run it or not, whatever you would like. My goal is still that Harper's will change their mind, and I DO think that could still happen: they are losing ad buyers too," she clarified. (Indeed, on Wednesday afternoon, Ecco Press issued a statement saying they pulled an ad from Harper's because of Roiphe's upcoming article.)
Writers reportedly began pulling their pieces, and within a couple of hours, Cliffe tweeted that she had "a nice little stable of ex-Harper's pieces," and offered to help match them with interested publications. Editors from outlets including Longreads, Vice, the L.A. Review of Books, Shondaland, and the Washington Post all responded publicly to Cliffe's tweet, looking for pieces to run.
While Harper's confirmed to the Cut that they were running a piece by Roiphe in their March issue, they said they would not discuss the content of their pieces until they were published. As the Roiphe fracas reached its pinnacle on Tuesday evening, though, Giulia Merlucci, Harper's vice-president of public relations, tweeted: "Circulating bullshit put Donald Trump in office."
On Wednesday, CNN reporter Tom Kludt tweeted part of a statement from Roiphe, in which she denies ever planning to "out" anyone, and says, "It's a little disturbing that anyone besides Trump views Twitter as a reliable news source."
This was essentially the outcome Cliffe had predicted less than an hour before. "There is not a good faith bone in Katie Roiphe's body and I am fully expecting her to say there was never any attempt to name or make that woman identifiable. That's great. I'm fine with that. If I hear that from Harper's I will be delighted to stand down," she tweeted. The story is set to be published in the March issue, which means it probably won't hit the web until February — plenty of time to burrow ever deeper into your rage pit.