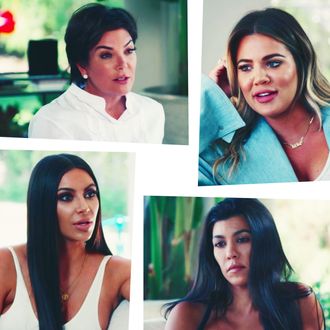 Photo: Courtesy of E! Entertainment
Fresh off of last week's episodes celebrating upcoming life, this week's episode of Keeping Up With the Kardashians celebrated death. Our A plot was Kris Jenner's audition for mother! 2; our B plot was Kourtney's career; and our C plot was Scott's behavior. Before we all turn to ash, #LEGGO!
Cold Open/Scene 1:
Chicago West's mother Kimberly holds a meeting at her home for Chicago West's aunties, Khloé and Kourtney Kardashian. Kourtney is late, which doesn't seem to bother Kim as much as it bothers Khloé: She's tired of Kourtney's unprofessionalism and thinks Kim should take some of the bad-cop weight off Khloé's shoulders and chastise their sister.
When she does arrive, Kourtney defends herself, saying she was early and had some time to spare, so she decided to grab a tea. However, the line was super-long, which then made her late. Khloé doesn't care for her sister's excuse; to her, tardiness is the biggest sign of disrespect. Not taking any of this seriously, Kourtney gets up to give Khloé a friendly punch in the gut, which then turns into the two of them reenacting Kim's infamous "don't be fucking rude" scene from season two. This scene was filmed on July 27, 2017.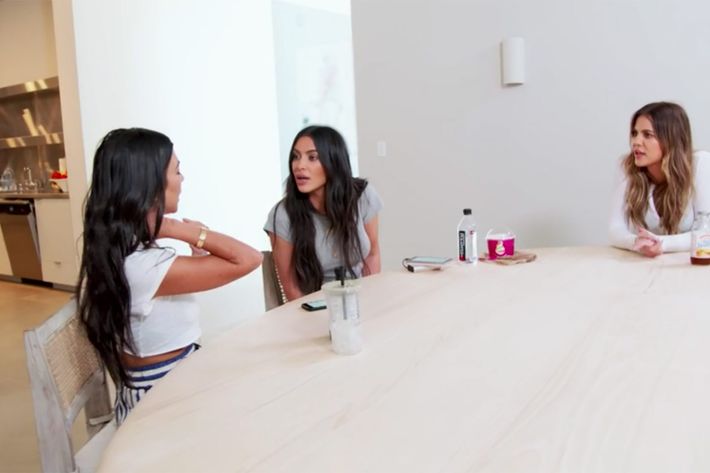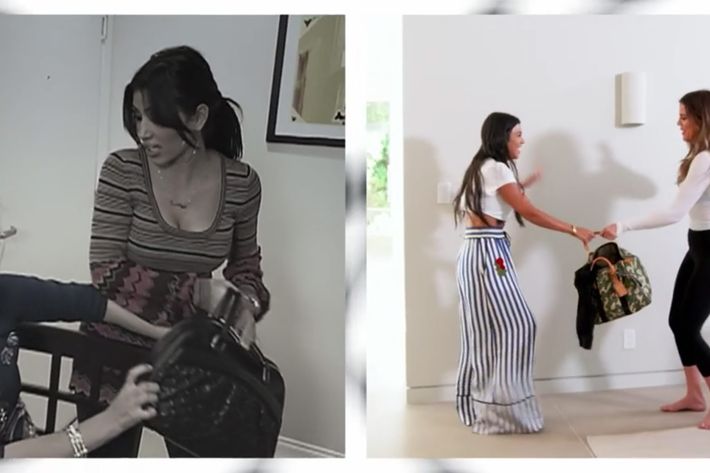 Scene 2:
Kris Jenner and the morally corrupt Faye Resnick have lunch at Grissini's. Much like Kourtney, Faye has a reputation for being late — but for the first time in their 40 years of friendship, she's showed up to lunch before Kris. See, Khloé: There's plenty of time for your sister to change.
Over pasta, Kris and "I DIDN'T SPREAD" Faye skittishly talk about OJ Simpson's upcoming parole hearing. Not one for real feelings, Kris changes the conversation to the pasta's tastiness. This abrupt switch confuses Faye, who doesn't understand how Kris can so quickly switch to such a meaningless topic after talking about living demon OJ. As she tries to reroute the conversation, Faye is interrupted by fans of Kris's who ask for a picture. Kris obliges, and Faye moves to takes the photo. But before she does, Kris admires one of the fan's rings, which turns out to be a diamond that contains the ashes of her grandmother. Unsure if this is the height of creepy or sweet, Kris and Faye exchange uneasy looks. Once the fans leave, both Kris and Faye admit to having loved the ring and the idea of taking the form of a diamond in their afterlives. This scene was filmed on June 20, 2017.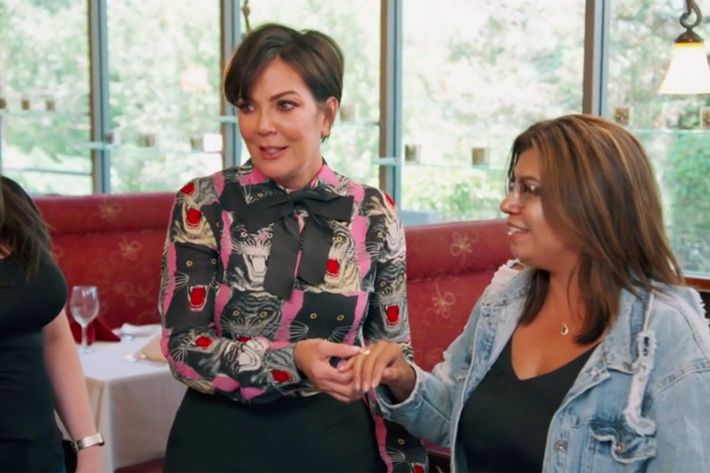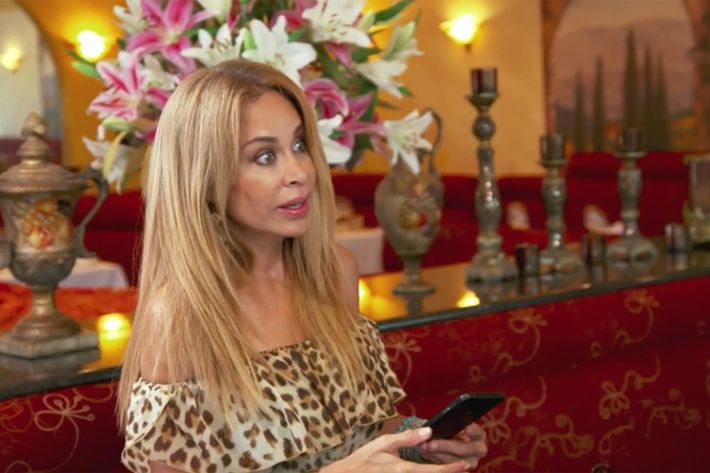 Scene 4:
At Khloé's house, Kim and Khloé talk about how funny Kylie used to be. In their group texts, Kim's been sending old funny videos of Kylie to prove that she was the Lori Beth Denberg of their family before her humor was replaced by lip kits and could've beens.
Kourtney enters, greeting her sisters with a ton of fun ideas. First, she thinks they should plan a trip to Miami to do the reopening of LIV, a nightclub in Miami. The sisters are into this plan, but they're not as into her other idea, which is a lofty one!
After much thought and conversations with the Palatable Jonathan Cheban, Kourtney has decided to create an interior-design business that would probably culminate in a show. Her sisters think she's absolutely off her rocker — because according to the entire family, she has no work ethic. Kim tells Kourtney that she can't just slap her name on something and call it a day; work is work, no matter what. Unhappy with her sisters' responses, Kourtney shuts down and tells them that they're being unsupportive. This scene was filmed on August 16, 2017.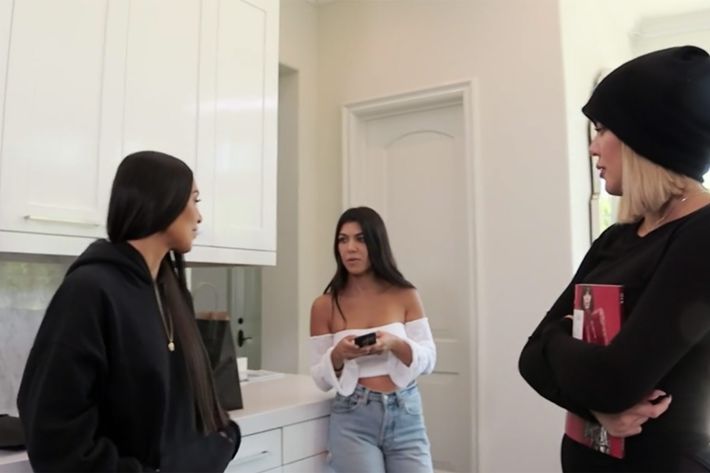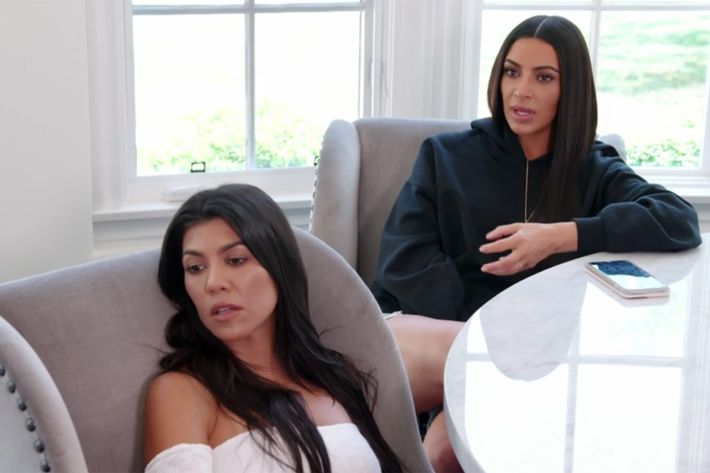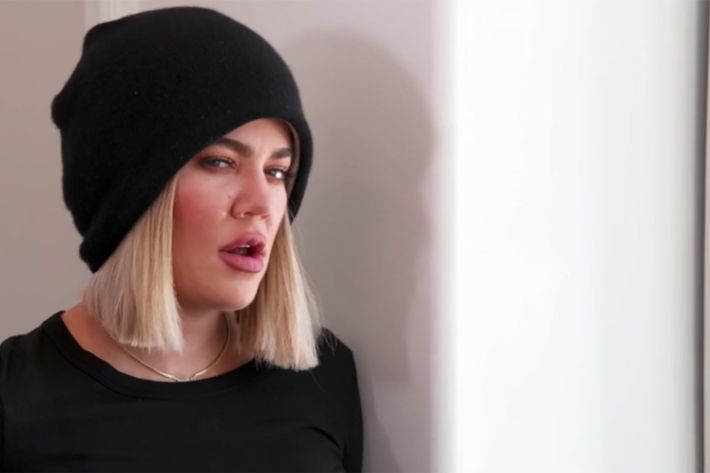 Scene 6:
At home Javier Bardem Kris Jenner opens a package, which contains a glass case for the diamond she'll become once she dies. Kris has yet to do any research on how to transform into a diamond in the afterlife, but she's officially obsessed with the idea.
No, the walls don't start shaking, Kris doesn't board up her office, nor does Kristen Wiig show up. Instead, Kris shows Kim (invited over because she's the most responsible child) the case, and explains what it's for. Kim's skeptical, but Kris is intent on turning her "cremations" into a diamond, and needs to make sure her children are in line! Kim says her mother's glass case invokes The Beauty and the Beast, which Kris appreciates, making sure to announce that she'll be The Beauty, of course. Though Kris reiterates that she does believe in God and the desire to be a diamond in the afterlife has nothing to do with not going to Heaven, I think Kris Jenner has too many new babies coming into that home to be playing around with death diamonds! Did Jennifer Lawrence's performance in mother! teach you NOTHING, KRIS!?! This scene was filmed on May 23, 2017. A month before Kris ran into the fan who gave her this idea in Scene 2.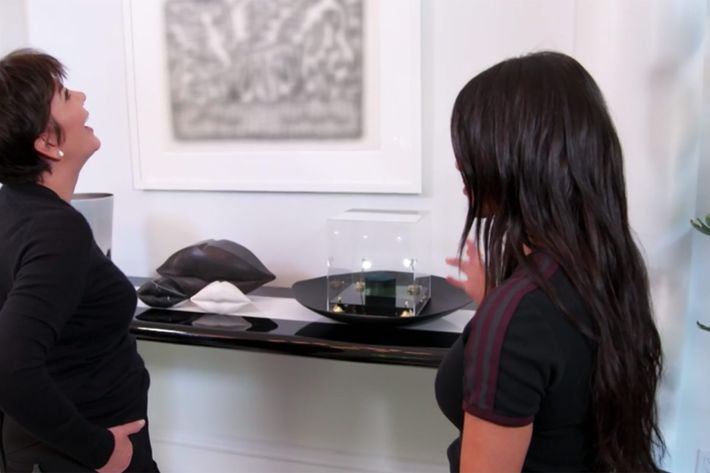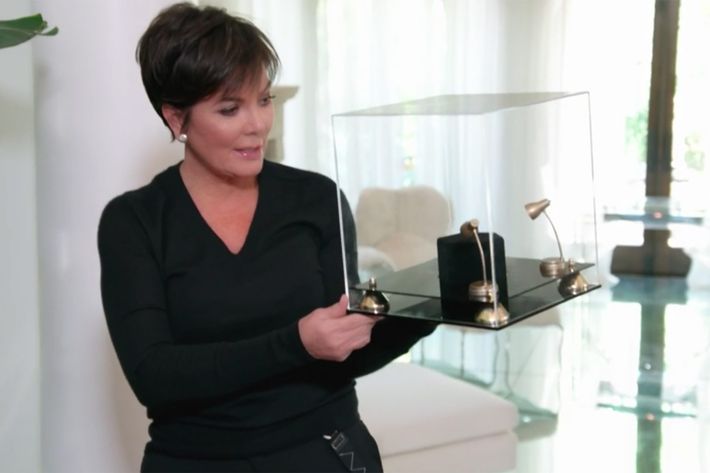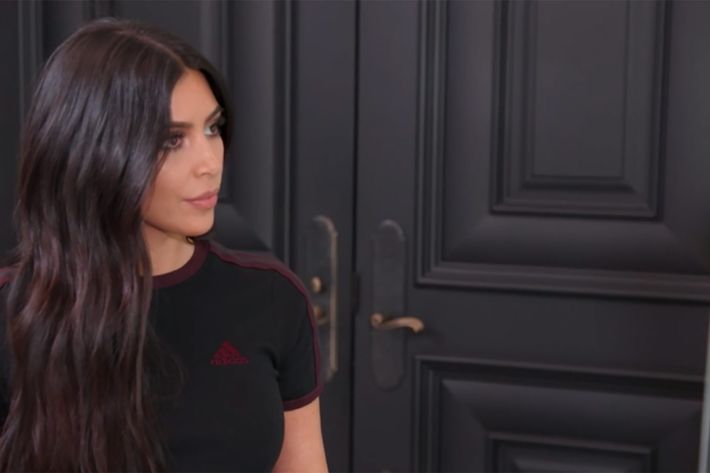 Scene 9:
Khloé visits her sister Kimberly, who is super-beat courtesy of Desi Perkins, at her Beverly Hills home. The sisters have assembled to talk about Kourtney and her fool's errand of an idea to start an interior-design brand. Neither sister thinks that Kourtney has the stamina to work on her own, especially since she's done everything in her career as a part of their trio. Kim also suggests that Kourtney is just waiting for Kim and Khloé to offer up a new family opportunity that she can hop on.
Kim applauds Khloé; though she initially panicked when Kim announced that she was going to make a solo foray into beauty, she did find something to do for herself (Good American). Khloé wholeheartedly agrees with Kim, and they compliment each other for always "staying on their toes" when it comes to working for what they want. I hope Kourtney watched this episode with some gluten-free ice cream because, baby, her sisters went IN. This scene was filmed on August 6, 2017.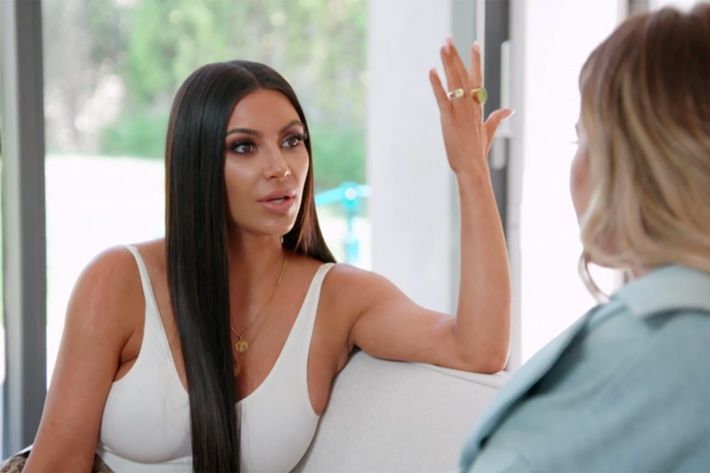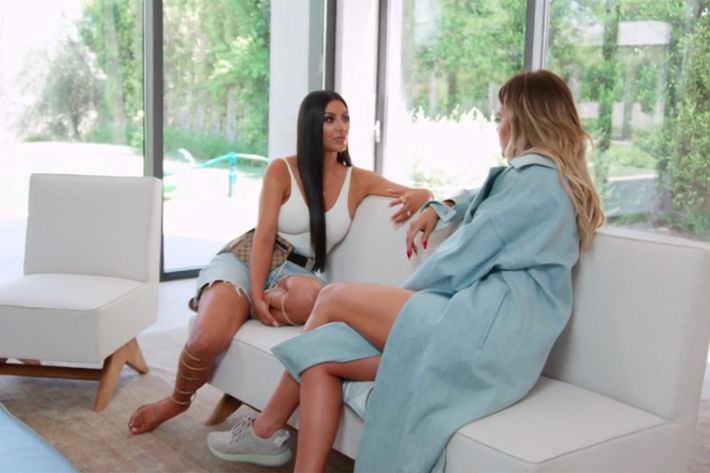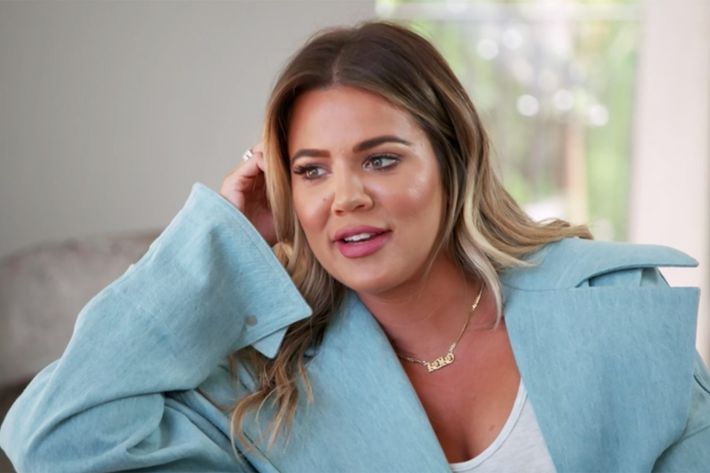 Scene 10:
In Khloé's guest house, Kourtney catches Khloé up on Scott's latest drama. At about 2:30 that morning, an emotional Scott called Kourtney. In the ensuing conversation, she says, they went back and forth asking one another "what they were doing" in their relationships with significantly younger people. Kourtney claims to have told Scott over and over again that what she was doing was no better or worse than what he was doing, and that she finally admitted to Scott that model Younes Bendjima is in fact her boyfriend. Pushing her luck, she also screamed to Scott that, yes, Younes is 24 and she's 38, but that's not the craziest thing to ever happen in the history of the world! Especially since Scott's new girl, Sofia Richie, is barely 20.
With that, Scott simply hung up on Kourtney, because confirmation of what he probably already knew was just too much. Khloé's not just shocked at how much her sister stood up for herself — she's also surprised that Kourtney is calling the elusive beau Younes her official boyfriend. Kourtney, the woman who has refused to speak to her sisters about her relationship, is taken aback that Khloé didn't know that she and Younes are official, especially since they've been on so many international trips with one another. But Kourtney can't assume people are assuming things about her life, Khloé says, if she's not being open about them. Kourtney sort of understands, but doesn't really care. Finally, Khloé asks Kourtney the best way to get rid of varicose veins. (Lasers or saline injections.) This scene was filmed on August 30, 2017.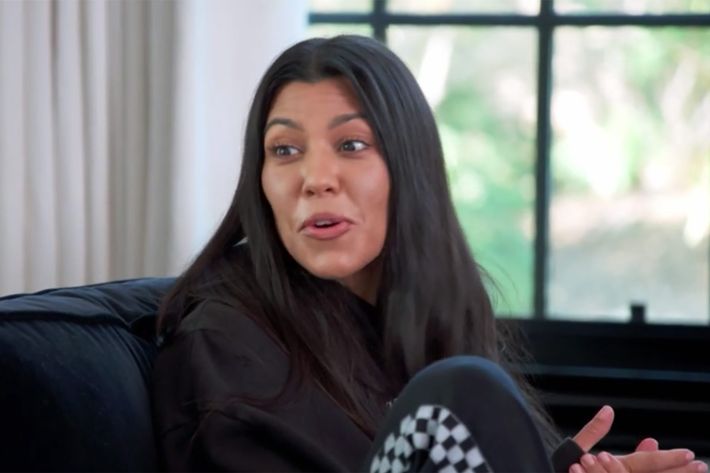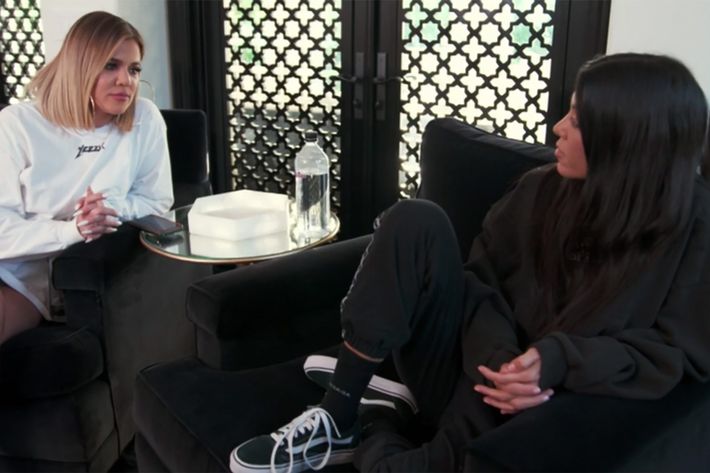 Scene 11:
Committed to giving Darren Aronofsky a run for his money, Kris Jenner is still caught up in her Death Diamond storyline. She calls up LifeGem, a company that turns the deceased into diamonds, and speaks to a representative about what can and cannot be done with her remains. Kris is excited to learn that she can transform her corpse into six diamonds, one for each child. While she's on the phone, one of her six kids enters the room. It's Kim!
Kris finishes up her call with LifeGem and gives Kim a quick rundown of the possibilities. Kim's still skeptical, and jokes that Kris should fatten herself up before death because more body, more diamonds. Kim does take a look at how beautiful these death diamonds can be, and she jokes about killing Kris right then and there! This is so insane, especially considering Kim no longer wears diamonds because, you know, SHE WAS ROBBED BY JEWELRY THIEVES! Even though Kris and Kim are laughing about Kris becoming a diamond, Kris expresses concern over the logistics of the process. For instance, what if her remains get lost in the mail, or even worse, mixed up with someone else's! Kim, on the other hand, remains skeptical — because if you could make diamonds out of human flesh, people would go on murdering sprees collecting bodies that they could resell as diamonds. This scene was filmed on May 23, 2017, just like Scene 6.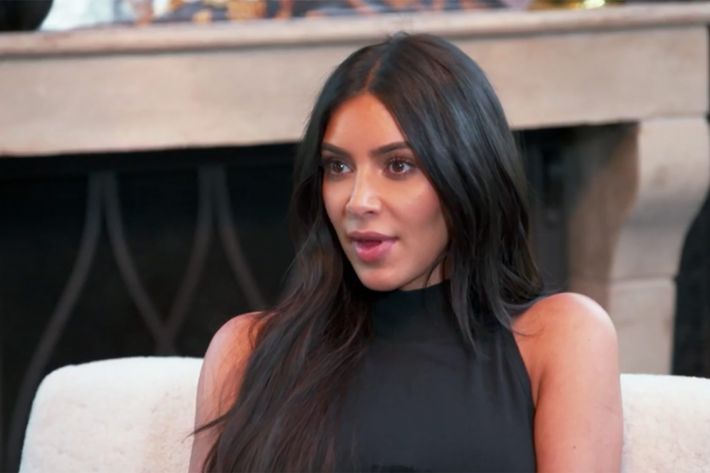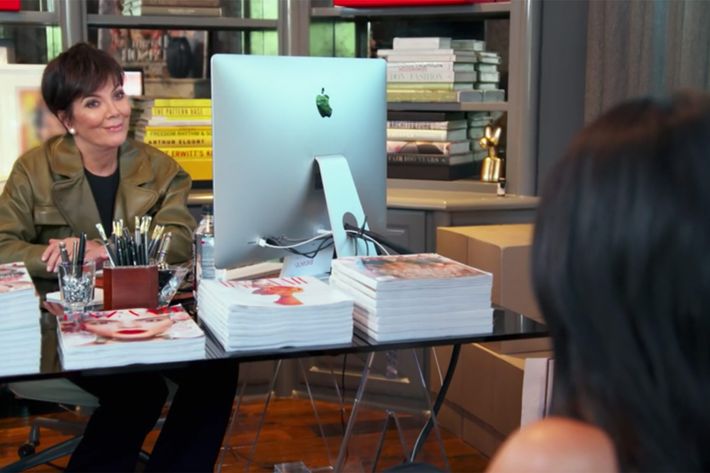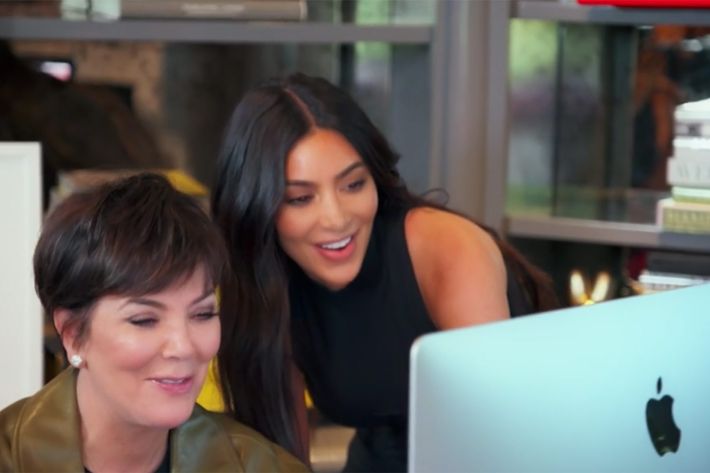 Scene 12:
Everybody's Favorite Best Friend Malika and her best friend Khloé toil about town. They talk a little but about EFBF's failing love life, and after an enlightened joke about her one day giving up and bringing home a woman, Khloé gets some serious news from Kourtney.
Scott has spiraled out of control, Kourtney tells her sister over the phone, after learning about her new relationship with Younes. She tells Khloé that Scott is "on everything" and lashing out, so she's posted outside of his home. Khloé thinks that this is exactly what he wanted, for Kourtney to come running. The mood sours in the car, but both EFBF Malika and Khloé have very little patience for Scott's antics. This scene was filmed on August 18, 2017.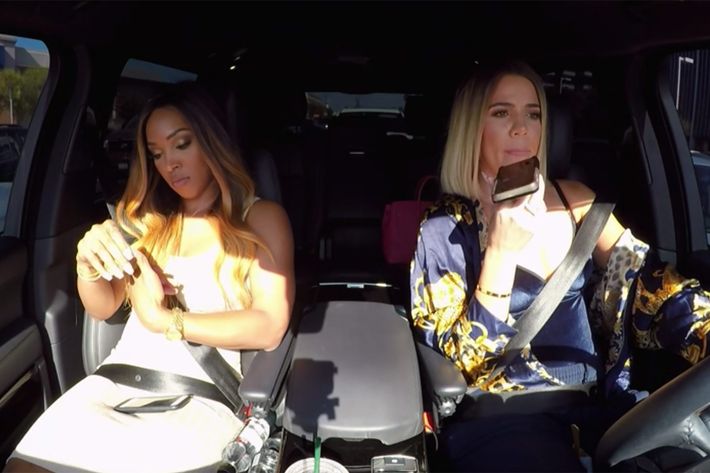 Scene 15:
Wearing workout clothes that appear to be an oversize robe occupying a fashion space that can only be described as post-shower-chic meets Beetlejuice, Kris Jenner paces around Khloé's home, trying to get 10,000 steps in on her FitBit. Kris Jenner paces around Khloé's home, trying to get 10,000 steps in on her FitBit. Surprise, she's stressed out about something else, too: her body being cremated and turned into diamonds.
Since the thought came to her, Kris hasn't been able to stop thinking about it, and she's getting more and more creeped out — and in fact, Kris would love for her family to all be buried with one another someday. So instead of continuing to torture herself, Kris decides once and for all that she'd rather wear diamonds than be one. With this decision finally off her plate, Kris asks Khloé to pace around with her. Khloé does. This scene was filmed on May 25, 2017.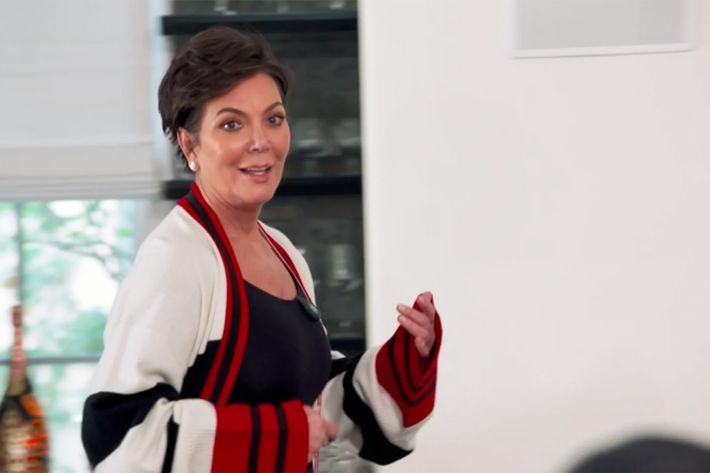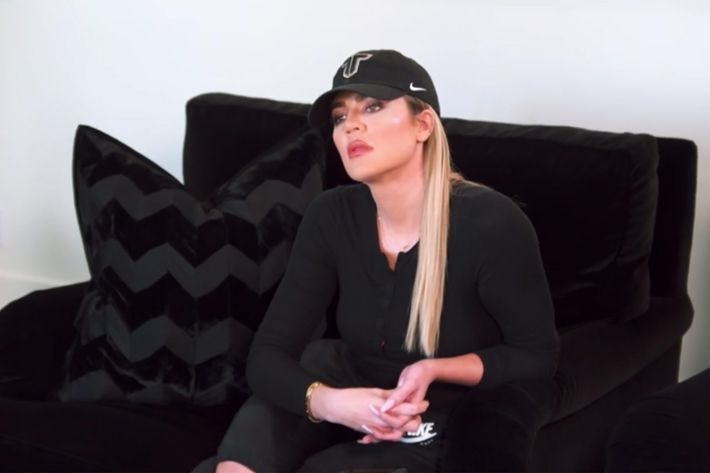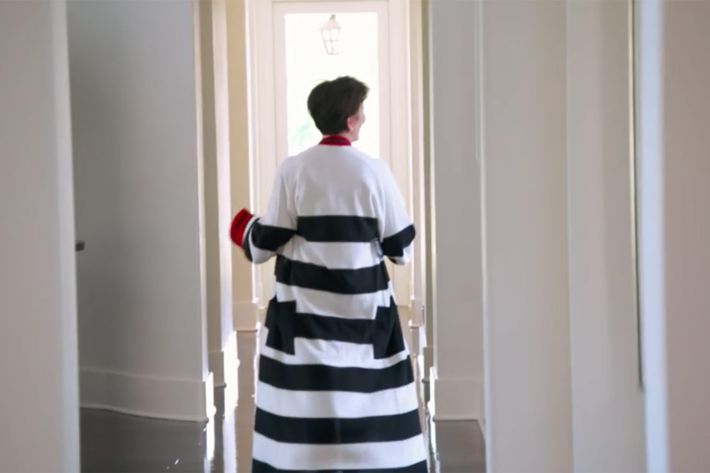 Scene 16:
Kourtney, in all of her 97-pound glory, arrives at Kim's home, fresh off a carb-loaded French vacation where she actually lost weight! Kourtney's just as shocked as anyone at how she managed to dip below 100 pounds after feasting on chocolate croissants and oatmeal the entire trip. But Kim doesn't let Kourtney relish in her croissant diet for long before asking about Scott.
Kourtney says they've been in contact since his breakdown, and they've had to have yet another come-to-Jesus talk where Kourtney reminded him that he dictates his own path. Once again, he promised to do better for the sake of their friendship and their kids. This scene was filmed on October 2, 2017.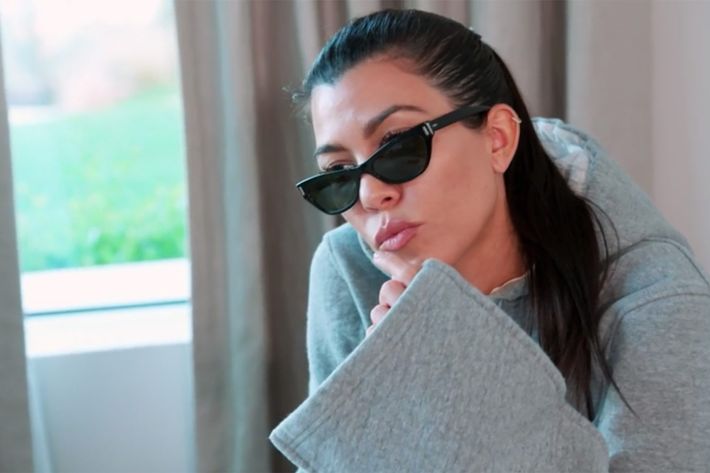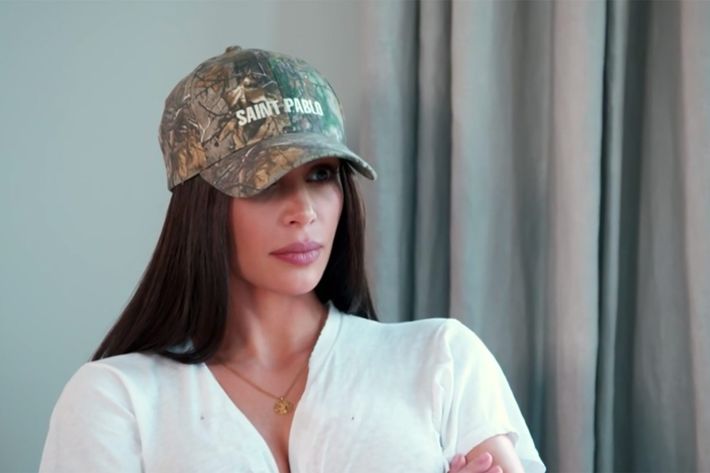 That's it for this week, Dolls. Hang tight until next week for another #KUWTKE recap of Keeping Up With Chicago West's Family. #DIAMONDSBECOMEHER