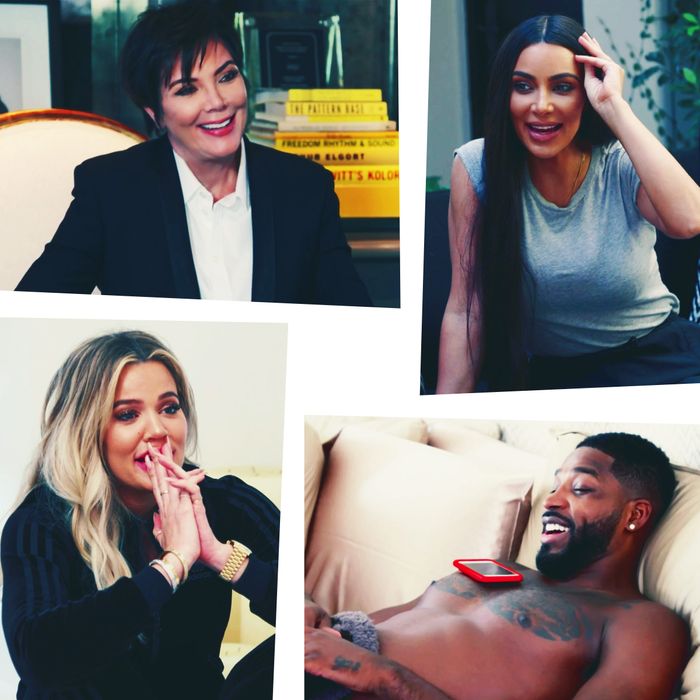 Photo: Courtesy of E! Entertainment
It's been an amazing week for the Kardashian-Jenner-Disick-West family, and I have no doubt this week's #KUWTKE will make it even better. In just 72 hours, the family's empire has grown by two episodes and one human — congrats, Kris!
This week, I'll be recapping the very best bits from our two-part event. In Sunday night's episode, our A plot was all about making Kris happy despite Rob's struggles; our B plot was Kourtney's mom guilt; and our (very minor) C plot revolved around one of Kylie's employees. In last night's (more important) episode, our A plot was Khloé's pregnancy; our B plot was Khloé's relationship with Corey Gamble; and our C plot was Kris Jenner's earlobes. Khloé's only has a few more months left to gestate, so #LEGGO!
EPISODE 14
Scene 2
At Khloé's home, Kourtney Kardashian receives continuous compliments about her tiny figure and stick-thin arms from her sisters Kimberly and Khloé. Not one to relish in praise for too long, she takes a call from family friend and the Yin to Jonathan Cheban's Yang, Simon Huck. Simon desperately craves a detail about their upcoming trip to Egypt with Kourtney's 24-years-young boyfriend, Younes: What will the aesthetic vibe be?
Kim is super jealous. Not only is Kourtney going on a trip with one of her BFFs, but that trip happens to be to Egypt, a place on Mrs. West's bucket list. But Kourtney's not actually that excited, because the idea of leaving her kids for a week is becoming more and more daunting. She's trying to make room in her life for both the mom and girlfriend in her, and finding it tough. Still, she makes plans with her sisters to have Mason spend a few nights at Khloé's and for Penelope to spend the entire time with Kim. No plans have been made for Reign, so I assume he'll just be left unattended in Kourtney's home, possibly recording bun tutorials for Instagram. This scene was filmed on August 16, 2017.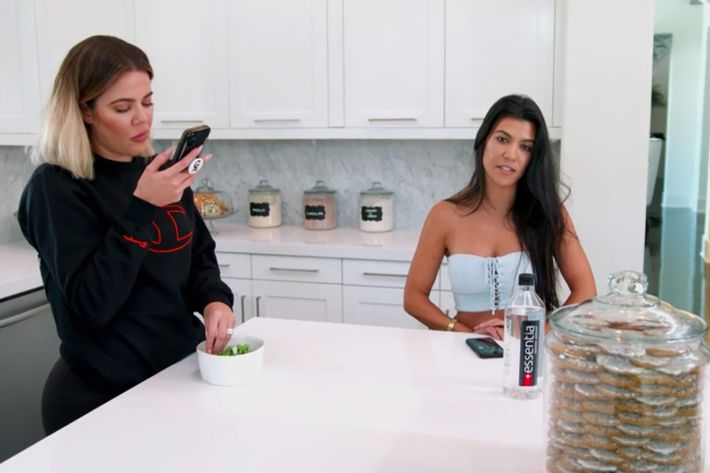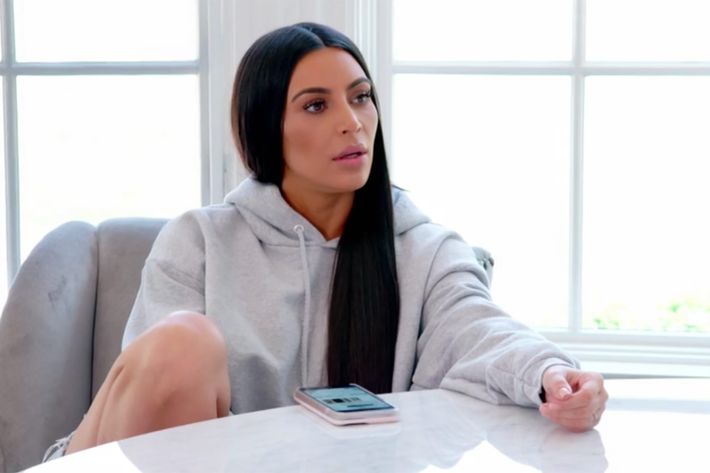 Scene 4
During her confessional shoot, North West's grandmother Kris Jenner gets a disturbing call from her youngest child, Kylie Jenner. Kylie's concerned because "that girl" who works for her was sneakily taking Kylie's photo while she was sitting in her kitchen. Kris is not shocked that a staff member is trying to exploit Kylie in her own home, but she's still worried and offers to call the police. Yes, this is a total invasion of privacy, but these particular photos may have caused a very particular concern, since this scene was filmed on August 31, 2017, about four months into Kylie's pregnancy. (If my theory is correct, that is.)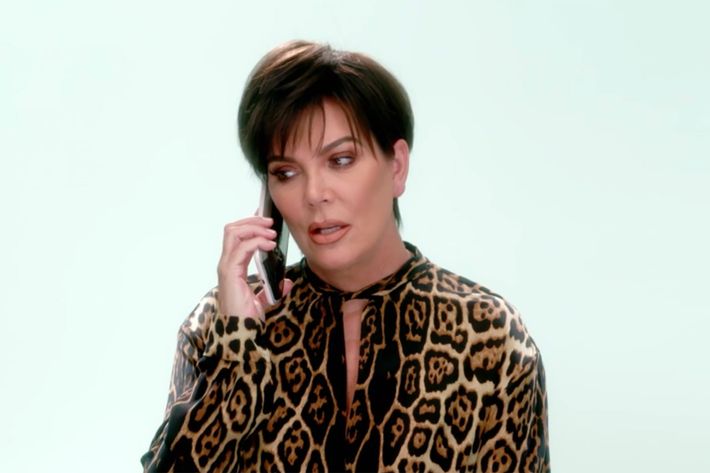 Scene 10/Scene 11
In Kris Jenner's kitchen, Kourtney tells Kendall about her possible and "really only option" for a Lip Kit Collab with Kylie (spoiler alert: the color is red, the box design will be hearts, and I bet it will debut on Valentine's Day). While Kendall pretends to care about Kourtney's pity collab, Khloé's on the other side of the kitchen, getting Kris to sit in one place so that she can surprise her mom with a mime. Yep.
Khloé's been concerned about Kris's stress levels, which seem to have gone up thanks to the constant drama surrounding Rob and Chyna. To bring some fun back into her mom's life, Khloé's taken a tip from the reality-TV show Impractical Jokers and hired a mime to be handcuffed to Kris for a full day. Because she was so impressed with what she saw, Khloé hired the exact mime, Pierre, from Impractical Jokers.
Pierre, silent but excited, promptly gets attached to a shocked Kris, who truly cannot believe that her daughter has done this. Proud of her handiwork, Khloé FaceTimes Kim, who thinks Pierre is a clown, then corrects herself and calls him a "meme" before realizing Pierre's true vocation. After the call with Kim and a trip to the bathroom for Kris (Pierre allowed her some privacy for that), Khloé has Kris and Pierre make martinis for one another. Then Khloé leaves Pierre and Kris all alone, because she has to get on with her day.
Stuck with Pierre, Kris makes the most of it and takes him, along with Kourtney and Penelope, to the grocery store. Acting a straight-up fool, Pierre plays with food and various items, then climbs up on the conveyor belt. This scene and lovely look at the artistry of miming was filmed on August 24, 2017.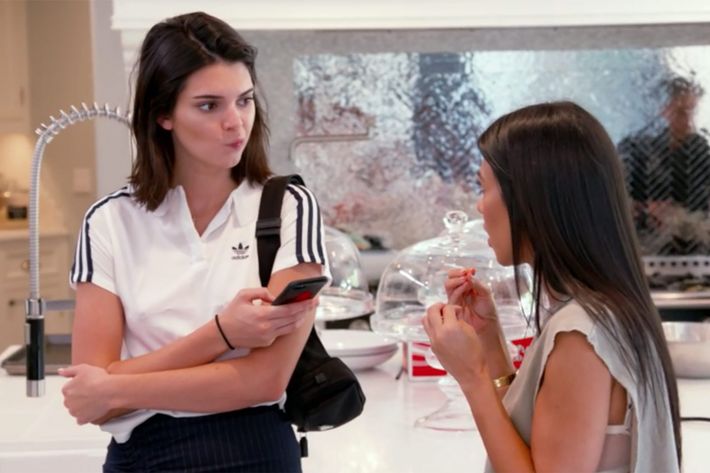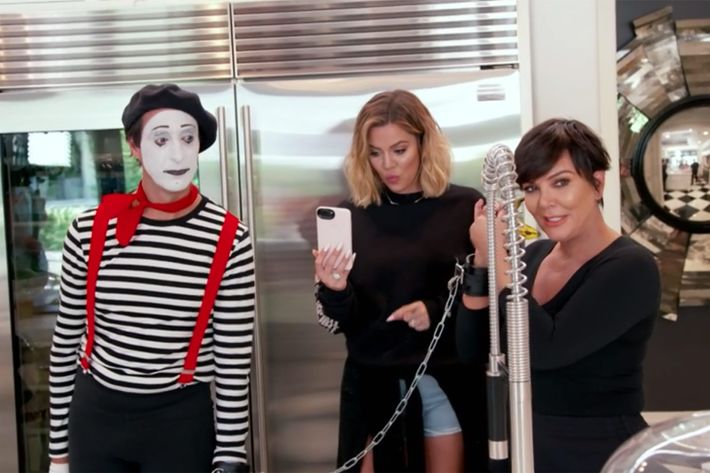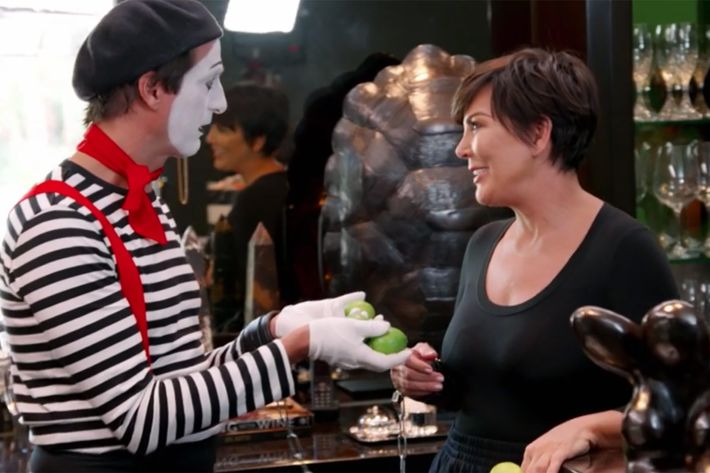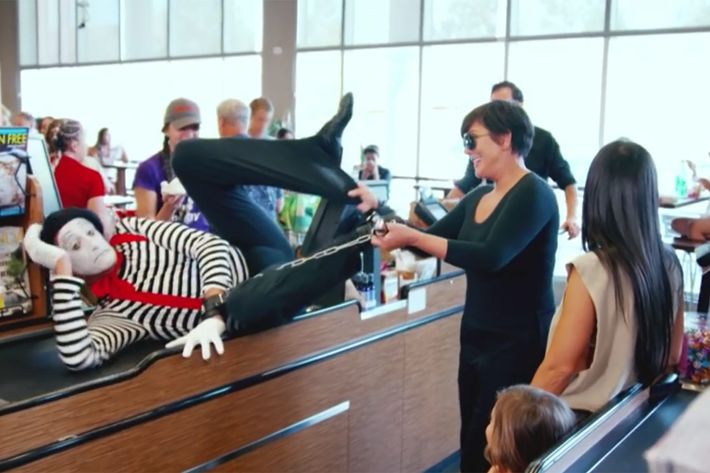 Scene 16
Even though she had fun with Pierre, Kris decides to get Khloé back. But I'm not sure if Kris knows exactly how revenge works, because she decides to do this by dressing up like a mime and surprising Khloé at home. Kris, or Pepe (her mime name), starts by making silent movements outside of Khloé's family-room window. Once she's let into her daughter's home, she first fastens herself to Khloé with fuzzy cuffs, and then a long chain with leather straps (the same ones used when she was chained to Pierre). Khloé's thrilled to be cuffed to her mom for a few minutes, and even shows off her mother's mime skills to Tristan via FaceTime. This scene was filmed on October 31, 2017.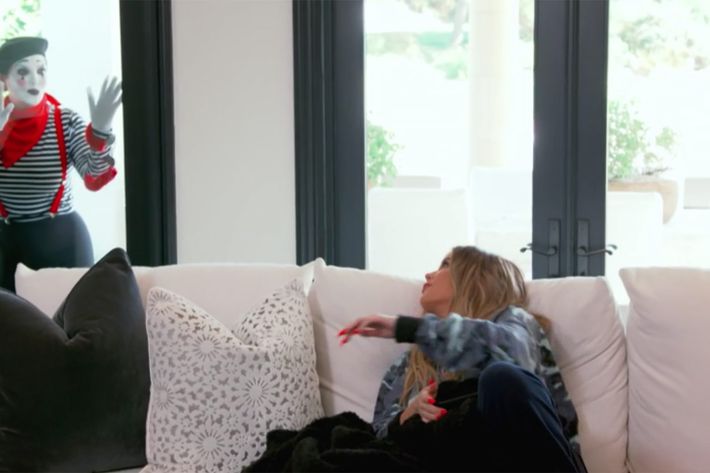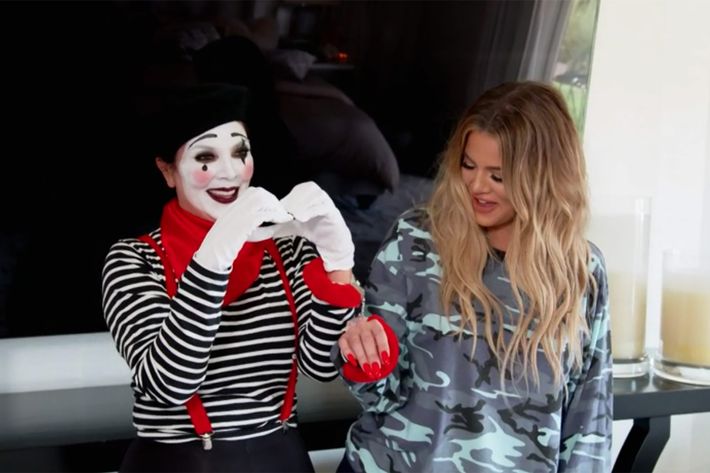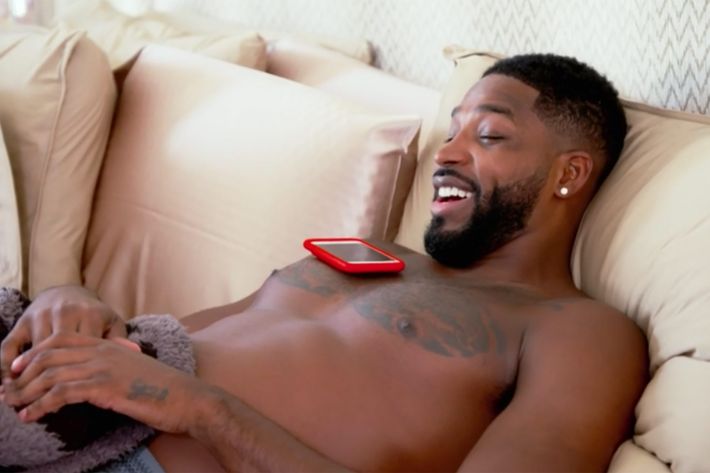 EPISODE 15
Scene 2
The second KUWTK episode of the week begins with a feud. While preparing for a Good American photo shoot, Khloé confides in Kourtney Kardashian and Larsa Pippen (Kardashian BFF and former Real Housewife of Miami). She's stressing over her strained relationship with Kris Jenner's boyfriend/toy Corey Gamble. According to EFBF Malika, Corey told her that Khloé is the sister who "hates" him. Despite having been skeptical of Kris and Corey's relationship at first, Khloé has no issues with the couple now, and both she and Kourtney think Corey's petty behavior is "lame." They also agree that he should be making a bigger effort to be on good terms with his girlfriend's daughters, especially when that girlfriend is Kris Jenner and her daughters are the fucking Kardashians. This scene was filmed on September 9, 2017.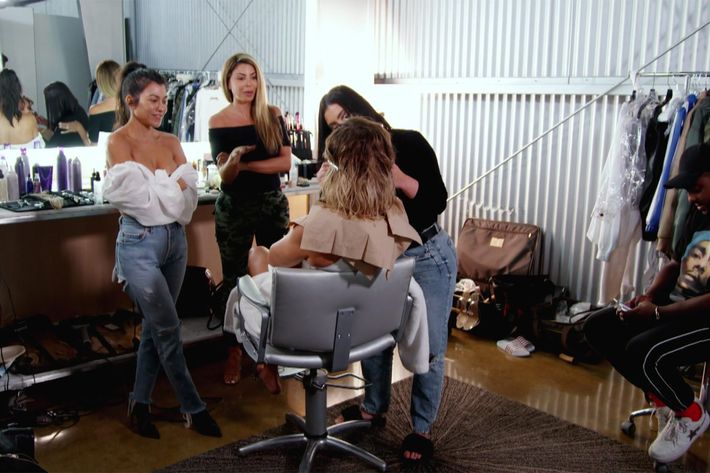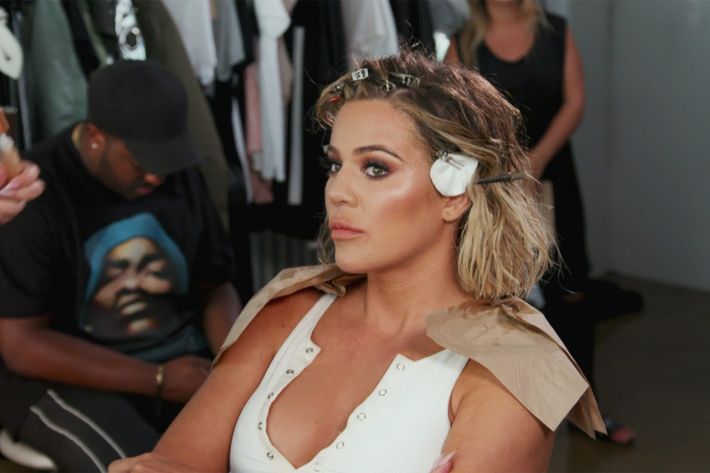 Scene 3
In Calabasas's newest boutique, Kris Jenner's Closet, Kris Jenner and her Kardashian daughters chat about her oversize earlobes. Kris is desperately seeking ways to cover her drooping lobes! She thinks their size and sagginess is caused by a blend of age and heavy jewelry, but she doesn't know what can be done to fix those attibutes. Kourtney, Kim, and Khloé all think their mother is insane, especially as she tries to cover her ears with ear muffs, extensions, and scarves. But Kim does suggest that an earlobe surgery might decrease the size of Kris's ears and make her much happier. Unsurprisingly, Kris Jenner gets her ears "redone" later in the episode. This scene was filmed on August 16, 2017.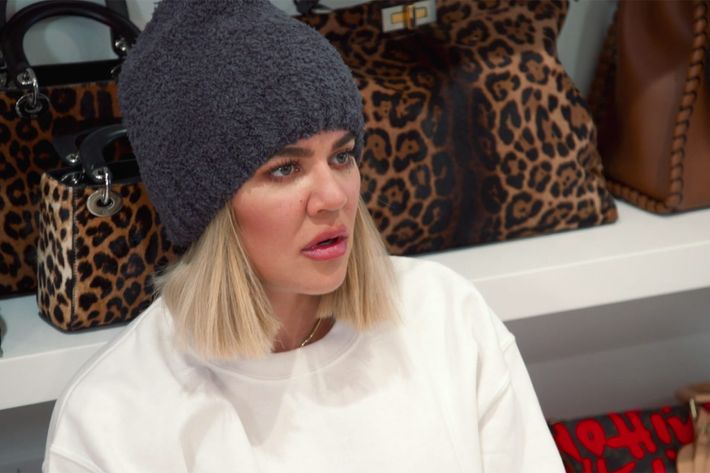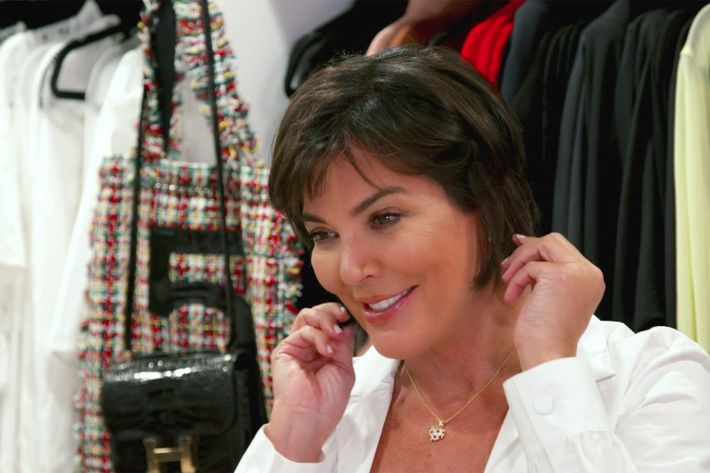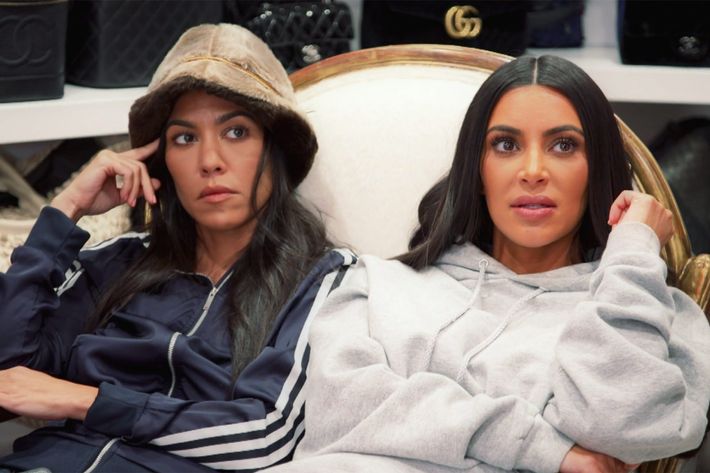 Scene 5
On the edge of her tub, Khloé Kardashian announces her pregnancy to her assistant Alexa by proudly displaying a First Response pregnancy test. Both Khloé and Alexa are in shock, but very excited. Alexa puts together the pieces of the puzzle, remembering when Khloé told her that she had to take a seat in the shower because she was so tired after a workout.
Khloé then explains that she had to tell Tristan over FaceTime because he's in his hometown of Toronto, recounting the sweet moment when she showed Tristan the test but he couldn't really make out what it said because the connection was poor. Once he realized they were going to be parents, she says, Khloé started to cry. Khloé also tells Alexa that she's keeping the news to herself for now, since she doesn't want any drama about who finds out first. The timing is perfect, though: She and Tristan already have a barbecue planned for their families in the coming weeks. This scene was filmed on  October 9, 2017, which is about two months after Khloé and Tristan's barbecue. Alexa, SAG-AFTRA is calling! Methinks we have Hollywood's next leading lady on our hands!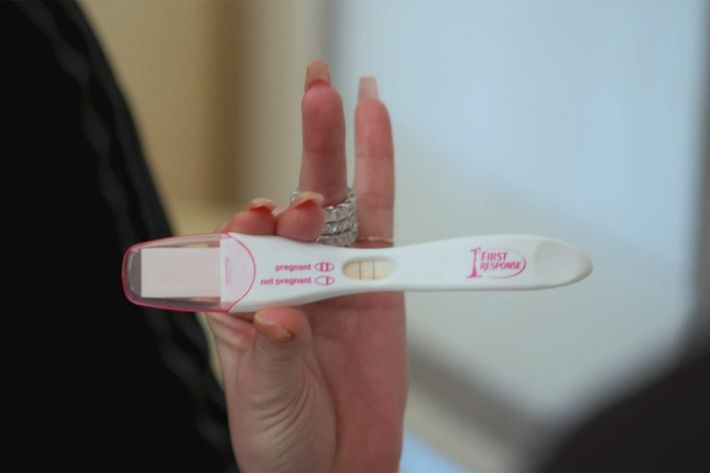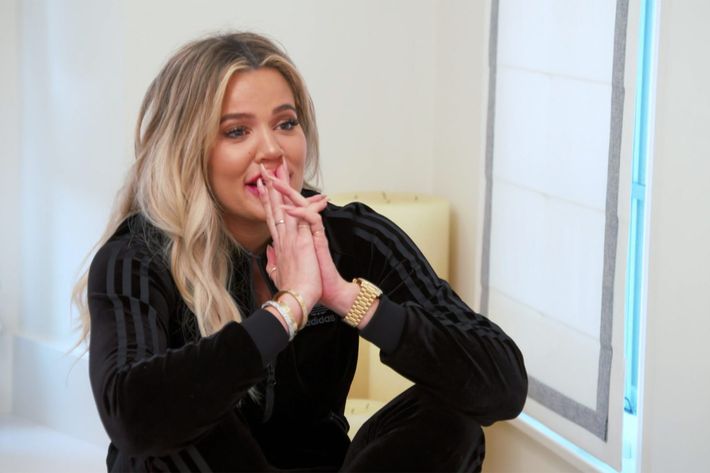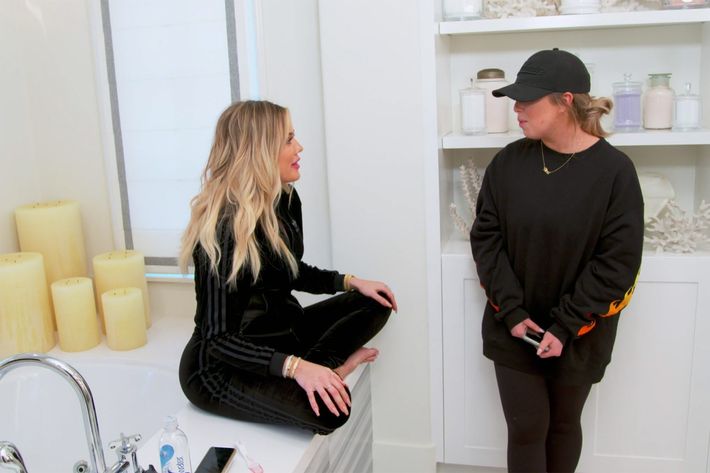 Scene 7
Shortly after finding out she's pregnant, Khloé reunites with Tristan. The moment is very adorable, but a little awkward for Kim, who watches the NBA player swoop her sister up in a romantic kiss. Kimberly, completely comfortable with public affection, just repeats, "Cue the romantic music!" as the couple makes out.
In her confessionals, Khloé says that this moment is a little bit hard to navigate — it's the first time she's seen Tristan since finding out she's pregnant, but Kim doesn't know that. What Kim does know, though, is that the two of them are far more lovey-dovey than she and Kanye are, years deep and multiple kids into their relationship. Khloé and Tristan defend their PDA by saying they've only known each other for a year. Kim agrees, and moves to leave the lovebirds alone, but not before rubbing Khloé's dog's belly with her slipper. This scene was filmed on August 24, 2017.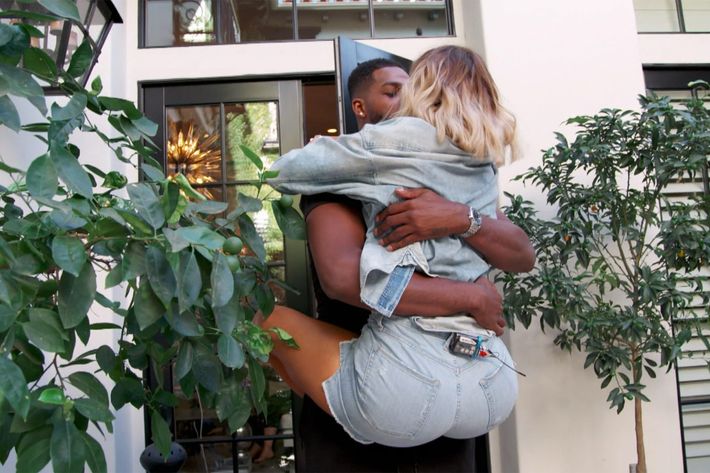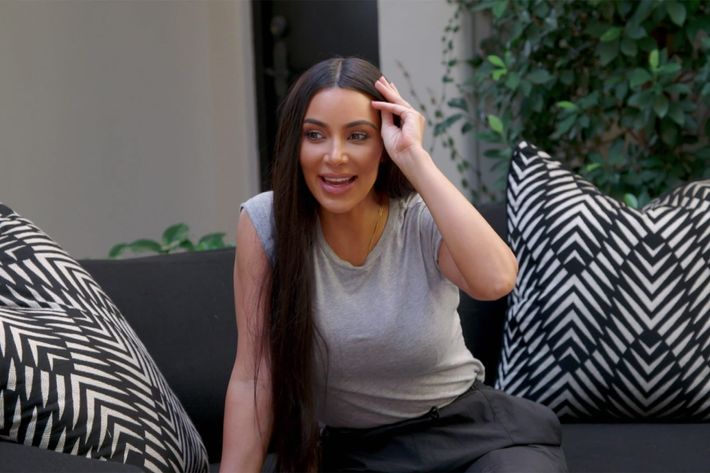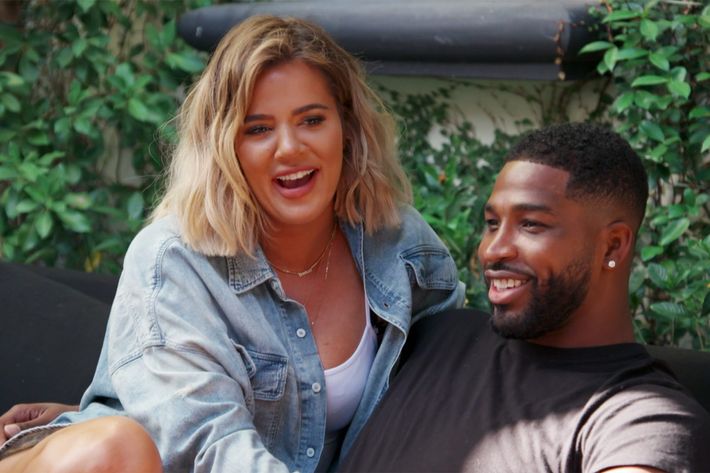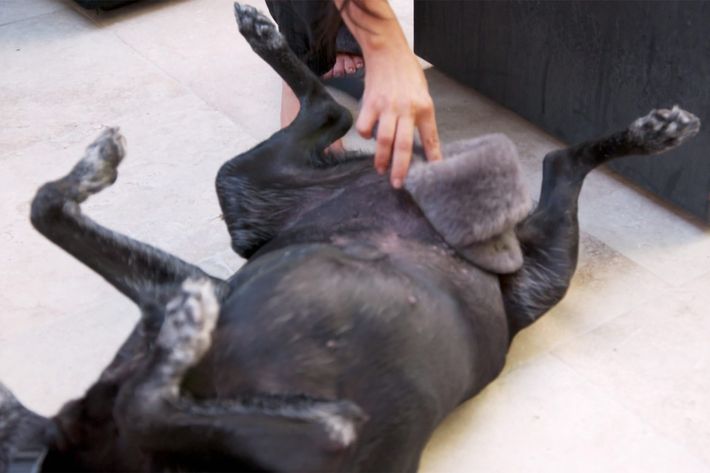 Scene 11
In Kris Jenner's backyard, Khloé and Tristan announce their pregnancy in front of a lot of their family and friends. Anxious to share the news, Khloé cradles Dream (whose dad is not present), and squeals, "We're having a baby!" Cheers and sobs immediately break out, with Kris telling the camera and Khloé that she thought this day would never come. Kris admits that she knows Khloé was born to be a mother, but was worried she'd never get grandkids from that corner of Calabasas.
After telling the family members who bothered to show up, Khloé FaceTimes Kendall and Kylie. Kendall doesn't seem that excited, but Kylie immediately breaks down in happy tears. The announcement is super genuine and sweet, and I can't wait to see Khloé as a mom. This scene was filmed on August 25, 2017.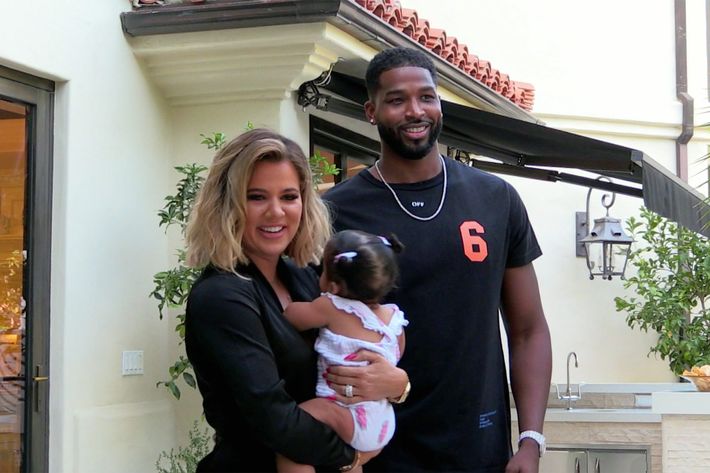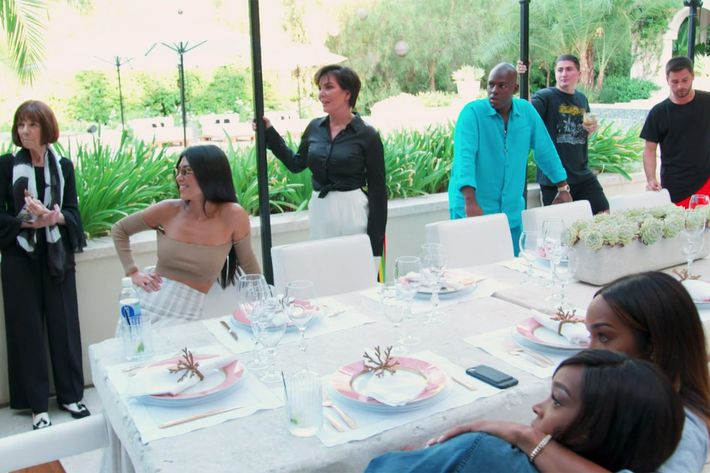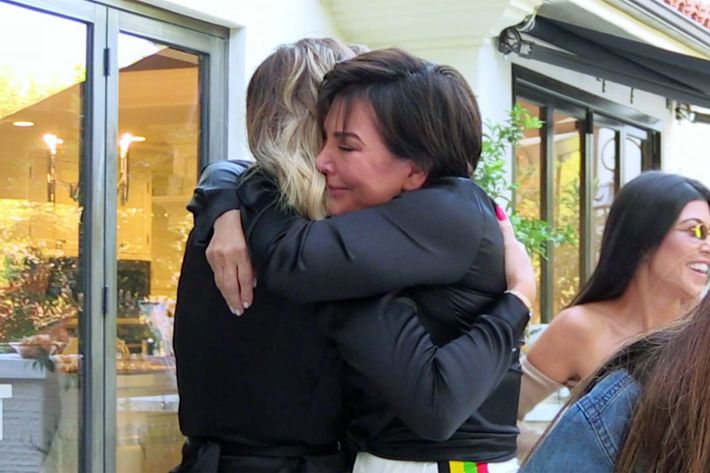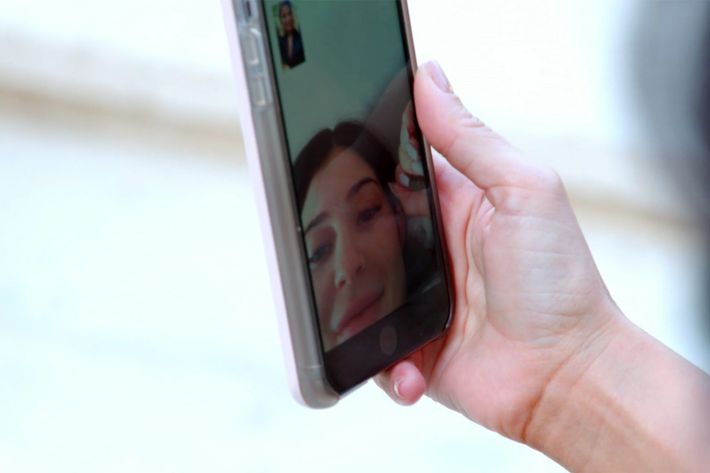 Scene 15
After revealing the happiest news of her life, Khloé has lunch with soul-sucking urchin Corey Gamble and her sister Kourtney. With Kris's approval, Khloé's having lunch with Corey to see if they can smooth out some of their issues. Corey does not seem enthused to be there, and as Khloé puts it, keeps talking in "riddles." Even though his attitude is sour, he does maintain that he doesn't dislike anyone in the family — it's just that he reciprocates the energy being sent his way. If he thinks Khloé's being rude to him, he says, then he'll be rude to her. He also thinks that since they're "girls" and his "girlfriend's kids," he can't behave normally around them. Truly bizarre. Khloé doesn't walk away from the lunch satisfied, but promises to make a continued effort to build a relationship with this man. This scene was filmed on September 12, 2017.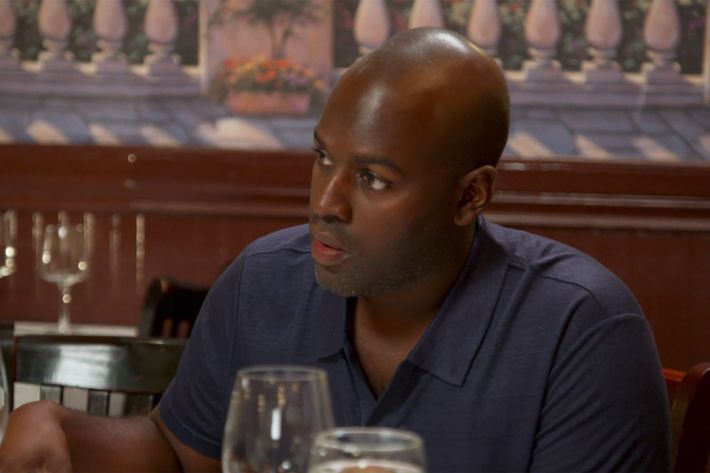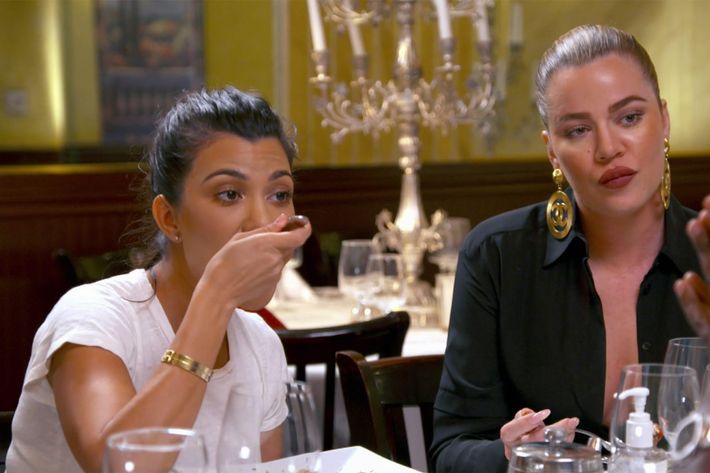 Scene 18:
Khloé and Scott are making an appearance on Steve Harvey's show, and because she's trying to do better, Khloé brought Corey along for the ride (it doesn't hurt that he's a friend of Steve's). Khloé's excited to mend her relationship with Corey, but she's also anxious that she might "look big," because she's, you know, pregnant. Scott tells her that he thinks, "Everyone looks fat," and Corey tells her she looks great. Things are already looking up for the two of them! I am confused why Corey is acting as Khloé's lint-rolling boy, but he does seem to be happiest in service-related roles. (I mean, he has been dating Kris Jenner for over three years now.) This scene was filmed on September 19, 2017.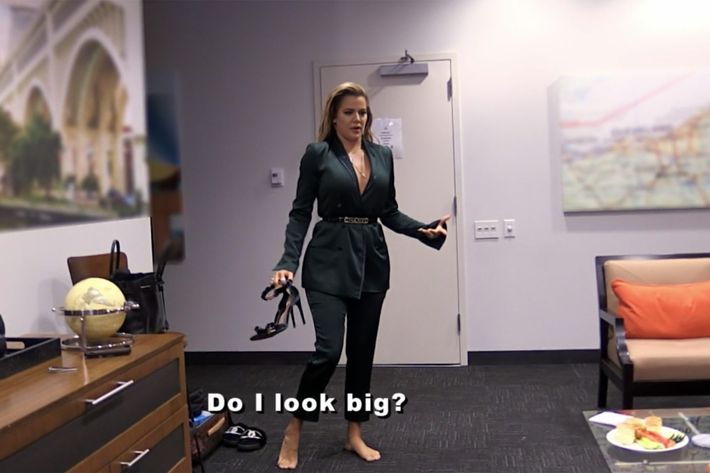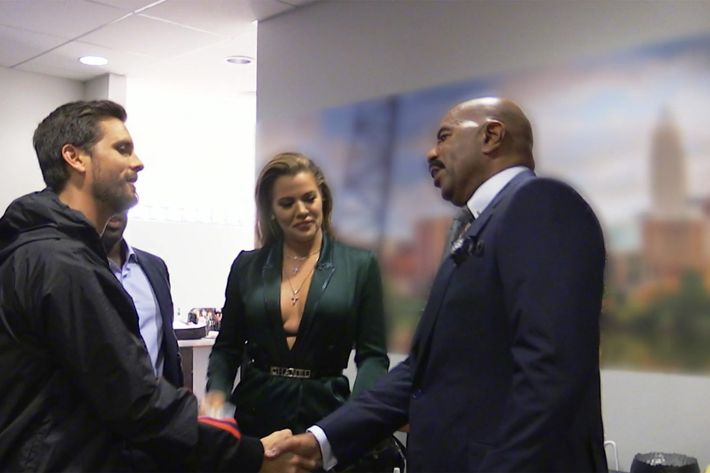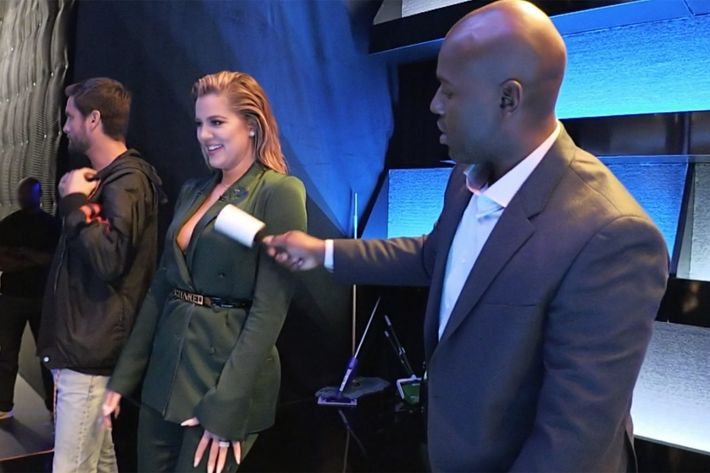 What a week! I'll catch you next time with another #KUWTKE recap of Keeping Up With Kimye's Nameless Newborn's Family. #SAVEPIERRE