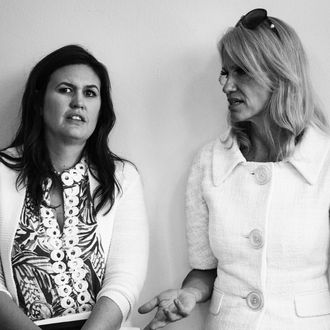 Sarah Huckabee Sanders and Kellyanne Conway.
Photo: Zach Gibson/Bloomberg via Getty Images
Appearances are everything for the Trump administration, so the fact that its public faces, including Kellyanne Conway and Sarah Huckabee Sanders, have a full-time makeup artist funded by taxpayer dollars on staff, should come as no surprise. But according to Politico, this stylist's recommendation came from none other than Anthony Scaramucci, whose ten-day run as communications director continues to leave a shockingly large wake.
Professional stylist Katie Price, who formerly ran a bridal business called NOVAbelles and freelanced for clients like CNN and Russia Today (yes, you read that correctly), was hired during the Mooch's tenure after he sung her praises during a CNN broadcast.
"The only thing I ask Sarah — Sarah, if you're watching, I loved the hair and makeup person we had on Friday, so I'd like to continue to use the hair and makeup person," Scaramucci said on camera.
Politico reports that Price was given a desk in the press office and the title of "production assistant" last fall. Including being on call for makeup duties, Price also answers phones and emails, escorts members of the press, and handles "wrangling duties" with other press assistants.
Prior to Price's appointment, Sanders paid out-of-pocket for a stylist. Sanders's predecessor, Sean Spicer is said to have applied his own makeup. As for Vice-President Mike Pence, Price has done his makeup on "at least one occasion."
"She's definitely made my life easier," Sanders told Politico.
Although Price is available to anyone on staff with a "public-facing role," she mostly focuses on the communications team, and does not do the Trump family's makeup. Melania Trump's spokesperson told Politico that she pays out-of-pocket for her own stylist as well.
The Trump administration is not the first one to hire a professional makeup artist. George W. Bush hired makeup artist Lois Cassano on day one. (She also answered phones.) However, the Obama administration, according to four former officials sourced by Politico, did not have a makeup artist on the government payroll, nor did the Clintons.