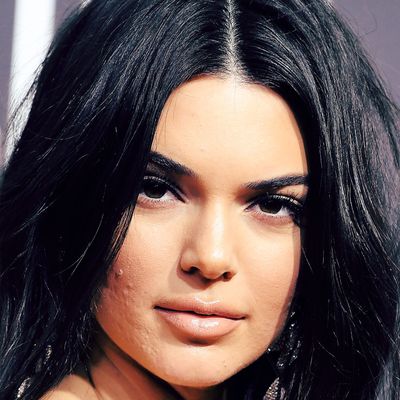 Kendall Jenner.
Photo: Steve Granitz / Contributor/2018 Steve Granitz
Kendall Jenner's skin often is airbrushed to perfection. However, the model and Estee Lauder face has spoken at length about her struggles with acne. In 2015 she wrote on her app, "It completely ruined my self-esteem. I wouldn't even look at people when I talked to them. I felt like such an outcast; when I spoke, it was with my hand covering my face. Sure, I had crushes in high school, but I wouldn't even think about looking at guys."
"Even after things started to clear up, it took a solid amount of time to be okay with my skin and gain back my confidence," Jenner wrote. "I realized that it's a part of life for some people and it doesn't define who you are."
Three years later, it seems that Jenner has learned to overcome that particular insecurity. In some close-up pictures from this weekend's Golden Globe awards, her acne is (barely) visible. People online began to rudely comment on her non-smooth complexion.
Jenner responded to one tweet that praised her for showing up with, "never let that shit stop you."
Jenner did not, in fact, let her breakout stop her and her leg from wearing a black Giambattista Valli gown to Sunday's awards show, in solidarity with #TimesUp.
When she was done commenting on her skin, the 22-year-old tweeted "honored and humbled to be able to attend the Golden Globes with @voguemagazine. my eyes were opened and my heart is full seeing all of the men and women who were a part of this vital change! i too stand with all women #TimesUp."