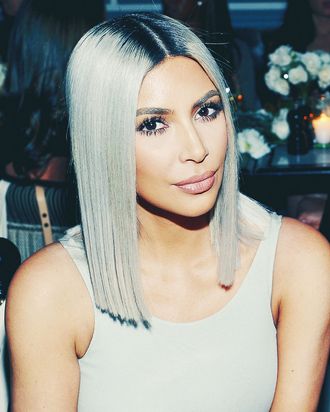 Kim Kardashian.
Photo: Donato Sardella/Getty Images for The Tot
Kim Kardashian West is having quite possibly her busiest month ever. She just welcomed a new baby, released the most anticipated baby name of the year, and announced that she's making an eye-shadow palette. Now, she's adding a second fragrance launch to her long list of accomplishments. Kardashian West will depart from her metaphysical perfume roots and release a kitschy heart-shaped perfume in time for Valentine's Day.
The announcement, made on Instagram, only showed us the Kimoji-looking bottles and their names, BFF, Bae, and Ride or Die. If this launch is as successful as her first under KKW Beauty, she could make $10 million in one day. The media mogul didn't say what the perfumes will smell like, but she did once say that she loved the smell of truffles and wood fires, so maybe they'll be wintry and romantic.
The perfume launches February 1 on KKW Fragrance.