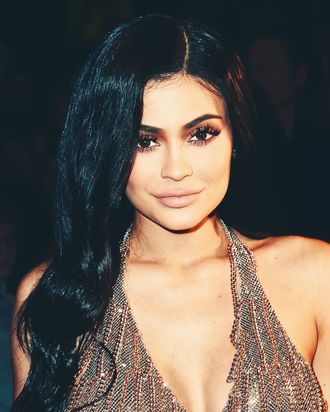 Kylie Jenner.
Photo: Nicholas Hunt/Getty Images for New York Fashion Week
Since news of Kylie Jenner's pregnancy broke in September, not one Kardashian has confirmed it, leaving the tabloids desperate to nail down any details about the 20-year-old's impending motherhood. At first, tabloids reported that Jenner was due in December or January. Now, with no sign of a baby, the outlets are readjusting their timelines. TMZ reported earlier this month that Jenner is due in March, and People reported this week that she'll have the baby in February. To add to the confusion, this morning TMZ published a rare paparazzi photo of Jenner, in which she doesn't look very pregnant at all. Has she already had the baby? Who knows?
The Kardashians have made their fortunes sharing intimate details about their lives with the public. The way Jenner has handled her pregnancy, however, shows that the family is able to keep some things private for an impressive amount of time. Jenner hasn't talked to the press, rarely leaves her house, and has clearly instructed her circle not to reveal anything about her situation. So far, she has succeeded in keeping her pregnancy private, which is obviously driving the tabloids nuts.
As Celebitchy pointed out this morning, People published three non-stories about Jenner's pregnancy this week with comically vague details about how Jenner is "excited" to have a baby. "She's excited, she's anxious … there are a lot of feelings, but she's ready for what's next," one "insider" told the tabloid. Another offered this revelation: "Her sisters have tried to give as much advice as possible."
Us Weekly isn't faring much better. The tabloid's Jenner story from this week reveals that Jenner "always wanted to be a mom." Okay!
Like everyone else on this crumbling planet, I am eager to get more information about the contents of Jenner's womb, but we all must accept the fact that the tabloids don't have it. When Kris Jenner decides it is time for us to hear about Kylie's pregnancy, we'll know.