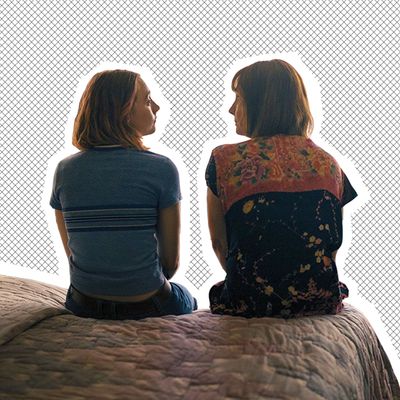 Photo: Courtesy of Universal Pictures/20th Century Fox
Lady Bird depicts the lives of teenage girls in myriad ways, but perhaps no aspect of Greta Gerwig's coming-of-age film is more universal — and more likely to have you reaching for your Kleenex box — than the fraught, combative, yet ultimately loving relationship between Lady Bird (Saoirse Ronan) and her mother Marion (Laurie Metcalf). We spoke to seven teenage girls and their moms from across the country about going out to see the film together, and how Marion and Lady Bird's relationship helped them reflect on their own battles, deepen their bonds, and gain a greater appreciation for one another.
For many of the duos, the film captured the unique challenges that exist in that juncture between high school and college, as parents and children begin to navigate their impending separation. For most, seeing it together was a transformative experience. As one mother we spoke to put it: "The film became part of us, and we went on with life with a new outlook." Or, to quote another: "I probably have to have some therapy after this."
Sarah, 18, and Allyn (Round Rock, Texas)
Allyn: Sarah demanded that I go see this with her; I didn't know anything about her, she's like no, no I want to see it with you. And she actually told me she wanted to open up some dialogue.
Sarah: The movie kind of opened a whole new world for me. I've gotten better at seeing where my mom's coming from instead of just taking my own view on things. I also wanted to share my feelings about college. I live in Texas and I'm moving to Alabama for college, which isn't the same as Lady Bird, but Alabama's still 14 hours away. I'm pretty scared, but I'm also excited, because I have always wanted to travel and get out of Texas. It helped me, seeing the film, just to see a girl in my same situation succeeding.
Allyn: In the scene where Marion goes to drop off Lady Bird at the airport and drives away, I was just going no no, go back, no don't leave now! She never really verbalized her feelings to her daughter. My main takeaway was to say the things you want to say now, don't hold them in. I want Sarah to go to college knowing we love her, and take that confidence with her. If you love your kids, say so.
Jules, 17, and Diane (Long Island, New York)
Jules: I love coming-of-age films more than anything. That's what I want to do with my life, is make that sort of genre of films. I connected with Lady Bird so much that I just started crying. And I looked over at my mom and she was crying too.
Diane: We have a similar situation where my husband got laid off, so financially we are struggling here, and that really hit home. I also felt sympathy for the mother in the film. It wasn't like Jules and my relationship, we're closer than that, and I felt that she was missing out on so much.
Jules: I'm really dreading my birthday next week. I'm turning 18. I guess it's just a number, but it does carry a lot of responsibilities, and I'm starting to realize that I don't know anything about being an adult. I loved the how movie showed what it's like to be 17 — and the way Lady Bird wants to leave home. As someone who lives in a small town, I want to get out of here really bad but I know that financially it may not be realistic. There was also a really nice scene after Lady Bird gets picked up from Kyle's house and they go to look at open houses and that's something my mom and I like to do together, too: we drive around the rich parts around here and just look at the houses. For me it's kind of like, if I make enough money I will buy my mom this house. That's what sort of motivates me.
Rachel, 19, and Sherry (Potomac, Maryland)
Sherry: Say hi. [The sound of chewing noises echoes over the phone.] Rachel is stuffing something in her mouth.
Rachel: Mom, I'm not going to stop eating, I'm hungry! You go first.
Sherry: All right, well, I really felt like it was a really honest portrayal. The mom wasn't a bad person, she was very caring, and nobody was a villain, but it seemed to me they just couldn't see each other's perspectives for most of the movie.
Rachel: I'm definitely relating to it right now, as my mom's swatting my hand away as I'm trying to eat. Anyway, the night we saw the movie, we ended up having a big fight. We were supposed to go out to dinner with our friends, and I was having a lazy day and didn't get ready on time. I ended up missing dinner, though I did make it to the movie. My mom was so angry that she blew up at me in the kitchen and was yelling and saying all these things. She was really really upset.
Sherry: Well, I had the right to be upset, Rachel.
Rachel: From her perspective, I kind of do that kind of thing all the time, and she feels like I don't prioritize hanging out with her. Anyway, that night my mom was very upset with me and I was very upset with her. And after the movie, my mom was crying because she related with the connection of the mother and daughter. I guess the movie kind of helped us make up. I never thought the mom was a bad mom because I saw so much of my own mom in her. I just thought she was struggling.
Sherry: I think the mom had a lot of trouble letting go and accepting her daughter as her own person ready to stand. She really wanted to protect her daughter, and her daughter was struggling to figure out who she was, and the only way she could do that was by standing on her own and seeing what felt right. We've definitely gone through that.
Lenny, 17, and Jennifer (Richmond, Virginia)
Lenny: I first saw the trailer probably in mid-September and there was something about it that struck me so deeply, that I actually wrote my college admissions essay about watching the trailer and having this personal epiphany. I also want a career in the film industry, as a screenwriter or a director, and I'd been a huge fan of Greta Gerwig since I saw her in Frances Ha.
After we saw the film, my mom and I didn't really leap into conversation, it was kind of just something that we watched and became part of us, and we went on with life with this new outlook. I felt like I understood my mom more watching Lady Bird's mom.
Jennifer: Lenny is a senior and we went on a college trip to see University of Texas, and the night we got to Austin we went to see the movie together. It was obvious that the mother-daughter relationship would have some similarities, with the mother being very intense — like the line that you can be both scary and warm, we kind of had a laugh about that, because we have had some battles over these high school years.
I related to Laurie Metcalf's character; watching the movie at times was sort of like an out-of-body experience. The little scene where she's cleaning up the hotel room, that's one of my things — I feel like it's kind of a respect thing, I don't like leaving messes for other people to clean up. And, though maybe not quite as bluntly, definitely some of the schools Lenny wanted to apply for I felt: Well, is that sort of unrealistic? But I think that it is my job. I think honesty is mandatory for a good relationship and so I think that I was almost flattered that she saw me in Laurie Metcalf's character because she's so fierce, and I think you have to be.
Lenny: I sent my college application to five film schools and I've heard back from four and I've gotten into all four. Now I'm actually 93 percent sure I'm going to attend a university which is like ten blocks away, which is kind of ironic because I always thought I'd go away for college in a big city like New York. But after seeing Lady Bird, I think that I need to make the best decision for me but also for my parents. I don't think I would have realized that as fully or been as happy as I am now if I didn't reflect on Lady Bird's decision.
Zoe, 17, and Darien (Colorado)
Zoe: We kept looking over at each other during the movie because we were both like, Oh my god this is kind of freaky how this is like us. I think something we noticed is that they were both really stubborn and would fight when they were in person, but then when they were alone they were like Oh of course we love each other. In secret you knew they didn't hate each other and everything was okay, they just get mad sometimes.
Darien: I hope I'm nicer than the mom in the film, but certainly there is an amount of tough love that one ends up doing with a teenager. I guess the college stuff is an area where I've tried to be pretty different from the mom in the movie. I've tried to have college be Zoe's choice. That was something that was hard to watch in the film, the mom saying you need to go where I want you to go — I don't want to do that. I think the changing-room scene was really familiar too; we've both done that thing to each other, where if we say that doesn't look good or I thought you didn't like that color, well, if you're in the changing room you haven't bought it yet, so why would it hurt your feelings for me to say it now?
Zoe: Sometimes when we're shopping she'll be trying to help me and we'll both get frustrated and she'll be like: You know what, okay just go on your own. And that's kind of how we've done it for all the school dances I've gone to. She was like: Do it yourself, find it online, show me the one you pick, I'll say it's beautiful and we'll all just pretend that nothing happened.
Bella, 16, and Irina (Santa Rosa, California)
Irina: We recently lost our house in the [Northern California wildfires] and we just moved to a new town, and this was our first time to go see a movie together. I loved the movie. I think we both understood a lot from it. I was sick a few days ago — this is after seeing the movie — and Bella was so sweet to me, like I was her baby, and it made me cry because I felt so loved and like, Oh my gosh, I have such a wonderful child who's a wonderful person. I think that movie did something, like Bella kind of opened up to me as a more loving and caring person.
Bella: I wasn't sure if my mom would like it at first, because I kind of felt like it was too similar to our relationship, but we both loved it. The movie really brought out to me how important familial love is. It made me more aware of my parents' lives and not ignoring that they have their own problems outside of mine — like how Lady Bird's parents are struggling financially, I never used to think about stuff like that. There were also so many similarities between me and the main character. I go to Catholic school, I live in a small town in Northern California that that I'll also call San Francisco when someone asks me about it. And I want to go to an East Coast school to be with artistic people.
Irina: Bella's working hard to get into a good school, but we're thinking she's too young and maybe it would be easier for a year or two to start here in California and then get transferred to an Eastern school or something. It's tough as a mom to want my baby to go so far.
Alyssa, 15, and Jeanette (Dexter, Michigan)
Alyssa: I thought it was by far one of the best movies of 2017, possibly that I've ever seen. Because while it didn't have a huge plotline to it like some other movies, it was just so like relatable. Especially the fact that Lady Bird is not a pushover, which is something I related to. Because even though people said she was weird and stuff she kept her personality, which reminded me that even if people think you're weird not to change your opinion for them.
Jeanette: For me, I felt like I was Lady Bird and now I'm the mom, and I'm like: how did that happen to me!? And how can I relate to both of them — but not really relate to the teenager anymore cause I'm a mom now, y'know? It was just very telling. Alyssa and I are really like these two I think, we definitely have some sparks in our relationship, and I think I was always so worried about our relationship and now I feel maybe this is just how it has to be for us. Maybe I'm realizing that we are more similar than I thought. I probably have to have some therapy after this.
Alyssa: Even when things were bad, Lady Bird's mom still cared about her so much. Sometimes after being at school and dealing with people that I dislike all day, I come home and just want to be alone. But and my mom wants to talk and and I'm like, Ugh, I'm not in the mood. I like having my own space.
Jeanette: I'll think oh, She must be depressed, something's going on in school she's just not telling me about it, and then she'll say something like '[a classmate] is really mean,' and then I think, Oh, teenagers do just say what's on the top of their head. She's a pretty good judge of character, just a bit rough around the edges sometimes. And I have been accused of that myself! I'm having a real moment, I guess.