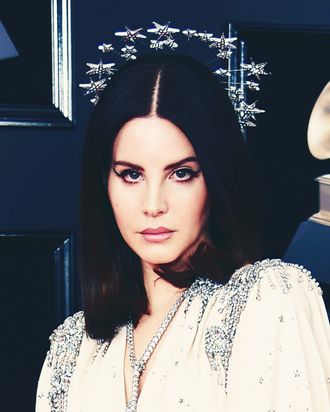 Lana Del Rey.
Photo: Dimitrios Kambouris/Getty Images for NARAS
Flower crowns and flower veils, make way: It's time for the star crown. Lana Del Rey wore a constellation headpiece of shiny stars — affixed to the back of her head like a halo — to the Grammys this weekend. She paired the look with a custom Gucci ivory double silk crepe gown with crystal star embroideries.
Twitter speculated that the look was perhaps an homage to old Hollywood actress (and Nazi-code-breaker-technology-inventor) Hedy Lamarr. Lamarr wore a similar look in the 1941 film Ziegfeld Girl, created by the legendary costume designer Adrian.
In addition to the crown, Del Rey paired the look with a swoopy cat-eye and her typical bummed-out expression.