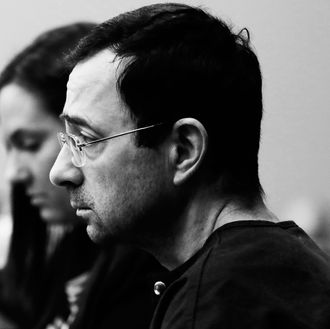 Larry Nassar.
Photo: Carlos Osorio/AP
Former USA Gymnastics doctor Larry Nassar was sentenced on Wednesday to 40 to 175 years in prison, after more than 140 women and girls accused him of sexual abuse. During the hearing, Judge Rosemarie Aquilina told Nassar, "I just signed your death warrant."
The sentencing came after seven days of victim statements from those who were sexually abused under the guise of treatment by Nassar, 54. Many of the young women spoke of the pain and suffering they endured because of the abuse. "Imagine feeling like you have no power and no voice. Well, you know what, Larry? I have both power and voice, and I am only beginning to just use them," Olympic gymnast Aly Raisman said during her powerful statement.
In November, Nassar pleaded guilty to seven counts of first-degree criminal sexual conduct — each count carried a possible prison sentence of between 25 and 40 years. He also received a 60-year federal prison sentence in December for child pornography.
During his Wednesday sentencing, Aquilina told Nassar that while she normally believes in rehabilitation, she does not think Nassar deserves to ever walk outside of a prison again. The judge also called for a massive investigation into the years of inaction and silence that allowed Nassar's abuse to continue.