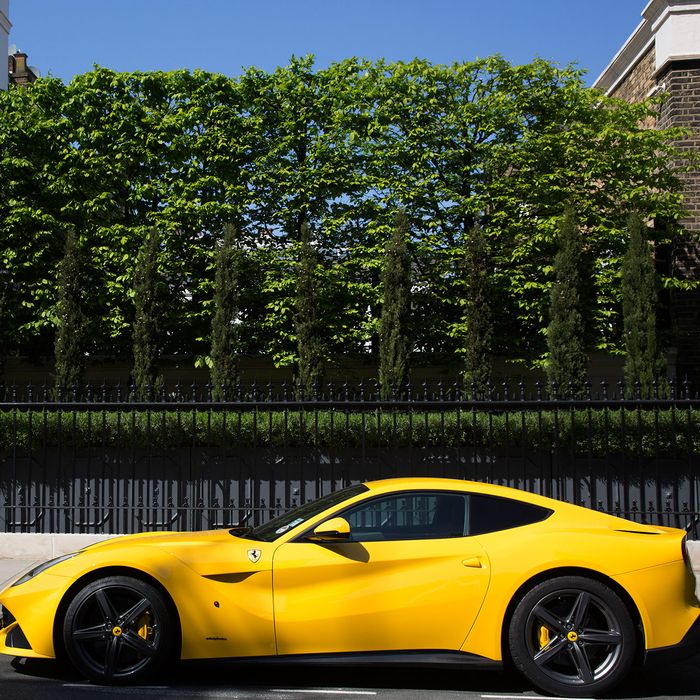 A yellow Ferrari.
Photo: Mike Kemp/Corbis via Getty Images
We've all done crazy things to impress someone we're into at some point, but one Florida man took his romantic pursuit a bit too far: He allegedly tricked a hotel valet into giving him the keys to someone else's $300,000 Ferrari to impress a woman he'd just met.
In a new lawsuit, attorney James "Skip" Fowler alleges that he parked his yellow 458 Italia Spider outside the Vinoy Renaissance resort & Golf Club around 11 a.m. one day last July in St. Petersburg, Florida. The Tampa Bay Times reports 28-year-old Levi Miles later showed up at the valet stand around midnight, allegedly demanding the keys to the Ferrari. According to a police report, Miles told the valet that the ticket was inside the car and that he'd bring it back to the stand.
Miles and 24-year-old Chloe Rimmer then allegedly sat in the car for "quite a while," before driving off. An officer eventually stopped him for driving without taillights. According to the report, Miles had "difficulty" handling the car, cocaine was on the center console, and Rimmer had weed in her purse.
Speaking with police, Miles said that he had just met Rimmer, and that when she asked him if Fowler's Ferrari was his, he (of course) replied, "Yeah, that's my car." Miles reportedly told officers, "I was just trying to impress the girl I just met at the Vinoy."
Miles reportedly faces charges of grand theft, cocaine possession and habitually driving with a suspended or revoked license, while Rimmer faces a charge of marijuana possession. At the same time, Fowler is suing the hotel and valet company for negligence. Ah, love!