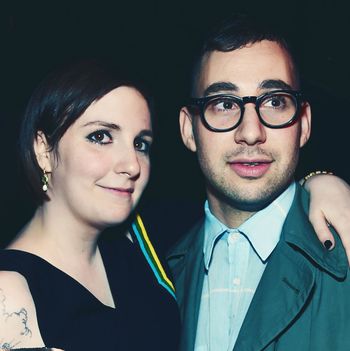 Lena Dunham and Jack Antonoff.
Photo: Jamie McCarthy/Getty Images
Lena Dunham dove even further into the "Instagram" phase of her breakup with Jack Antonoff on Tuesday, when she opened up about the recent "amicable" split in a live video.
As E! reports, Dunham spoke out about the breakup for the first time on Tuesday, shortly after it was revealed that she and Antonoff had split after five years together. She thanked everyone for their supportive messages before showing that she was still wearing a ring Antonoff had given to her. Per E!:
"I'm wearing this ring that Jack gave me and I'll always wear it, because love is a really cool, powerful, eternal thing and it doesn't have to be defined the way we in Western culture define it as beginnings and ends," Lena said.
Dunham went on to say that "things can be 'you're a drop of water and you re-enter the ocean,'" and that she feels "really thankful" for the love she's received since the split was announced.