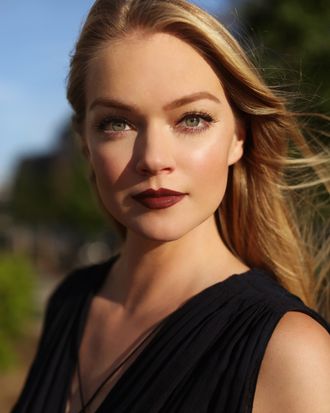 Lindsay Ellingson.
Photo: Courtesy of Wander Beauty
Thirteen years ago, Lindsay Ellingson was working a part-time job at her local Hollister while attending UC San Diego, when she was unexpectedly scouted. "Before I started modeling, I was top ten in my high-school class, and my whole focus was to get into college and to study biology," the model and beauty entrepreneur recalls. "At the time, I was very clueless about what modeling even was. I had never even opened an issue of Vogue."
At first, nothing clicked. But after a pile of test photographs from an L.A. shoot landed in Paris, Viva Modeling Agency called, beckoning her to walk the runway. "Prada and Christian Dior wanted me, and I had no idea who they were. I had to go buy a magazine and look them up, and realized, 'Okay, this is a really big deal!'"
She deferred sophomore-year enrollment — along with a dream of working in medicine — and boarded her first international flight to open the spring 2005 shows for Dior, Lanvin, and Chanel. "I had a really great start to my career, and it just continued to snowball," she says. Ellingson soon soared to Victoria's Secret angel status, walking the lingerie empire's catwalk for eight seasons, and has since shot fashion campaigns and magazine editorials all over the world.
While she still books a few modeling gigs each month, Ellingson's current focus is her position as creative director of Wander Beauty, a travel-centric makeup line that she co-founded in 2015. "I had no interest in fashion growing up. My fashion was Abercrombie & Fitch and J.C. Penney. But I've always had a huge interest in beauty." A dancer since age 3, Ellingson learned at a young age how to apply stage makeup. She taught classes for her friends as well. "I'd show them how to do their makeup. It was really fun, and I had no idea that it would lead to launching a line of cosmetics."
The products, all made to multitask, are designed for ease while traveling. The inspirations come from techniques Ellingson picked up from the pros across the globe, and many of the shade names were coined for her favorite places. The idea for the brand's Frame Your Face brow pencil, for example, came to her during an encounter with a makeup artist in Japan. A best-selling WanderOut lipstick in Nikki Beach is named for Ellingson's go-to spot in St. Tropez.
Most days, you'll find her at Wander Beauty's Upper East Side office, brainstorming product development and shooting makeup tutorials for the website and social-media channels. "It's my passion, and I'm very lucky that I get to do both [this and modeling] at the same time." Below, she spoke with the Cut about wedding-shoe shopping with her husband, why she refuses to wear mom jeans, and packing for black-tie events in a Kipling duffel bag. Read on for a glimpse of her personal tastes.
How do you thank someone for a gift?
I usually thank people by always giving a gift back. I always return the favor. For example, my best friend loves the spa, so I'll get her a gift card to Pratima Spa in Soho.
Color or no color on your nails?
I always have a neutral color on my nails because I'm on TV or doing shoots. Right now, I'm wearing Essie Topless & Barefoot.
What are five coffee-table books you'd be proud to display?
V2 by Russell James. I have a couple shots inside the book that were taken at Richard Branson's private island, Necker Island. It was one of my first swim shoots with Victoria's Secret. Absolute Beauty by Dr. Pratima Raichur. She's an Ayurvedic doctor and works at the Pratima Spa in Soho. Schiaparelli & Prada: Impossible Conversations. This was sold at the Met, and this is another book I was in. Katie Grand styled it. And it's always such a huge honor to work with her.
Vogue the Covers. It gives me beauty inspiration. I love to see the way women did their makeup in the '60s — that retro look. The Complete Guide to Crystal Chakra Healing by Philip Permutt. I love learning about the power of crystals. A few months ago, I spoke with a psychic, and she told me that I should meditate with a large amethyst. Then I bought a rose quartz because it's great for spreading love in your apartment. I try to meditate on my terrace even for five minutes in the morning.
What's a trend that you like right now?
A beauty trend I loved for the fall season was berry lips. We recently launched [Wander Beauty] Lipsetter, which is a lipstick and liner in one. One of the shades is this gorgeous deep-plum shade called Midnight Malbec, inspired by what I saw on the runway at Valentino and Jonathan Simkhai.
Favorite song on your playlist right now?
"Blessings" by Chance the Rapper. I went to my very first festival last summer — the Firefly Festival — and I saw him perform it. He reminded me of Michael Jackson; it was such a positive performance.
If you were a car, what kind of car would you be?
A two-door Bentley in a forest-green color. Might as well dream, right?
Do you wear no-makeup makeup, or actually no makeup?
No-makeup makeup. I over-plucked my brows years ago — it was one of my biggest beauty mistakes ever — so now I'm really brow-obsessed. The first thing I do in the morning is drink my tea and put on my brows, because without them I feel like my face isn't complete. I make them look thicker with hairlike strokes. I'll use our [Wander Beauty] primer and then our powder foundation to even out my skin tone and cover any pigmentation and redness. And then I always have to wear mascara. I also put our balm on my lips and cheekbones.
Who is your go-to colorist?
My colorist is Chaz Dean. I see him at his hotel whenever he comes to New York, about every few months. He colors my hair without using bleach, so he's really saved my hair and it doesn't get damaged. He does an amazing balayage technique of painting on the color.
What's your dream luggage?
I own my dream luggage. I'm not super fancy when it comes to luggage, I'm super practical. I love Kipling duffel bags. They fold up when you're not using them and they fit easily in an apartment, which is so great for New York City, and they're super durable. I traveled the world with the same one for ten years, and I just recently replaced it. It's the perfect carry-on size, and I only carry on.
Olive oil, coconut oil, or face oil?
Coconut oil. There are so many uses for it. I love it in my beauty products. Our Lipsetter has coconut oil in the formula. It drenches your lips in hydration.
Decade you'd like to live in and why?
It would definitely be the '60s. I think my look suits that decade so much, with the thinner brows, full lashes, big eyes. I love that really retro look.
What's the secret to throwing a good party?
Having tacos, tequila, and my five-layer dip. Oh, and games! Uno, Heads Up. Whenever we have people over, even if they're not a game person, we are like, "You're playing games."
What's one way your taste has changed since you were a teenager, and one way it's stayed the same?
I used to wear mom jeans when I was a teenager because that's what my mom bought us at J.C. Penney. Now they're really in style; but I just can't bring myself to wear them. So that's one way it's changed.
One way that it has stayed the same: I still love flip-flops. I'm such a California girl. I love to throw on my Havaianas. I have bright-orange ones with the thicker strap.
What's your guilty pleasure?
Watching The Real Housewives of New York City, and French fries.
What are your favorite accounts to follow on Instagram?
@byrdiebeauty, @balletbeautiful, and @hadar_pitchon.
What's the least-chic thing in the world?
Bad manners.
What's the last show you binge-watched?
I binged-watched season five of House of Cards, and then I realized that I missed seasons three and four, so I had to go back and binge-watch those as well.
What's your favorite pair of jeans?
My favorite jeans are from BLK DNM because they come in my length, 35-inch inseam, which is really hard to find. They also make mid-rise, which I'm really into. High-rise just doesn't look good with my hips.
T-shirt?
Frame Denim has so many cool T-shirt options. I love to throw one on; they're really comfortable. There's one that is off-white with "Los Angeles" embroidered in the corner with cuffed sleeves. I always get a lot of compliments on it.
Pajamas?
I sleep in sweat pants and a T-shirt, and when I wake up, I'm always freezing, so I'll throw on a sweatshirt from Aviator Nation.
They make the softest sweatshirts and sweatpants. It feels like you bought it in the '70s, and it has a little hippie vibe. They are super comfortable and super colorful. I have a bright-green sweatshirt with a yellow lightning bolt.
Flower?
Roses. I recently got pink ones from Venus Et Fleur. I am obsessed, because they last for one year. I get to wake up every day for the next year and smell these gorgeous roses.
Chocolate?
La Maison du Chocolat. I don't like fancy truffles. I get a cluster of milk-chocolate-covered nuts. I discovered it while I was living in Paris, and I've been obsessed ever since. Every time I go, I pick some up.
Perfume?
My favorite fragrance is Jimmy Choo Eau de Parfum. Before I got married, my husband and I were shopping for shoes for my wedding gown. We were at Jimmy Choo and he was really bored, so he was smelling the different perfumes. He really liked one of the scents, so I picked it up and smelled it and I loved it, too. Ever since then, I've been wearing it. And because I wore it on my wedding day, it brings back those great memories.
Bedding?
The Slipsilk pillow case. I sleep on it every night. It doesn't absorb my skin-care [products] off my face, and it keeps my hair smooth, too.
Lip balm? 
Wander Beauty Beach Balm is my absolute favorite. It's enriched with prickly-pear extract, which is one of my favorite beauty ingredients because it seals in moisture, and you can feel it right away. The shade is called Sangria, and it has a gorgeous berry tint, and your lips are just drenched in hydration.
If you buy something through our links, New York may earn an affiliate commission.