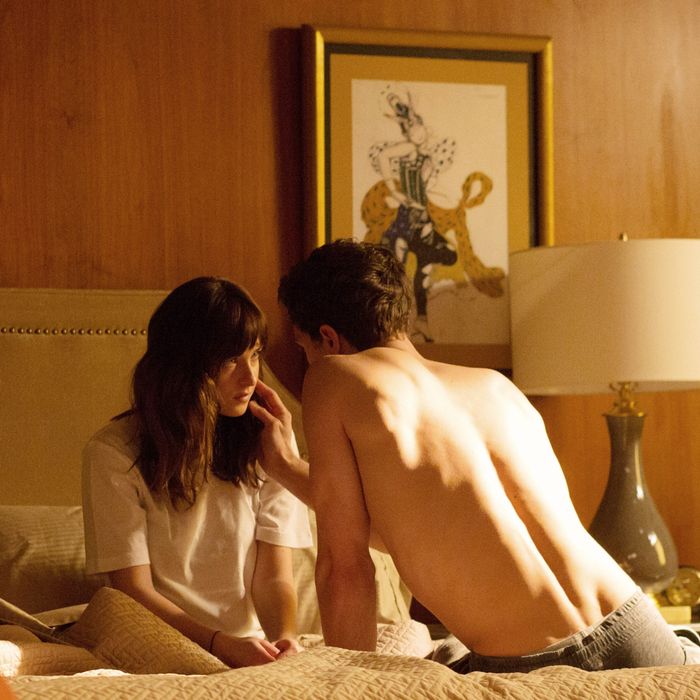 Whatever's under the T-shirt is definitely NSFW.
Photo: ©Focus Features/Courtesy Everet/©Focus Features/Courtesy Everet
Even if you've never seen the Fifty Shades of Grey movies, you can probably imagine the lingerie in it as … over-the-top sexy. Much like the stuff in the movie, none of the items on this list are practical, but that's the point — fantasy is way more fun than reality, especially when it comes to date night. From a classic lace teddy to a crystal-embellished bodysuit or a strappy thong set, you can pick your poison. If you're feeling really bold, there's even a lace blindfold and gloves to help you get in the mood.
Scroll ahead for our top picks. Plus, if you need ideas for sex toys to accompany your new outfit, we've got that covered too.
If you want to cover up just a little bit.
For a bit more coverage in the stomach area, this is a great option.
We know — this hot-pink satin set is teeny, tiny, but isn't that what makes it so great too?
It's nice to see a black set with chic sheer details, instead of the same old satin set.
A Garter Belt for Beginners
This garter belt is made with extra-stretchy lace, so even if you have no experience wearing one you won't be uncomfortable.
A Retro Bodysuit, Straight Out of the '60s
It's about as sheer as sheer gets, but the tiny straps, bows, and polka-dot print add an eccentric vibe.
I'm pretty sure Dakota Johnson wore something similar to this in the second Fifty Shades film.
If you're not into red or pink but don't want something black, sheer navy blue is a nice change of pace.
The Best Sexy Push-Up Bra
This bra adds lift without hefty cups because the padding is aligned closely at the center to look more natural. The pretty leopard trim on top doesn't hurt either.
If You Don't Know What to Buy
Photo: 17-11-10 zainagohou PM1 B7 chelsealahee W
This set checks all the boxes: it has a great fit, coverage, slightly sheer fabric, and it's gorgeous.
Trade in a plain black slip for this one made from delicate lace, which skims ever so softly over your skin.
If you're too afraid to steer away from black, this sheer mesh and lace set has sexy prints and banding that still make the look an interesting tease.
To take things to the next level, add lace gloves and a matching blindfold.
If you buy something through our links, New York may earn an affiliate commission.