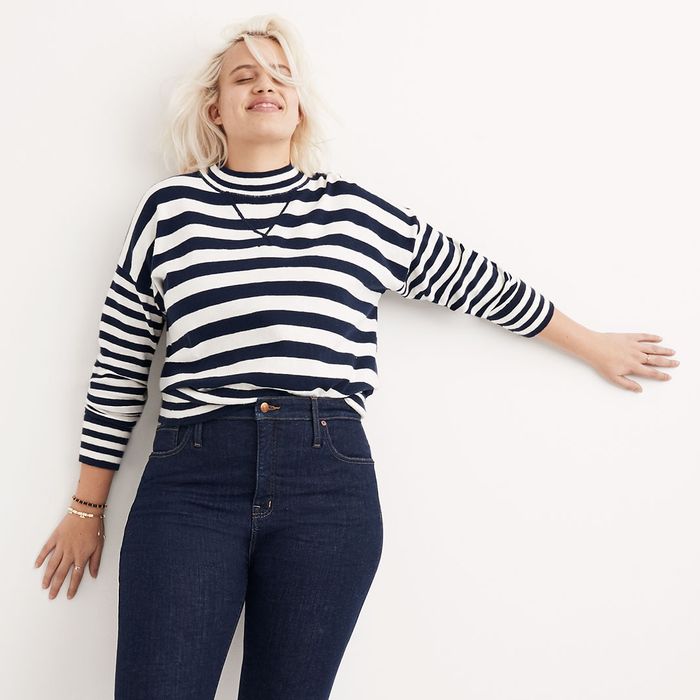 Photo: Courtesy of Madewell
"Extended sizes? We're on it," reads a post on Madewell's website today about its new denim collection, which now includes sizes 33-35 as well as a new "curvy" jean style. Last week, its sister company, J.Crew announced that it would be offering more sizes as well.
Previously, Madewell and J.Crew denim sizes only went up to a size 32, which according to Madewell's size chart translates to a 14. Sizes up to 35 are now available in more than five styles at both Madewell and J.Crew, ranging from "skinny" to "toothpick."
Madewell's Curvy High-Rise Skinny Jean will be available in three washes (Ontario, Lucille, and Black Sea), and according to a press release from the brand, "fits the same" as the existing high-rise skinny except there's a little more room in the high hip, low hip, and top of the thigh; the rise is higher; and the waist band is contoured, meaning not cut on a straight line to mimic the natural shape of a woman's waist.
It's encouraging to see that the plus-size shopper isn't being ignored anymore by these brands, as we know there is a market for it. If you need any more proof, size 35 is currently "out of stock" in a number of styles on both Madewell and J.Crew's websites.