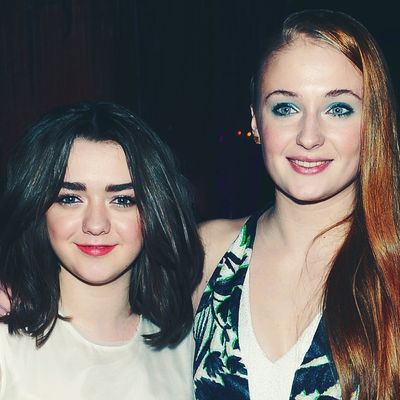 Maisie Williams and Sophie Turner.
Photo: Jamie McCarthy/Getty Images
Maisie Williams will be a bridesmaid in Sophie Turner's wedding to Joe Jonas, according to a new interview with Radio Times.
Williams and Turner play sisters Arya and Sansa Stark on Game of Thrones and are close friends off-set.
"I've already got it," Williams said, of the spot in the bridal party.
Turner and Jonas announced their engagement in October, but there is no date for the wedding yet. Williams thinks it will be a few more months before they start planning the event.
"We're waiting until this season's done until we get into any of that, but I think she's already let her little heart wander and imagine," Williams said
The show, which is currently filming season eight, is expected to return in 2019.
Williams and Turner grew up together on Game of Thrones, and their friendship is well-documented on Instagram. (They've dressed up as matching hash brownies for Halloween, posed on red carpets, and have a celebrity portmanteau, Mophie.)
They've also gushed about each other, and Turner told InStyle that her friendship with Williams made life as a young celebrity much easier.
"This has been amazing and hard," she said. "To have someone who understands what you're going through, who's the same age, who came from pretty much the same background — that is so rare. And we've had the same struggles in terms of dealing with body image and puberty and growing up in the public eye. But I found my strength in her, and I think she found her strength in me."