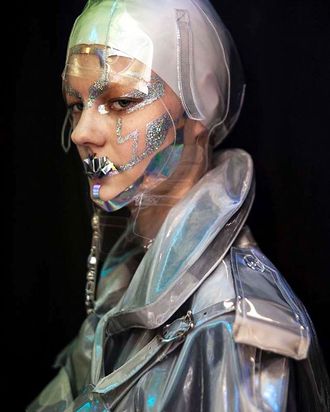 Photo: Courtesy of Instagram/maisonmargiela
Athleisure has gone couture. At yesterday's Maison Margiela show, John Galliano paraded a sea of swim caps in gold glitter, paint-splattered neon, and red lace. It was fitting for the futuristic runway show that featured both red lace bras (worn over coats), orange visors, and show directions actually requesting that people use flash when taking pictures.
The holographic helmets by Eugene Soleiman were paired with bold makeup by Pat McGrath. The black and reflective lipstick looked like a goth going to a rave (in a stylish way, of course). The wet-hair look under the hats was similar to his feathered creations last season for French house.
If that was all too normal, McGrath and Soleiman went all out with a look featuring a reflective coat and lips, a plastic mask, metallic lightning bolts, a white swim cap, and silver contouring. Futuristic Tin Man tries out for Iron Man? We can get behind it.