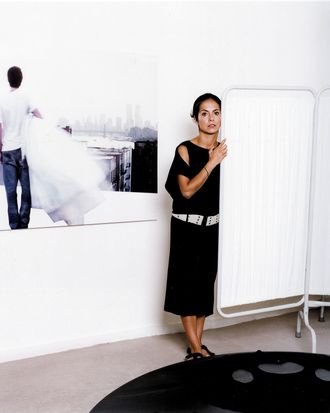 Maria Cornejo.
Photo: Martien Mulder
Maria Cornejo has dressed the likes of Michelle Obama and Tilda Swinton. Powerful women on the designer's client list admire both her aesthetic and ecofriendly ethics. "Fashion is quite a wasteful, but beautiful industry," Cornejo says. She started her brand, Zero + Maria Cornejo, in 1998, with clothing made from unused fabrics called dead stock. Now she recycles textiles from previous seasons in her new collections, and her manufacturers use low-impact techniques.
The industry has taken notice of her ecominded efforts: Among other accolades, Cornejo was recently named the brand ambassador for next week's Première Vision textile show in New York, where she'll promote environmental consciousness and unveil a special sustainable capsule collection.
Cornejo's love of fashion dates back to early childhood. "I used to make my doll clothes," she remembers. "I still have her — and I used to knit her outfits." Cornejo emigrated to England with her family when she was 12 to escape Chile's Pinochet dictatorship. At school in Manchester, she discovered fashion in a more official capacity. "I couldn't speak English, so I did really well in art," she remembers. "My art teacher was encouraging me to go into the art world, and then I realized that you could take classes to be a [fashion] designer." At 18, she moved to London to study fashion, later launching the punk-inflected label Richmond Cornejo with her then-partner John Richmond. The brand was a hit with rockers like Iggy Pop and Chrissie Hynde — a far cry from the pared-down, geometric shape–based pieces that she makes now.
After meeting her now-husband, photographer Mark Borthwick, and relocating to Paris, Cornejo moved to New York in 1996 and two years later started Zero, keeping sustainability and minimalism at the top of her mind. In the current geopolitical climate, Cornejo's ethos is more important than ever, but she's quick to say: "It's not a trend. I think, more and more, as we become aware of what's going on around the world, it should be a part of everybody's conversation. You can only change things from within, and a little bit at a time."
Below, the designer spoke to the Cut about locally made denim, self-driving cars, and putting on makeup with a magnifying glass. Read on for the full Q&A.
What are five coffee-table books you'd be proud to display?My husband, Mark Borthwick, just did a book with D.A.P. And then Dries Van Noten's book. I'm lusting after the New York Magazine book, it looks amazing. And WORKac's book. And then our own book came out, so finally I have my own coffee-table book.
Color or no color on your nails?
While I'm designing I don't wear any color on my nails. If I'm going out, I will have a dark red. But if I'm working I won't have color, because I'm looking at things all day.
Mood lighting or natural light?
I prefer candlelight. More romantic. We have a lot of candles in my house. I have to say my own candle is my favorite right now. Especially in the winter. It's very warm and cozy.
Heels or flats?
I prefer flats, or like a small heel. I have two broken feet. I feel more comfortable in a two-inch thing, or sneakers. I just got my personal order from the Zero + Maria Cornejo resort collection and I have some ruched leather boots that we designed and I love them.
What is a trend that you do like right now?
I don't like trends, but I do like the idea of unisex. I've always liked the idea of boys and girls wearing the same thing, and the clothes become sensual because of personality.
What's your favorite song on your playlist right now?
I have to say Sampha. Solange had been on repeat and now Sampha replaced her.
If you were a car, what kind of car would you be?
I would be a solar-powered self-driving car because I can't drive. I met somebody from Tesla years ago and they told me that soon [self-driving cars] are going to be safe. He said you never need to learn to drive anymore. But I do want to learn to drive.
Makeup, no-makeup makeup, or actually no makeup?
During the day I wear no makeup. If I have to go out I do wear no-makeup makeup. And I was taught by [legendary makeup artist] Dick Page how to do that perfectly.
So I'm very good at doing makeup, but I can't see anything. I do it with a magnifying glass, and it's quite funny. And then you know, he always laughs at me, because I try and do a good job, but it's not quite up to the master's touch. A bit of blush here, a bit of lip balm, cover-up, and a bit of an eyeliner. I don't do heavy makeup.
What's the secret to throwing a good party?
My husband, because he's an amazing cook. Every time he makes something different. Like the other night, he made a fish stew and gorgeous salad. He just knows how to create the mood. And his flavoring is really amazing. My husband is legendary in the kitchen. I think people sometimes want to befriend me so they get invited to dinner, but they don't realize I don't cook.
What's one way that your taste has changed since you were a teen and one way that it's stayed the same?
When I was a teen, I was quite into punk and wearing crazy eye makeup, like red eyeliner. Now I'm not doing that. I still like things to be easy and effortless. I think that's one of the things that I still have in common with that time.
What's your guilty pleasure?
Diet Cokes and bad rom-coms that I have to watch when my husband's not around, because it's really embarrassing. It's not a rom-com, but last night I was watching The Sound of Music. I don't usually like musicals. But The Sound of Music must be an exception to the rule.
What are your favorite accounts to follow on Instagram?
I love Cleo Wade, because she always makes me feel better. And National Geographic and NASA, cause I'm a bit of a space and nature geek.
What's the last TV show that you binge-watched?
The Crown, which I can watch with my husband. There's not a lot of shows that we watch together. And you know, we stopped watching House of Cards, because it was too close to home, and Homeland. So now, we're just total escapists watching The Crown. I'm working so much in the unknown that when I watch TV, I like history or biographies. Things that are set in history, not the twilight zone that I deal with every day.
What's your favorite pair of jeans?
I have to say they're my own right now. We just did a whole thing with Cone denim — it's made in America and we did some really exciting shades, so I'm very excited about them.
Pajamas?
They're from this German company called Schiesser. My husband bought them for me. They're white. And scary enough, they have a very light-pink trim on them, like a piping. But, it's so washed out that it's very subtle, so I don't mind. They're super soft, and they have their little logo on the pocket. I feel very proper in them.
Flower?
You know, there's two things. In my office I have a lot of orchids that keep coming back. I like bringing things back to life. Here in my office, it's like a hothouse. But also I have a passion flower, which I love, at home. In the summer, it's so beautiful.
Chocolate?
I think everybody's going to poo-poo me right now, but I grew up in England and I love really bad Cadbury chocolate. The original, not the American version. It reminds me of being a child. Cadbury's milk chocolate. That, I can't resist.
Perfume?
In the winter, I'm wearing right now Beautiful Mind, by Escentric Molecules. It's not heavy, it's lovely. And in the summer I wear Narciso Rodriguez Musc.
Sheets?
Linen, from Ralph Lauren.
Lip balm?
I usually use Neutrogena, but I discovered a new one that I'm really obsessed with right now. It's called Apivita, and it's a black currant and organic. It's got a slight tint on it and it's really delicious.
If you buy something through our links, New York may earn an affiliate commission.