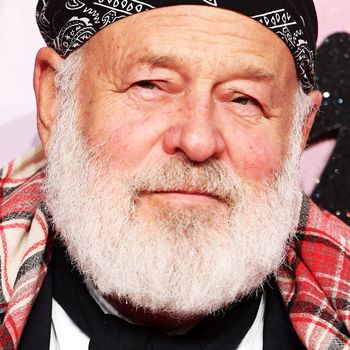 Photographer Bruce Weber.
Photo: Stuart C. Wilson/Getty Images
Nearly 30 current and former male models and assistants have come forward with allegations of sexual exploitation against distinguished fashion photographers Bruce Weber and Mario Testino in a disturbing New York Times report.
Testino, who recently photographed Serena Williams and her daughter for the February cover of Vogue, has been accused of unwanted sexual advances by 13 male models and assistants. According to Roman Barrett, Testino's former assistant who says the photographer rubbed up against him and masturbated in front of him, "sexual harassment was a constant reality."
He continued: "[Testino] misbehaved in hotel rooms, the backs of cars and on first-class flights. Then things would go back to normal, and that made you feel gaslighted."
Ryan Locke, another model who came forward in the Times, recalled other models telling him to tighten his belt before meeting Testino. He described his casting experience in the photographer's hotel room:
The casting took place at Mr. Testino's hotel. Instead of greeting Mr. Locke in the lobby, Mr. Testino was in his room, where he opened the door in a loose robe, Mr. Locke said. Then they got into a stalemate about whether the model needed to go fully nude for test pictures.




After Gucci hired Mr. Locke for an ad campaign, Mr. Testino was aggressive and flirtatious throughout, Mr. Locke said. On the last day of the shoot, as they were taking photographs on a bed, Mr. Testino said, "I don't think he's feeling it. Everybody out," Mr. Locke recalled.




"He shuts the door and locks it. Then he crawls on the bed, climbs on top of me and says, 'I'm the girl, you're the boy.' I went at him, like, you better get away. I threw the towel on him, put my clothes on and walked out," Mr. Locke said.
Unlike Testino, this isn't Weber's first sexual-misconduct accusation. Just last month, a male model sued Weber for inappropriate touching, and in today's Times report, 15 other current and former models have accused Weber of unnecessary nudity, inappropriate "breathing exercises," and coercive sexual behavior. It was during the so-called "breathing exercises" that Weber would allegedly undress models and sexually assault them.
Rudi Dollmayer, a Swedish model who shot with Weber multiple times, said that models even had a phrase for when others were going to one of Weber's private meetings: "He's going to get Brucified."
Furthermore, the experiences of Bobby Roaché and Jason Fedele suggest that some agents were complicit in both of the photographers' sexually exploitative behavior. In 2007, Roaché said he left a casting with Weber after the photographer tried to "stick his hands down [Weber's] pants." Weber's agent allegedly responded, "That's all he did? You should have gone further."
Fedele told the Times, "If you wanted to work with Mario, you needed to do a nude shoot at the Chateau Marmont. All the agents knew that this was the thing to excel or advance your career."
In response to the harrowing Times report, Condé Nast has released a statement from Anna Wintour, artistic director of Condé Nast and editor of Vogue, and Robert A. Sauerberg Jr., chief executive of Condé Nast.
"We are deeply disturbed by these accusations and take this very seriously," the statement reads. "In light of these allegations, we will not be commissioning any new work with Bruce Weber and Mario Testino for the foreseeable future."
The Condé Nast statement also references the company's new code of conduct, in which they pledge to ban alcohol on photo sets and no longer work with models younger than 18, among other commitments.
When reached for comment by the Times, both photographers vehemently denied all allegations.
"I'm completely shocked and saddened by the outrageous claims being made against me, which I absolutely deny," Weber said in a statement from his lawyer.
In a letter to the Times, the law firm that represents Testino, Lavely & Singer, said that the men who came forward "cannot be considered reliable sources."
Read the full report here.