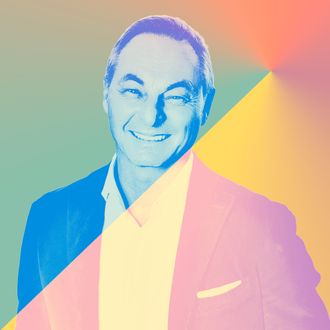 Photo-Illustration: Stevie Remsberg
The Beauty of It All: Questions for the brains behind the beauty industry.
At 6' 2", looking dapper in a Gucci or Hugo Boss suit, Edgar Huber cuts an imposing figure. But the Paris-based president of Coty Luxury has a surprisingly playful side.
"I keep a rose-gold statuette of Mr. Happy on my desk. When you top it, it jumps up and down, and you can't not be amused by it," says Huber. "Whenever I receive an email that I don't like, I just tap him on the head."
Huber's career path is also a colorful one. His first job out of business school was at Mars, earning his stripes in their pet-food division. Soon enough, he was out of kibble and into makeup, fragrance, and skin care at L'Oréal, where he oversaw their luxury products division. He left the French conglomerate for the totes and turtlenecks of Lands' End, but beauty beckoned him back two years later.
In his current role as president of Coty Luxury, he runs an impressively well-scented and, especially in the past few years, ever-expanding portfolio, including the fragrance divisions of Calvin Klein, Gucci, Marc Jacobs, Burberry, Chloé, Bottega Veneta, Tiffany, Balenciaga, and Alexander McQueen.
Huber likes to blow off steam by heading out on one of his road bikes. "Every free minute I have, on every weekend — even if it's cold — I need to get on my bike. And I've become quite committed; I do some pretty serious rides."
Huber took a few minutes (which, likely, he would have preferred to be spent clicked into one of his Trek's or Connago's) to talk to the Cut about his collections of watches and eyeglass frames, the importance of a well-fitting shoe, and the social media that chills him out.
What do you cleanse with? Kiehl's White Eagle Shaving Cream and philosophy Purity Made Simple Cleanser.
What scent do you wear? Bottega Veneta Parco Palladiano II.
What drives you crazy? Complacency and a lack of commitment.
What is a lost art? Good handmade shoes. My grandfather was a shoemaker, so I grew up watching him at work. I still get shoes made in Austria, but it's not the same anymore. I miss the good quality that I grew up with.
What is always in your fridge? Probiotics and a cold beer. Usually Stella Artois.
What are you working on mastering? Self control.
Shoe of choice (when they're not made in Austria): Gucci classic loafers in black leather and brown suede.
Jeans of choice: I like the ones Raf Simons is making in his Calvin Klein collection.
What phrase or word are you known for saying? "Clearly … "
Splurge: Watches and eyewear. I have a couple different Rolexes that I really stick to. Old Daytonas, but also Explorer II and Air King. I also think the latest Cartier model is a very nice one. My eyewear is from Maison Bonnet in Paris. I own probably ten pair.
Weakness: Gummy bears.
Preoccupation: Currently thinking that the world is a pretty unstable place.
What technology or app do you rely on most?  Headspace.
What brands do you follow on Instagram? Pretty much all of the brands in our portfolio, and I love @1stdibs to relax. They do great editing.
Favorite Instagram? @Mindbody360. It's my wife's website, and it's all about a balanced and completely holistic living with a carpe diem mindset.
What person, place, or thing has most recently surprised you? The city of Rome and Stranger Things.
What do you wish you had invented? Farfetch.com
Favorite meal and where? Whenever I'm in New York on a Sunday morning, I go to Chinatown for Dim Sum. I don't have a specific place, but it's a busy time, so I'll go wherever I can get a seat.
What do you foresee as the top beauty trends in 2018? I think 2018 is going to be about two things: technology and customization. Sophisticated technological diagnotstic tools will have the ability to tell people what products they need. Even DNA analysis will be implemented within the next couple of years to find out how we're going to age, followed by customized beauty regimes targeted to help slow it down.
What makes you laugh? My daughter Stella. She's ten. She does the best American accents. You should hear her Alabama one.