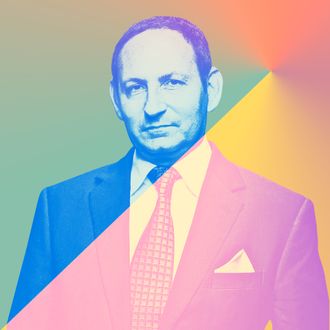 Photo-Illustration: Stevie Remsberg
The Beauty of It All: Questions for the brains behind the beauty industry.
Growing up in the leafy suburb of Shaker Heights, Ohio, John Demsey remembers being drawn to the power of celebrity from a young age. "I was obsessed with Robert Evans," he smiles. "I wanted to be a movie producer and marry Ali MacGraw."
Being hired by Estée Lauder may have redirected him away from the Hollywood studios, but Demsey's ability to pick the next big name has made him a master at celebrity collaborations — of both the Hollywood and fashion kind.
When Lauder purchased M.A.C Cosmetics from makeup artists Frank Toskan and salon owner Frank Langelo back in the early '90s, the Canadian Pa-and-Pa brand was known mostly to, well, makeup artists. Demsey was handed the reins as president a few years later and, seemingly overnight, M.A.C products had appeared in the cosmetic bag of anyone who wore makeup, period. By accessing the star power of cult figures like Ru Paul, Mary J. Blige, and Lil Kim, Demsey — who is also chairman of the M.A.C AIDS Fund — has helped raised more than $430 million in the fight against HIV/AIDS through the brand's now-legendary VivaGlam campaign.
It was also Demsey who brought Tom Ford into the Lauder fold, expanding the designer's kingdom to include fragrance and cosmetics. More recently, he has overseen a flurry of brand acquisitions in the past few years, including Too Faced, GLAMGLOW, Editions Frederic Malle, By Kilian, Rodin Olio Lusso, and Le Labo.
"The beauty business is the ultimate mash-up of science, dream-making, storytelling, and creativity," says Demsey. "Looking one's best is a universal truth; no one ever thinks they look too good."
Known for his sharp style and chic home décor, Demsey is the consummate cocktail-party host, but readily admits that he's probably more committed to social media than he is to his social life.
"I'm obsessed with Instagram," he says (@jdemsey). "I follow every beauty brand, makeup artist, street brand, and luxury house. In today's impulse-driven Instagram world, anyone can be a star, and a star can be a brand. I guess Andy Warhol was right. Everyone is looking for their 15 minutes of fame. In today's crazy world, you can bank it!"
The Estée Lauder executive group president spoke with the Cut about his favorite feeds, the love/hate relationship he has with his four dogs and three cats, and his obsession with makeup tutorials.
What scent do you wear?
Tom Ford Fucking Fabulous is my newest scent.
What drives you crazy?
My dogs pooping on the carpet makes me nuts. I live for Nature's Miracle.
What is a lost art?
Thank-you notes. I still handwrite mine.
What product in your domain is misunderstood and should be a best seller?
Exfoliators. Everything works better afterwards, and the results are guaranteed.
What is always in your fridge?
I Can't Believe it's Not Butter.
What are you working on mastering?
I am forever on a quest to master impulse control.
Shoe of choice?
Berluti Warhol loafers.
Jeans of choice?
Tom Ford boot cut in black denim.
Splurge?
Collecting photography.
Weakness?
Magnolia Bakery cupcakes.
Preoccupation?
Makeup tutorial porn.
Phone screenshot?
A photograph of my daughter Marie Helene, shot by Davis Factor at SmashBox Studios.
What technology do you rely on most?
My go-to tech friend, ALEXA.
What should Pantone's color of 2018 have been?
I'm vibing on Yves Klein Blue.
Mentor?
Easy: Leonard Lauder.
Favorite Instagram?
@Classicalfuck It's hilarious.
What or who makes you laugh? Cartoons on Adult Swim, and I love Bob's Burgers.
Favorite meal and where? A burger and cottage cheese at Viand.
I eat lunch there every day.
If you won the Powerball, after, of course, giving the majority of it to your favorite charities, name the next five things you would do. Pay down the mortgage, give back to charity, buy a beach house, buy the Niki de Saint Phalle sculpture I've been jonesing, and count my blessings!