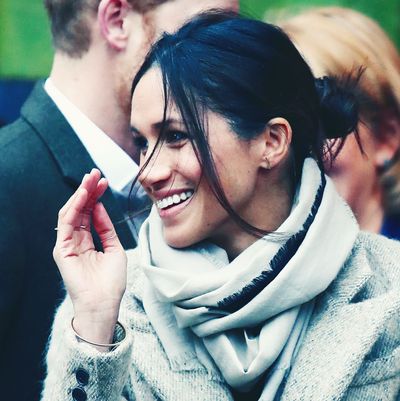 Meghan Markle and her hair bun.
Photo: Chris Jackson/Getty Images
Meghan Markle visited a London radio station yesterday for her second official royal outing. She was accompanied by her usual entourage: A very dapper Prince Harry, a massive crowd, and affordable clothing (Markle wore a $60 sweater). But perhaps more importantly, Markle wore her hair in a bun. A bun!
It was not a fancy bun that required three hands, 20 pins, and a cosmetology license. Instead, it was an utterly normal hairstyle distinguished by a middle part and a few loose, face-framing strands. Look closely and you can even spot some flyaways. If you're a woman with hair that's at least shoulder-length, feel the back of your head; chances are high that you're wearing Markle's bun this very moment.
Now that Markle is a soon-to-be royal, all of her mundane habits suddenly feel extraordinary. She wore lip gloss to meet the queen. And now, this relatable bun. She looks great, right? It's almost as if she lived a regular life for 36 years, which is wild, considering that pretty soon she'll be living in a palace.