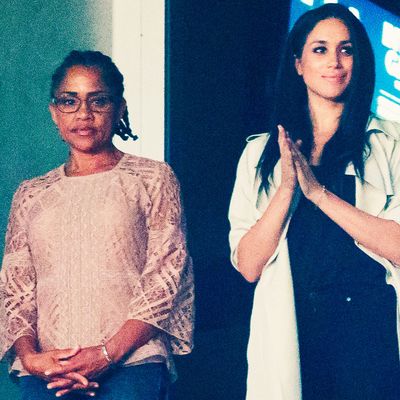 Meghan Markle and her mother, Doria Ragland.
Photo: GEOFF ROBINS/AFP/Getty Images
There are a few things we know for sure about lip-gloss queen Meghan Markle's upcoming wedding to Prince Harry: It's happening on May 19 at Windsor Castle, royal children will be there, and everyone's watching Suits to prepare. But one thing we didn't know is who would be walking Markle down the aisle on her big day — until now.
E! News reports the soon-to-be-royal has requested that her mother, California-based yoga teacher Doria Ragland, escort her down the aisle at St. George's Chapel. Although brides are traditionally walked by their fathers if they're alive (and Kate Middleton was escorted by her father during her wedding), a "source" said Markle would rather be escorted by Ragland (with whom she's close) than "her reclusive father" Thomas Markle (the father of her overly chatty half-sister).
Kensington Palace hasn't officially commented on whether this would happen, but the request falls in line with Markle's desire to "break a tradition or two," according to E! News. The move would not only provide a sweet moment between Markle and her mother, but it would also be significant in that Ragland is black — and Markle has faced a racist backlash in the British press since news of her relationship broke.