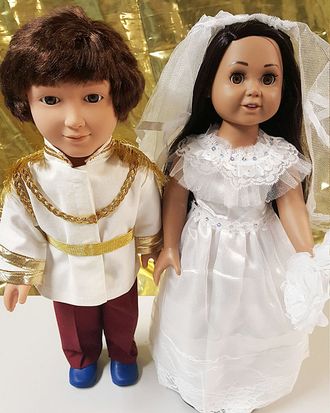 Prince Harry and Meghan Markle dolls.
Photo: Courtesy of Etsy/HistoryWearz
If you're wondering how to properly prepare for the upcoming royal wedding — other than wearing a messy bun and binge-watching Suits, of course — might we suggest purchasing this set of commemorative Prince Harry and Meghan Markle dolls?
For just $175 on Etsy, this 18" royal wedding doll set can be yours. The dolls not only look vaguely similar to the couple (in that the Prince Harry doll is clearly meant to be a man and the Meghan doll is a woman), but they also come with a nine-piece ensemble, including a veil and wedding dress for her, and an official royal military suit for him.
Unfortunately the Meghan doll doesn't appear to come with a Suits outfit, but we're sure you can find something office-appropriate for her to wear.