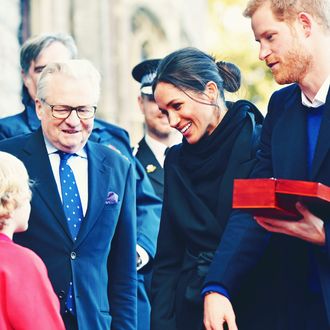 Meghan Markle and Prince Harry receiving a "love spoon."
Photo: WPA Pool/Getty Images
On Thursday, messy bun queen Meghan Markle and her ginger fiancé Prince Harry visited a castle in Wales (how on-brand!), where they received a "love spoon" from local school children. But what exactly is a "love spoon"? And why were these current-and-future royals given a romantic-sounding utensil?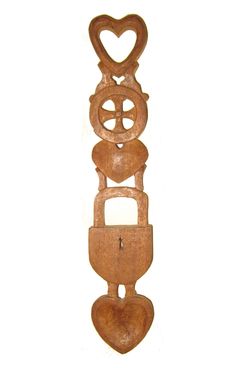 According to the appropriately titled website Welsh Love Spoons, there's actually a long history around these utensils, spanning hundreds of years. At the most basic level, love spoons are wooden spoons. Beyond that, they're meant to symbolize love.
Way back in the day, Welsh men used to hand-carve love spoons to impress the ladies. And, if a woman accepted such a spoon as a gift, then they'd basically be officially dating.
Now these spoons are given to celebrate weddings, engagements, births, and other love-related occasions. In this instance, the kids seemed to intend the love spoon as an early wedding present: how nice.
The more you know (about romantic wooden spoons).