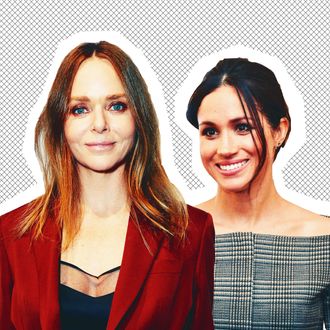 Stella McCartney and Meghan Markle.
Photo: Getty Images
The biggest fashion moment of 2018 will not take place on the red carpet. It will not be shared on Beyoncé's Instagram, nor will it be shown on any Fashion Week runway. Instead, it will happen on May 19, when Meghan Markle will walk down the aisle to marry Prince Harry.
What, exactly, this fashion moment will look like is anyone's guess. But we have a suggestion: Meghan Markle should get married in Stella McCartney.
In the royal family, the weight of choosing of a wedding-gown designer seems second only to choosing whom you'd like to marry. Christine Ross, the editor of Meghan's Mirror, told E! that it's a "lengthy interview process" — probably more rigorous than being vetted by Anna Wintour.
"I imagine Meghan has reached out to designers she loves and admires and has spoken with them about design options and their design process," Ross added. "From there, she would choose a designer who she clicks with to create the perfect bespoke gown."
Seeing that the royal wedding is just four months away, we can assume that Markle has either made her choice by now, or is very close. (According to Lainey Gossip, she had a fitting this past weekend.) Emilia Wickstead, Erdem, and Misha Nonoo are names that have been thrown around thus far, as well as Inbal Dror, an Israeli haute couture designer. (Wickstead is a favorite among elite London brides; Erdem is Canadian, and Markle has demonstrated a fondness for Canadian brands; Nonoo is a friend.) But none of these names seem quite splashy enough for a royal wedding.
Princess Diana wed Prince Charles in an ivory silk taffeta and antique lace gown by David and Elizabeth Emanuel, who described the look as "suitably dramatic." (It had a 25-foot train.) Kate Middleton's dress was designed by Sarah Burton for Alexander McQueen, and cost a rumored $434,000 to make its intricate lacework and layers. Markle has already proven that she is not a Diana, nor a Kate — she's the "relatable" royal, who wears her hair in a messy bun and is leading the anti-pantyhose movement. But that doesn't mean she isn't ready and willing to take risks.
Therefore, Markle needs a designer who exists somewhere in between casual and high fashion; someone who stands for something modern, but also appreciates the beauty of tradition. They should also probably be British.
"I think she should wear Stella McCartney," stylist Karla Welch told E! at the designer's fall 2018 show in Los Angeles this week, which showed support for the Hollywood women's initiative Time's Up. Welch's reasoning: McCartney is "British and modern, and a feminist. And strong and unconventional." She also happens to be the daughter of Paul McCartney, British music royalty. And she divides her time between London and Los Angeles, where Markle is from. Sounds pretty perfect, no?
"I'll take that as a compliment," Stella McCartney herself told the E! reporter on Tuesday night. "I've done a few wedding dresses for very close friends and it's an incredible honor." (McCartney designed the matching set America's princess Amal Clooney wore to her civil ceremony with George Clooney.) "I think it's one of the most special days in anyone's life," McCartney added. "And it's such a personal affair, so I'm a big fan of doing wedding dresses in general."
While McCartney's runway looks might not be aisle-ready (she showed an all-white look for spring 2018 that included a T-shirt top), her strong attitude and affinity for women like Markle makes her the ideal woman for the job, at least in our humble opinion.
If you need any more convincing, on Thursday Markle wore a black Stella McCartney coat while visiting a castle in Wales. Needless to say, she looked perfect. But was this a clue, perhaps? Has she pledged allegiance to McCartney at last? We'll say a Hail Mary.