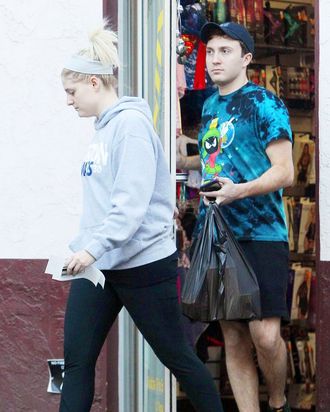 Meghan Trainer and Daryl Sabara.
Photo: Miguel Aguilar/JS/PacificCoastNews
It was recently brought to my attention that "All About That Bass" singer Meghan Trainor has gotten engaged to her boyfriend, Daryl Sabara, the little boy from Spy Kids who is now an adult man so it's legal and fine. Incredible, I know. But not nearly as incredible as this picture of the two of them leaving the Romantix Adult Store in L.A. last week.
The pair looked remarkably solemn for people who just spent time surrounded by a panoply of dildos and sexy polyester costumes. But clearly their trip was a success, because when they left, Trainor had a long receipt in her hand, and the spy kid was carrying a plastic bag full of various adult goodies. Also, he was wearing Vibrams, which is neither here nor there, I guess.
Congrats to the happy couple on their happy purchases.