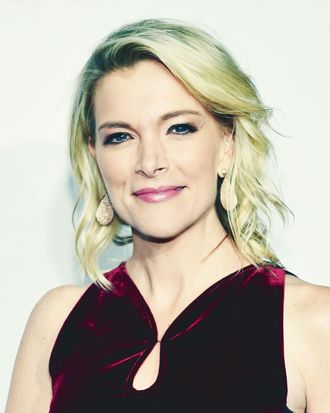 Megyn Kelly.
Photo: Bryan Bedder/Getty Images for Bob Woodruff Fo
Megyn Kelly can't stop making audiences of her show feel uncomfortable. This morning on Megyn Kelly Today, the host decided to argue that fat-shaming isn't always bad during a conversation with mommy blogger "Fit Mom" Maria Kang, who received criticism after fat-shaming new moms in an Instagram post in 2013.
"When I was in law school, I was gaining weight, I said to my stepfather, 'If you see me going into that kitchen one more time, you say, 'Where you going, fat ass?' And it works!" she explained. Many people on Twitter disagreed with her … creative tactic.
Another great day for Megyn Kelly Today.
Update: On Friday, January 12, Megyn Kelly addressed her controversial comments on Megyn Kelly Today. Find a few excerpts below:
I said something yesterday on the show that clearly struck a nerve, and I think it's a conversation we need to have openly. We were discussing body-shaming others, something I absolutely do not support. In fact, quite the opposite. 




Many women have told me that they've done similar things to control their propensity to overeat. I understand that. The pressure to be thin is ubiquitous in America, and those who are not can face heartbreaking cruelty. I do not endorse this reality, the truth is I loathe it.
She went on to share her family's personal struggle with weight loss.
As an adult, I've gotten healthier in my approach to eating, but I, like every woman I know, still wrestle with body image, and still cringe when I hear a person attacked for his or her weight. Please know, I would never encourage that toward any person. I've been thinking a lot about why I once encouraged it toward myself. What I know for sure is that weight is an issue for millions of people, thin and heavy alike. And neither deserves to be judged or shamed for how they choose to handle that struggle.
Find the full video of the segment here.