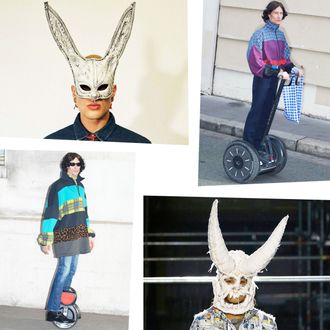 Clockwise from top left: Fausto Puglisi, Balenciaga, Comme des Garcons, Balenciaga.
There's arguably never been a bad time to be a man, but now is a particularly great time to be a man with money to spend and a closet to fill. The fall 2018 menswear shows wrapped in Paris this weekend, and it is clear that the days of simple suits and ties are long gone — or at least not the only thing being offered. Menswear has blossomed into its own strange, beautiful beast. Below, a breakdown of the weirdest and most wonderful trends to try.
Being Able to Sleep Anywhere
Sleep is life's greatest luxury, and fashion should allow us to indulge in it at all hours of the day, wherever we are — whether that means dressing like a pillow or carrying one as an accessory.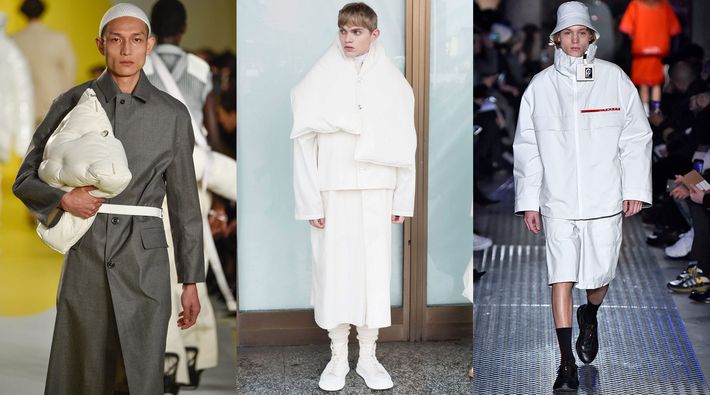 The #KyloRenChallenge
When Adam Driver took his shirt off in the new Star Wars movie, viewers were conflicted. Was it okay to be attracted to a latter-day Darth Vader? Was it okay to be attracted to a man wearing really, really high-waisted pants? Even John Mayer joined the conversation, adopting the look and calling it the #KyloRenChallenge on Instagram. Finally, Fashion Week offered Mr. Ren some stylish options for the sequel.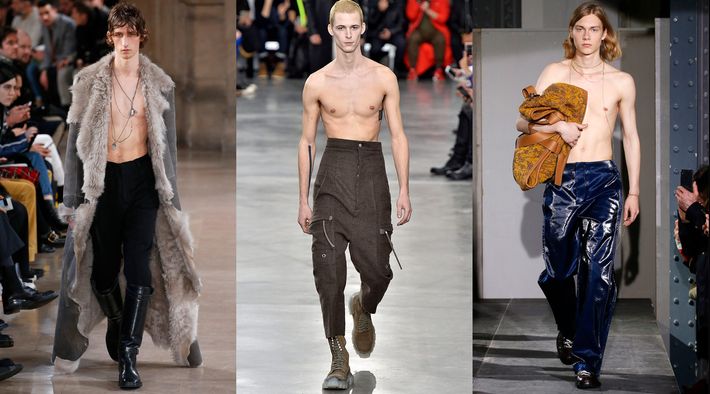 Hipster Mountain Rangers
Blending-in is the new standing-out, as evidenced by this new plethora of busy camouflage-prints. Kanye West showed camo as a part of his Yeezy Season 5 collection, and wouldn't you know it? It's everywhere now! We would not recommend taking a hiking trip in these looks.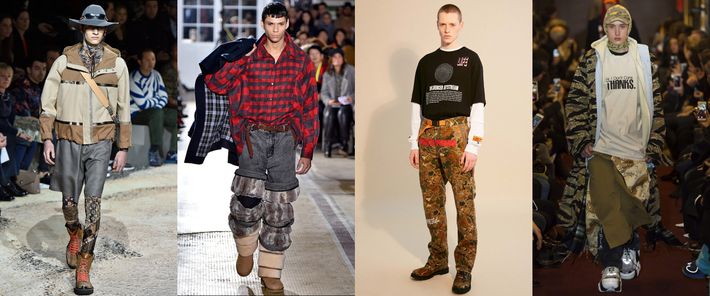 Looking Like a Wes Anderson Character
You're an animal, baby! It is likely that in the near future, you will swipe through Tinder or Raya and find a photo of a man wearing one of these masks as a cheeky disguise. Left!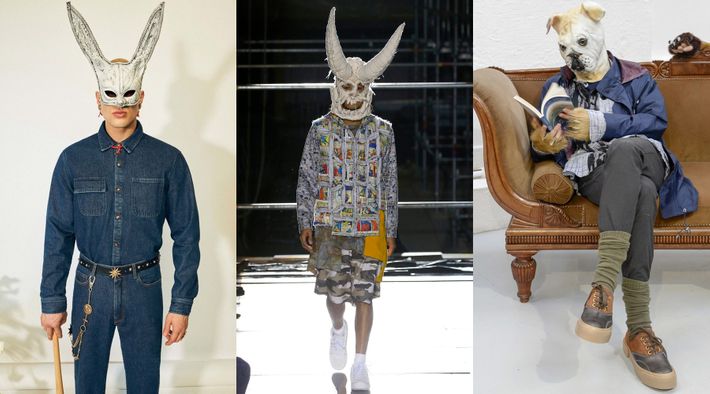 Avoiding Human Contact
Designers are preparing us for our inevitable Fashion Week on Mars, or the end of the world as we know it, with these space suits and hazmat outfits.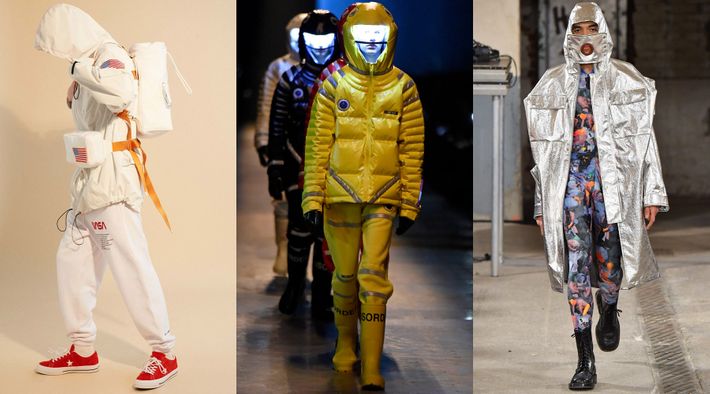 Loving Journalism
Apparently, print is not dead. It's just been reduced to a fashion trend … that has nothing to do with actually reading or buying print publications.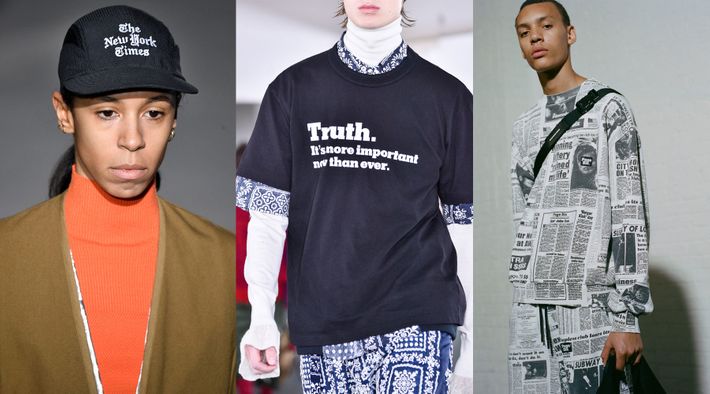 Carrying a Cute Little Purse
Maybe now that it's 2018, we can just let men have what they've wanted this whole time, which isn't fanny packs but actually just a nice handbag. Let's not even call it a "murse."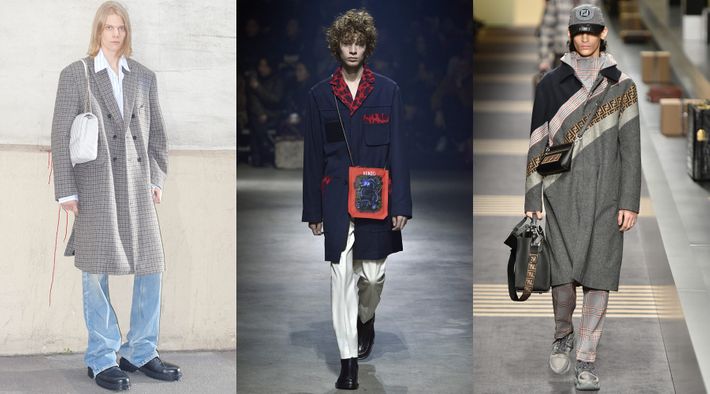 Wearing a Cute Maxi Skirt
If you think about it, skirts make perfect sense for men. Let it all breathe!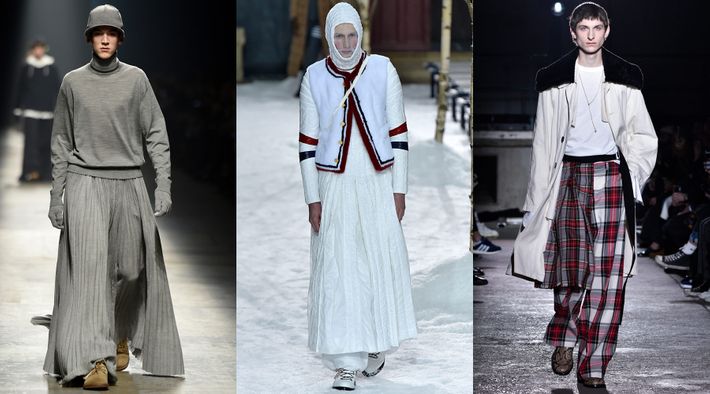 Uggs, Forever!
ICYMI, Uggs are back. Again. On November 10, 2017, Cardi B announced on Instagram that it was "officially Ugg season." At the start of Paris men's week, designer Heron Preston shared on Instagram a photo of himself wearing Ugg boots with the caption, "We not playing games no more." And then not one but two designers proceeded to show Ugg boots on the runway. Sacai casually incorporated the shoes into its fall collection, while the young Parisian brand Y/Project debuted extreme, never-before-seen styles like scrunched knee-high boots.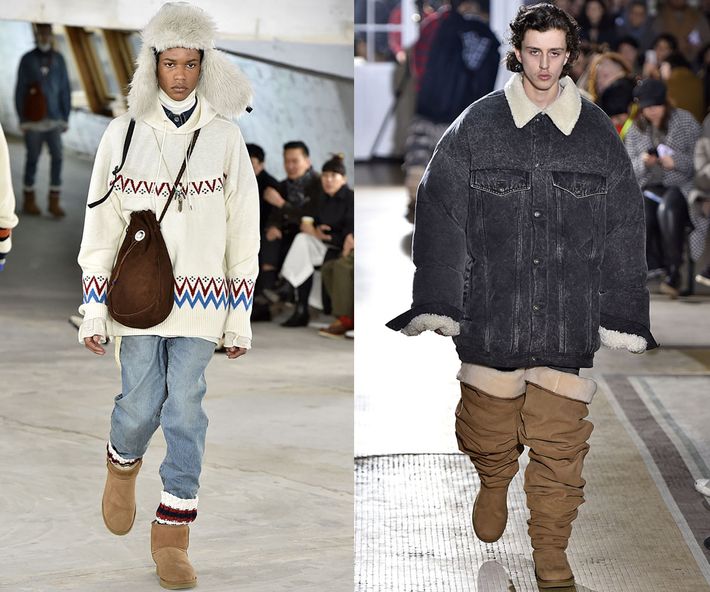 Not Getting Run Over
Designers like Heron Preston have been riffing off of workwear for a while now, and the latest iteration includes reflective stripes that resemble those worn by traffic cops. The good news is, you won't be hit by a bus anytime soon.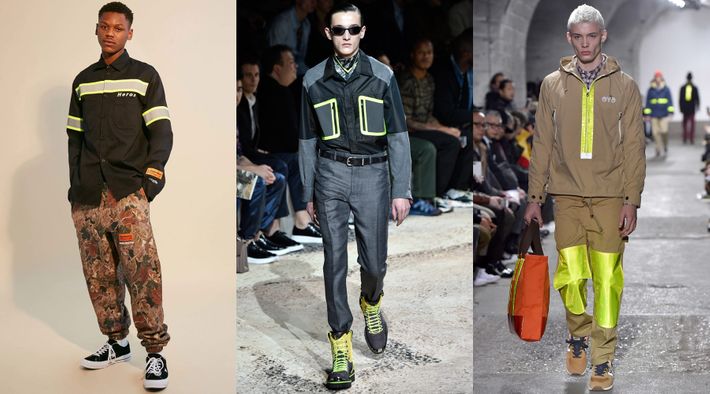 Going Wherever the Hell This Guy Is Going
Toot toot beep beep!