If I were the mother of a teenage boy who owned more than three pairs of sneakers and spent longer than 60 seconds looking at himself in the mirror each morning, the intersection of Mercer and Howard Streets in Soho is where I would go looking for him if he ever went missing.
In the past few years, these off-Broadway streets have become a destination for fashion-curious men (and some women) who want to buy into streetwear culture and its many forms, from graphic skate tees to Adidas sneakers designed by Kanye West. Stores including VFiles, Stadium Goods, Billionaire Boys Club, Palace Skateboards, NikeLab 21M, and Off-White create an outdoor mall for items such as these, which are particularly hyped among young people for their relative affordability and constant supply. Unfortunately, the same cannot be said of the French designer Agnès B., whose humble storefront sits smack in the middle of all this.
Long lines for "drops," or timed releases of limited-edition items, plus in-store events hosting celebrities like Justin Bieber, flood the area with stylish locals, tourists, and the occasional parental chaperone. At least one amateur photo shoot is happening at all times, and at around 5 p.m., multiple store employees report, the distinct smell of marijuana tends to waft throughout the area.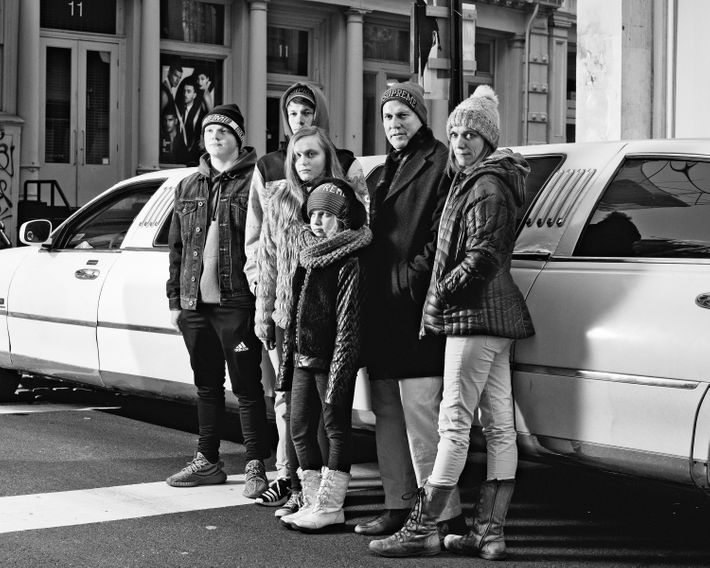 Artist Barbara Kruger hosted her most recent show, Untitled (The Drop), in the form of a pop-up at the corner of Howard and Broadway this past November, as a parody of Soho's long lines for drops — particularly those at Supreme, whose boxy logo bears an uncanny resemblance to Kruger's own work. Sure enough, Pavlovian hypebeasts joined the back of her long line, just to see what the fuss was all about.
"In my mind, for this culture, this is the New York shopping destination," declares John McPheters, the CEO and co-founder of Stadium Goods, which opened at 47 Howard in 2015. "For a long time, I think people looked more toward Lafayette, where Supreme was, and that's a great area to shop," McPheters says, referencing the original streetwear mecca, which first opened in 1994. "But I think we have something that's decidedly a little newer; there's a different type of energy happening here."
"Mercer is youthful and fashion-forward," says VFiles founder Julie Anne Quay, who's worked near this Soho intersection since the '90s — she was the executive editor at V magazine, which makes its home at 11 Mercer. She opened VFiles in 2012, when the only other "downtown cool" stores in the area were Opening Ceremony and Alexander Wang. "These kids know everything about sneakers, who's wearing what, and what's dropping," she adds.
In addition to being an emerging menswear hub, the corner of Mercer and Howard is a place to see and be seen — or cultivate "clout," a word that's been reinserted into the popular lexicon as a replacement for "influence" both IRL and online. Certain sneakers, for example, depending on how hard they are to acquire and which celebrities they're associated with, can gain you clout. Meanwhile, a pair of white, Kurt Cobain–esque sunglasses have been deemed "clout goggles." In 2018, clout is inextricable from style, which is why we're calling this particular Soho area the Clout Corridor. It's here that young people are linking, building, and, most important, buying.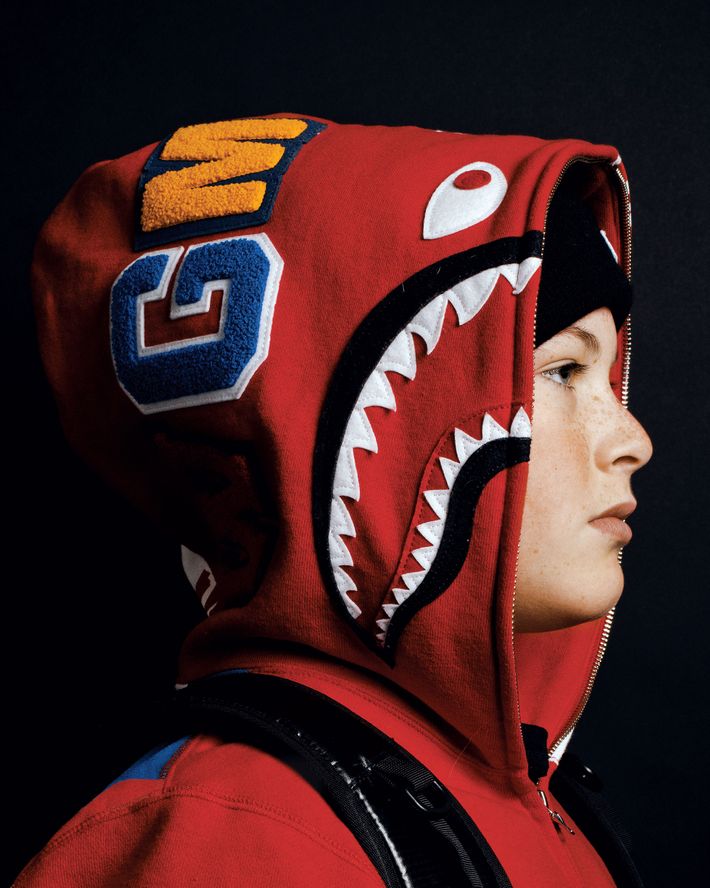 Grant Halpern (top image)
Age: 13
From: Westchester
Wearing: Bape hoodie, Supreme backpack.
What stops have you made today?
We went to the Off-White Em Pty Gallery on Mercer, then we went to Palace, and then we came to Stadium Goods.
What did you buy?
I bought a hoodie from the new Off-White collection. It was the cheaper collection, so it was $170 instead of, like, $600. And I got the Pot Palace T-shirt.
What do you think about that, Mom?
Joan Halpern: Is that really what it is?
Grant: It's not weed, it's just the plant design.
Joan: There was one with a naked woman on it, and I was like, "No! Stay away from that one."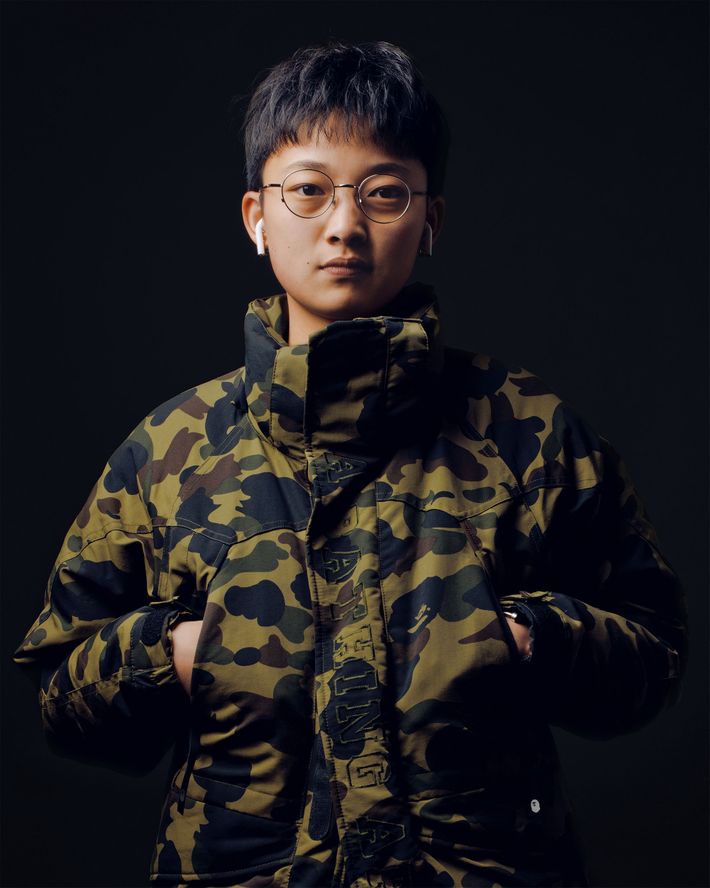 Nan Zhang
Age: 21
From: China
Wearing: Apple AirPods, Bape jacket, Nike Air Vapormax x Comme des Garçons sneakers (not shown).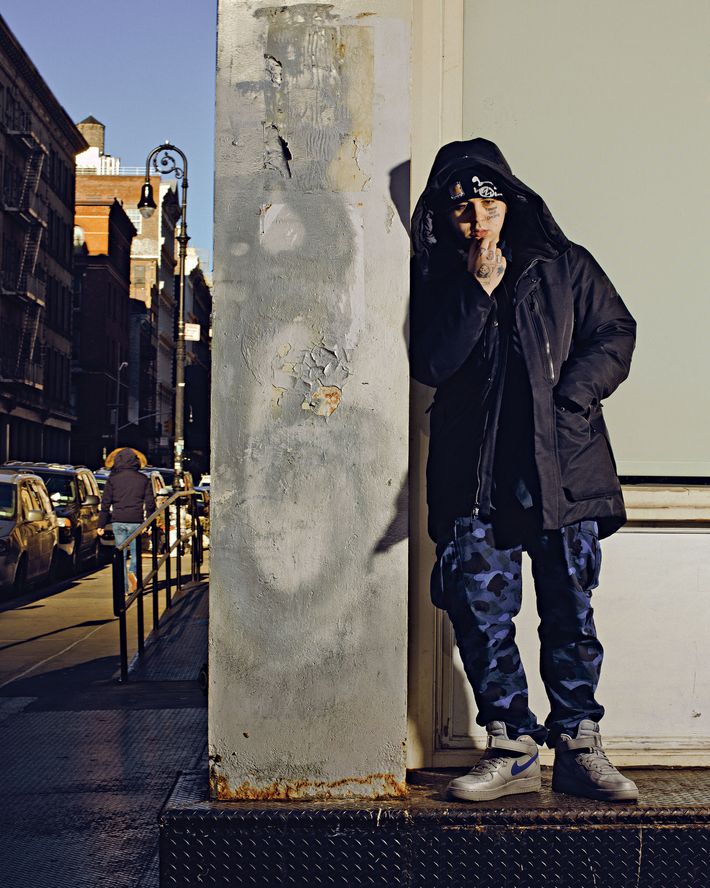 Austin Butts a.k.a. Asspizza
Age: 19
From: Queens
Wearing: North Face parka, customized Carhartt beanie, cargo pants from a friend, Nikes from eBay.
"I used to hang out in Soho in 2014 and 2015, but now I'm not really around here a lot. I come back like twice a month or something. Back then, it was just a place where all the kids would go. We really wouldn't buy anything, because we didn't have money. We were just fucking around, basically. We'd meet at Prince and Mercer. You could sit outside the Mercer Hotel and get free Wi-Fi and people think you're important because you're sitting outside the Mercer Hotel."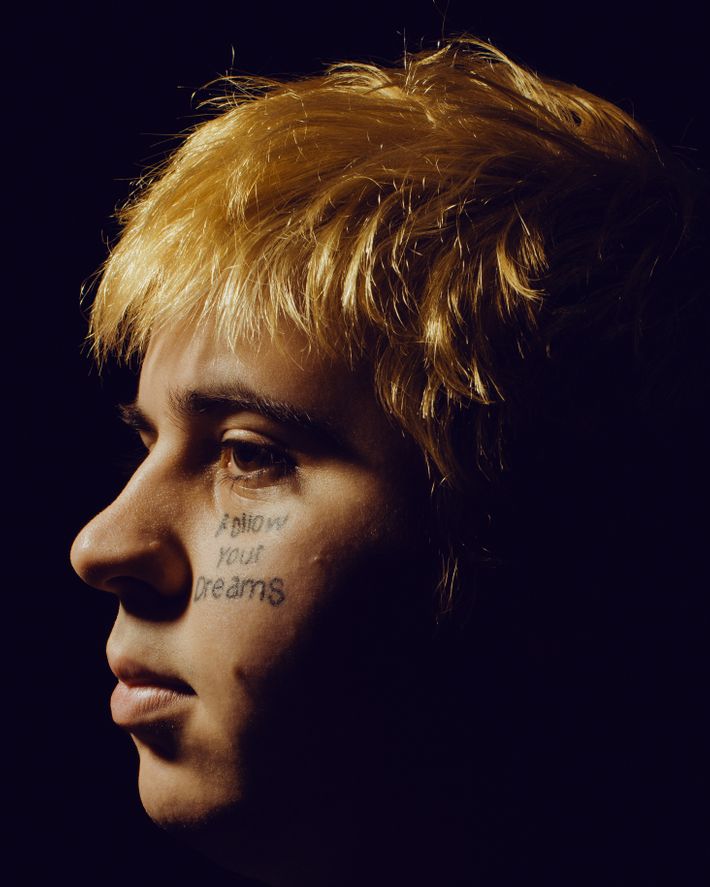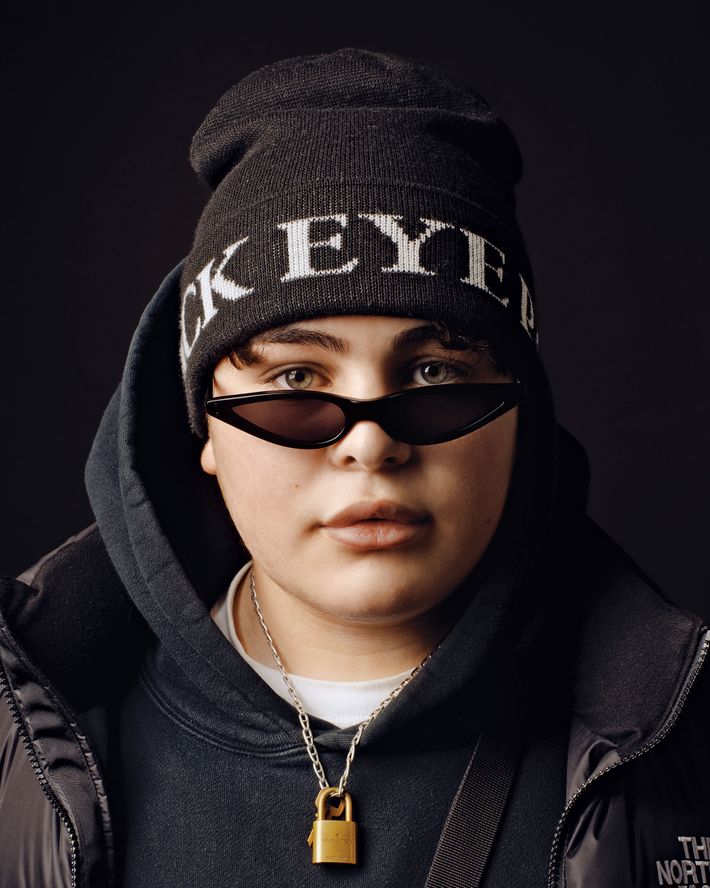 Ellison Baus
Age: 15
From: New York
How often do you come to this area?
I'm here at least three or four times a week. It's where I feel like I can be myself and walk around in a wild outfit and not have to feel like, Oh my God, how am I going to sit like this in class? I can be me here.
Where did you get those glasses?
I got them last Tuesday at Opening Ceremony, and they're George Keburia. I've been wanting them for a while, and then Solange wore them on the cover of Surface magazine and I was like, I need them!
What about the rest of your outfit?
My bag is vintage Dior, and I got it from American Two Shot. I didn't like the strap — it was very 2000s — so I put on a strap from another bag. My sweatshirt is BlackEyePatch. It's this really cool underground brand from Asia. This lock is vintage Louis Vuitton. I got it off eBay for Christmas. I might give the key to a boyfriend someday or one of my best friends.
*This article appears in the January 22, 2018, issue of New York Magazine.