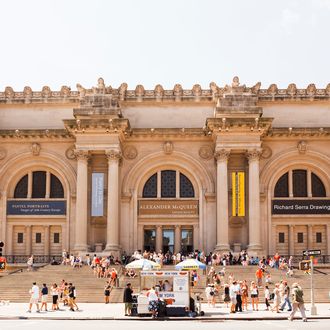 Metropolitan Museum of Art.
Photo: wdstock/Getty Images
Admission to the Metropolitan Museum of Art in New York City has long had a suggested fee of $25 — but you could really basically pay whatever you wanted to get inside. That 50-year policy has helped make the museum more accessible to New Yorkers who can't justify shelling out that much to check out classic art, as well as thrifty tourists hoping to make their NYC visits a little less pricey.
Yet, as the New York Times reports, the Met announced on Thursday that it will be reversing its pay-what-you-want policy. Starting in March, visitors to the institution will have to fork over $25 for admission if they don't reside in New York state. (In-state residents will have to show government ID to prove their address, though they can still pay as much as they want.)
The move, the Times notes, comes as the Met tries to find its footing "after a period of turbulence and leadership turmoil," as well as a drop in people actually willing to pay the suggested fee. But as you can probably imagine, art lovers aren't too happy about this major change to the taxpayer-funded museum.