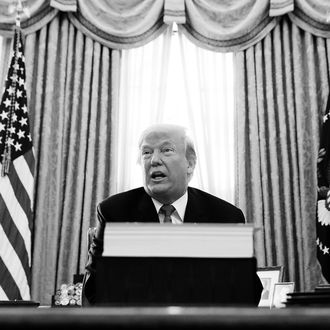 Donald Trump.
Photo: Chip Somodevilla/Getty Images
Michael Wolff's new book Fire and Fury: Inside the Trump White House won't be published until January 9 — but new excerpts (including in the upcoming issue of New York) have already revealed some truly insane details about the administration. From Donald Trump's nighttime routine to rumors of a secret staff relationship, here are some of the craziest tidbits from Wolff's reporting, which we will continue to update as more information comes to light.
Trump's ideal night is composed of laying in bed with a cheeseburger and three TVs.
"If he was not having his 6:30 dinner with Steve Bannon, then, more to his liking, he was in bed by that time with a cheeseburger, watching his three screens and making phone calls — the phone was his true contact point with the world — to a small group of friends," Wolff writes.
Donald and Melania Trump are the only First Couple since the Kennedys to sleep in separate bedrooms.
To the surprise of no one.
Corey Lewandowski and Hope Hicks reportedly had a romantic relationship.
Hicks, Trump's current communications director, and Lewandowski, his former campaign manager, reportedly had an on-and-off romantic relationship that ended with a public fight on the street. After Lewandowski was fired, Hicks asked Trump and his sons how she could help the lawyer, to which Trump replied: "Why? You've already done enough for him. You're the best piece of tail he'll ever have." Hicks then immediately fled the room, according to Wolff.
Trump apparently liked to try to sleep with his friends' wives.
Wolff writes that Trump said one of the things that made life worth living was getting your friends' wives into bed. He'd often try to persuade his friends' wives that their husbands were not who they thought. To do that, he'd apparently trick a friend into talking about his sex life with his wife — while she was on speakerphone.
Sean Spicer had an … interesting … motto at the White House.
He apparently would say to himself, "You can't make this shit up," while … seemingly doing the opposite.
Ann Coulter warned Trump against nepotism.
Wolff writes, "It was Ann Coulter who finally took the president-elect aside. 'Nobody is apparently telling you this,' she told him. 'But you can't. You just can't hire your children.'" But of course, that didn't stop him.
Rupert Murdoch allegedly called Trump an idiot.
"What a fucking idiot," to be exact.
The president won't let housekeeping touch his sheets (or toothbrush).
Trump would let housekeeping know when he wanted his sheets done, according to Wolff, and he also would strip his own bed.
Trump appointed John Kelly as chief of staff … without telling John Kelly.
"The president, on the spur of the moment, appointed John Kelly, a former Marine Corps general and head of homeland security, chief of staff," Wolff writes, "without Kelly having been informed of his own appointment beforehand."
Jared Kushner and Ivanka reportedly had a pact that Ivanka would run for president.
She wanted to be the first female president (instead of Hillary).
Trump's victory really ruined his team's post-election plans.
No one expected Trump to win the presidency — least of all his team. According to Wolff, Trump had planned to be "insanely famous and a martyr to Crooked Hillary," while his daughter Ivanka and son-in-law Jared would be "international celebrities." Steve Bannon planned to become the "head of the tea-party movement," and Kellyanne Conway was reportedly making plans to be a cable-news star. Melania Trump, however, planned to return to "inconspicuously lunching." Wolff wrote, "Losing would work out for everybody. Losing was winning."
Trump apparently doesn't know anything about the Constitution.
Former adviser Sam Nunberg was sent to explain the Constitution to Trump. "I got as far as the Fourth Amendment," Nunberg said, "before his finger is pulling down on his lip and his eyes are rolling back in his head."
Ivanka has a great way of describing her dad's hair.
Wolff writes that Ivanka described it as "an absolutely clean pate — a contained island after scalp-reduction ­surgery — surrounded by a furry circle of hair around the sides and front, from which all ends are drawn up to meet in the center and then swept back and secured by a stiffening spray. The color … was from a product called Just for Men — the longer it was left on, the darker it got. Impatience resulted in Trump's orange-blond hair color."
Trump constantly replays negative media clips about himself.
"But Trump himself was desperately wounded by his treatment in the mainstream media," Wolff writes. "He obsessed over every slight until it was succeeded by the next slight. Slights were singled out and replayed again and again, his mood worsening with each replay (he was always rerunning the DVR). Much of the president's daily conversation was a repetitive rundown of what various anchors and hosts had said about him."
A "sympathetic" journalist told Conway and Hicks that Vanity Fair's longtime editor Graydon Carter was being "pushed out" of the magazine in an attempt to make Trump feel better about negative media coverage.
Wolff writes that Hicks jumped up and said, "Really? Oh, my God. Can I tell him? Would that be OK? He'll want to know this," and then "headed quickly" to the Oval Office to share the news.
Ivanka and Kushner's nickname for Conway is "Nails."
Apparently a reference to "her Cruella de Vil–length manicure treatments," Wolff writes.
This post has been updated.