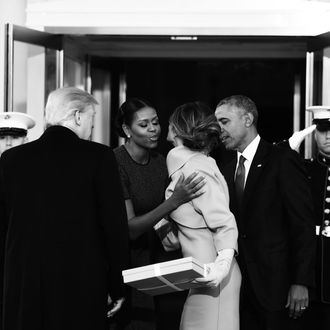 Michelle Obama accepting a gift from Melania Trump on Inauguration Day.
Photo: JIM WATSON/AFP/Getty Images
Turns out Melania and Donald Trump's icy interaction wasn't the only awkward thing to happen during last year's Inauguration. In a new interview with Ellen, Michelle Obama opens up about receiving a gift from the incoming First Lady that day — and not knowing what to do with the present.
"Well, there's all this protocol. I mean, this is like a state visit, so they tell you that you're going to do this, they're going to stand here," Obama tells Ellen DeGeneres in a clip from an interview set to air on Thursday. "Never before do you get this gift, so I'm sort of like 'okay, what am I supposed to do with this gift?'"
Obama, as you'll remember, awkwardly accepted the present and looked around for a place to put the gift, before saying to her "You brought a gift!" But luckily, her street-style star husband said, "I'll take care of the protocol here" and took the gift off of her hands.
And when DeGeneres asks what the gift actually contained, Obama replies, "It was a lovely frame." Luckily, we have an idea for what picture she should frame.