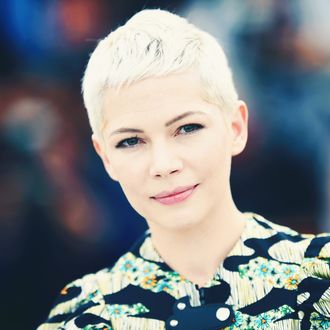 Michelle Williams.
Photo: Pascal Le Segretain/Getty Images
Michelle Williams is engaged to "New York financier Andrew Youmans," according to a new report from Us Weekly. Who is New York financier Andrew Youmans? People has a detailed rundown: He is a "high-profile consultant" with degrees from Dartmouth and Harvard who previously did a lot of work for Toyota and now spends his days investing in undisclosed companies. He is 50 years old.
Us Weekly reports that Williams and Youmans were first spotted together last July in Rome, when Williams filming All the Money in the World. The couple has yet to confirm their relationship, but Williams was seen wearing a heart-shaped diamond ring on "that finger" at the Golden Globes. She was also wearing it over New Year's in the Bahamas, where she vacationed with Youmans and Matilda, her 12-year-old daughter with the late Heath Ledger. You can see a photo of Youmans and Williams chilling on the beach together here.
In recent years, Williams has taken her best friend Busy Phillips as her date to awards shows and red-carpet events. It will be disappointing if Youmans replaces Phillips at this year's Oscars, but hey, at least he's not Jonathan Safran Foer.