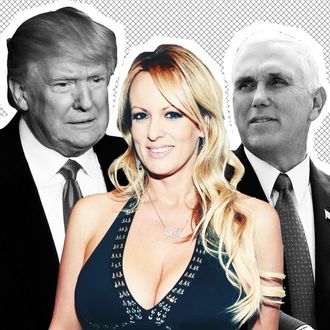 Donald Trump, Stormy Daniels, Mike Pence.
In mid-January, news broke that one of Donald Trump's lawyers reportedly arranged for former adult-film star Stormy Daniels (née Stephanie Clifford) to receive $130,000 before the 2016 presidential election so she wouldn't discuss a 2006 sexual encounter with the then-candidate. A week later, InTouch Weekly delivered the goods when they published an extensive 2011 interview with Daniels from way before she entered into a nondisclosure agreement. In it, she says that Trump compared her to his daughter and that he's terrified of sharks; per another report, he asked her to spank him with an issue of Forbes magazine. And per Vice-President Mike Pence, none of it ever happened.
Yes, Pence — who is not allowed to eat a meal alone with any woman who's not his wife — finally weighed in on the burgeoning scandal. During a trip to Jerusalem, he told the Associated Press that he was "not going to comment on the latest baseless allegations against the president."
It's unclear if by "baseless allegations" he also means the president's well-documented hatred for sharks.