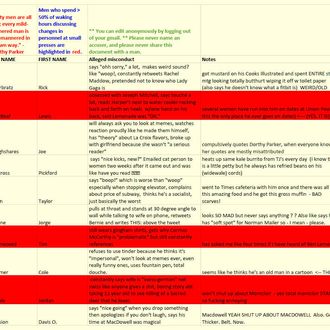 Once the shitty media men list was made public, many asked, "Where will we draw the line? Who will be next? Will there be another list??" It appears there is. The mild-mannered men in media list has now been revealed.
At first glance, you might wonder, "Do these missteps really rise to the level of civil or criminal offenses?" If that's your reaction, then you're missing the point. My intention is merely to begin a conversation about men who wear thin belts and brag about their low-residency MFA programs. From there, the healing can perhaps begin.
Mild-Mannered Men in Media
Name: Rick Sauerbratz
Alleged Misconduct: Says "ohh sorry," a lot, makes weird sound? like "woop!" constantly retweets Rachel Maddow, pretended not to know who Lady Gaga is.
Notes: Got mustard on his Cooks Illustrated and spent ENTIRE staff mtg looking totally butthurt wiping it off w toilet paper (also says he doesn't know what a fitbit is) WEIRD/OLD
Name: Lewis Breadloaf
Alleged Misconduct: Obsessed with Joseph Mitchell, says touché a lot, reads Harper's next to water cooler rocking back and forth on heels w/one hand on his back, said Lemonade was "OK."
Notes: Several women have run into him on dates at Union Pool (is this the only place he ever goes on dates) <— (YES. IT IS)
Name: Joe Ploughshares
Alleged Misconduct: Will always ask you to look at memes, watches reaction proudly like he made them himself, has "theory" about La Croix flavors, broke up with girlfriend because she wasn't "a serious reader."
Notes: Compulsively quotes Dorthy Parker, when everyone knows her quotes are mostly misattributed.
Name: Pickford Albatross
Alleged Misconduct: Says "nice kicks, new?" Emailed cat person to women two weeks after it came out and was like have you read 😂😂😂
Notes: Heats up same kale burrito from TJ's every day (I know this is a little petty but he always has refried beans on his (widewale) cords)
Name: Taylor Piston
Alleged Misconduct: Says "boop!" which is worse than "woop" especially when stopping elevator, complains about price of subway, thinks he's a socialist, just basically the worst.
Notes: Went to Times cafeteria with him once and there was all this amazing food and he got this gross muffin - BAD scarves!
Name: Jorge Malone
Alleged Misconduct: Pulls at throat and stands at 30 degree angle to wall while talking to wife on phone, retweets Bernie and writes THIS: above the tweet.
Notes: Looks SO MAD but never says anything ? ? Also like says he has "soft spot" for Norman Mailer so - I mean - please.
Name: Tim Sesameseed
Alleged Misconduct: Still wears gingham shirts, gets why Cormac McCarthy is "problematic" but still constantly references.
Notes: Has asked me like four times if I have heard of Ben Lerner.
Name: Cole Hammer
Alleged Misconduct: Refuses to use tinder because he thinks it's "impersonal," won't look at memes ever, even really funny ones, uses fountain pen, total douche.
Notes: Seems like he thinks he's an old man in a cartoon <– THIS!
Name: Jordan Percale
Alleged Misconduct: Constantly says wife is "swiss-german" not swiss like anyone gives a shit, boring story abt taking 11 year old to see Killing of a Sacred deer that he loves.
Notes: Won't shut up about Montclair - yes total montclair STAN so fucking annoying
Name: Davis O. Mansion
Alleged Misconduct: Says "nice going" when you drop something then apologizes if you don't laugh, says his time at MacDowell was magical.
Notes: Macdowell YEAH SHUT UP ABOUT MACDOWELL Also. Get. Thicker. Belt. Now.