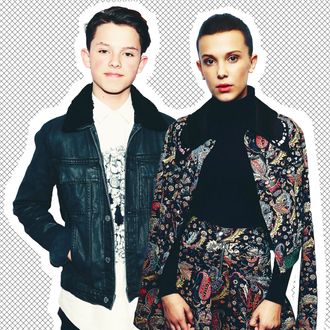 Millie Bobby Brown and Jacob Sartorius.
Photo: Getty Images
In an editorial move that is making me feel like a decaying corpse, Us Weekly is now covering the romantic entanglements of Generation Z. The tabloid exclusively reported this morning that 13-year-old Millie Bobby Brown is "dating" 15-year-old Jacob Sartorius. The former is famous for playing Eleven on Stranger Things, and the latter is famous for looking cool on the tween-friendly lip-syncing app Musical.ly.
According to Us Weekly's official scoop, Brown and Sartorius have "exchanged several flirty comments on social media," and they celebrated New Year's Eve together in Disney World with Brown's family. This past weekend, Brown posted a photo of an oversize teddy bear that she got from Sartorius on Instagram.
Us Weekly notes that Brown isn't even Satorius's first girlfriend: He was "briefly linked" to Disney star Jenna Ortega last year. She starred in the music video for his original song "Chapstick." ("You made a reservation, but all we need are two lips, one kiss / Nothing between us but Chapstick.") Aah! You can watch the video below, if you aren't already dead.