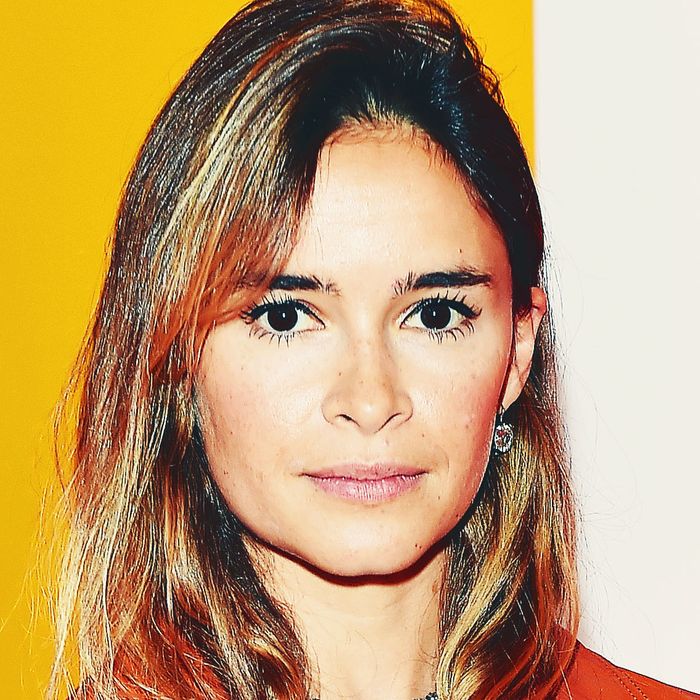 Miroslava Duma.
Photo: Stefania D'Alessandro/Getty Images for BALLY
At the start of the Paris couture shows this week, Russian designer Ulyana Sergeenko sent a note to blogger Miroslava Duma, reading, "To my n*ggas in Paris," which was a reference to a Kanye West song of a similar title. When Duma shared the note on her personal Instagram story, she and Sergeenko immediately received backlash, with many commenters and industry leaders calling them racist.
As these things tend to go, this was only the tip of the iceberg in terms of inexcusable behavior. Sergeenko quickly posed an apology on her personal Instagram that read more like an explanation than a mea culpa, and then preceded to delete it. "Kanye West is one of my most favourite musicians and NP is one of my most favourite songs," she wrote. "And yes, we call each other the N word sometimes when we want to believe that we are just as cool as they guys who sing it."
Finally, Sergeenko told Garage that she was "so upset" that she had "spoiled" her Paris couture week presentation, which street-style photographer Phil Oh noted on Twitter was "real quiet" this season.
As for Duma, she issued a brief apology herself on Instagram before being swiftly removed from the board of Tots, the children's company she co-founded with Nasiba Adilova in 2015.
Past controversial comments Duma made also resurfaced. In 2014, she was criticized for publishing a fashion spread on her website Buro 24/7 that portrayed Garage magazine editor-in-chief Dasha Zhukova sitting on top of a chair by the artist Bjarne Melgaard made to resemble a black woman in bondage. Duma issued another "sorta-apology" then saying that the spread should "only be seen as a piece of art."
Yesterday, video footage from 2012 of Duma making homophobic and transphobic comments also came to the industry's attention. When an audience member asks Duma what she thinks about Bryanboy wearing women's clothing and models like Andreja Pejić advertising women's swimsuits, Duma, speaking in Russian, responds: "Honestly, I dislike that. Because somewhere, on TV or in a magazine, a little boy could see it and that boy wouldn't understand it correctly, react correctly. I think a certain kind of censorship and refined culture is needed here."
According to representatives of Pejić, she will be releasing a personal statement on social media. The Cut has also reached out to Bryanboy for comment; in the meantime he shared the video of Duma on his personal Instagram, saying that he was "as shocked" as everyone else.
On Wednesday, Duma wrote another apology — this time much lengthier. Firstly, she said she was "deeply ashamed" by the comments she made in 2012. She then went on to explain that "the person I was six years ago is not who I am today." She concludes with the hope that "public discussions surrounding me might shine a light on the broader need to stamp out discrimination from society once and for all."
If Duma is right about one thing, it's that the past few days have served as (yet another) poignant reminder that discrimination in the fashion industry is neither an isolated issue, nor a new one. Stylist Shiona Turini reinforced this point on Twitter: "As we approach [Fashion Week] remember, your fave street style stars opt to use language like 'n*ggas' and thinks it's a joke."